Drawing a crowd on a dreary Wednesday night is no mean feat, so when my party of six arrived to a full house at Andrew McConnell and Chris Watson's latest venture, Luxembourg Bar and Bistro, we knew it was going to be good.
The European-style bistro, now in its fifth week of operation, has replaced McConnell's Golden Fields on Fitzroy Street, St Kilda and was inspired by the culinary duo's foodies' tour of Burgundy and Paris in 2012.
'They fell in love with the cuisine and comfort, and that classic approach to dining', explained Luxembourg Restaurant Manager, Olga Retzetoglou, adding 'the response has been overwhelmingly positive.'
Named after the Jardin du Luxembourg or Luxembourg Gardens in Paris, green neon signs illuminate Luxembourg Bar and Bistro's front windows, which complement the thick, emerald velvet curtains shrouding the entrance.
Inside, the fit out has been retained from Golden Fields but Europeanised through kooky antiques and collectables like the giant taxidermy antlers that protrude from the wall opposite the bar. The tables are dressed in classic white linen, while bentwood-style chairs complete the look.
Retzetoglou describes the Luxembourg menu as "European comfort food" designed for sharing.
From the 'Snack' selection, I opt for the soft shell crab sandwich with tartare and iceberg and it is trés magnifique. The mini brioche roll is soft and squishy and adequately soaks up the creamy tartare; the crab is lightly fried and subtly sweet.
Next up is the beef Carpaccio with Ortiz anchovy and chilli from the 'Raw' selection. It's delicate, well oiled and particularly flavoursome thanks to the saltiness of the anchovies.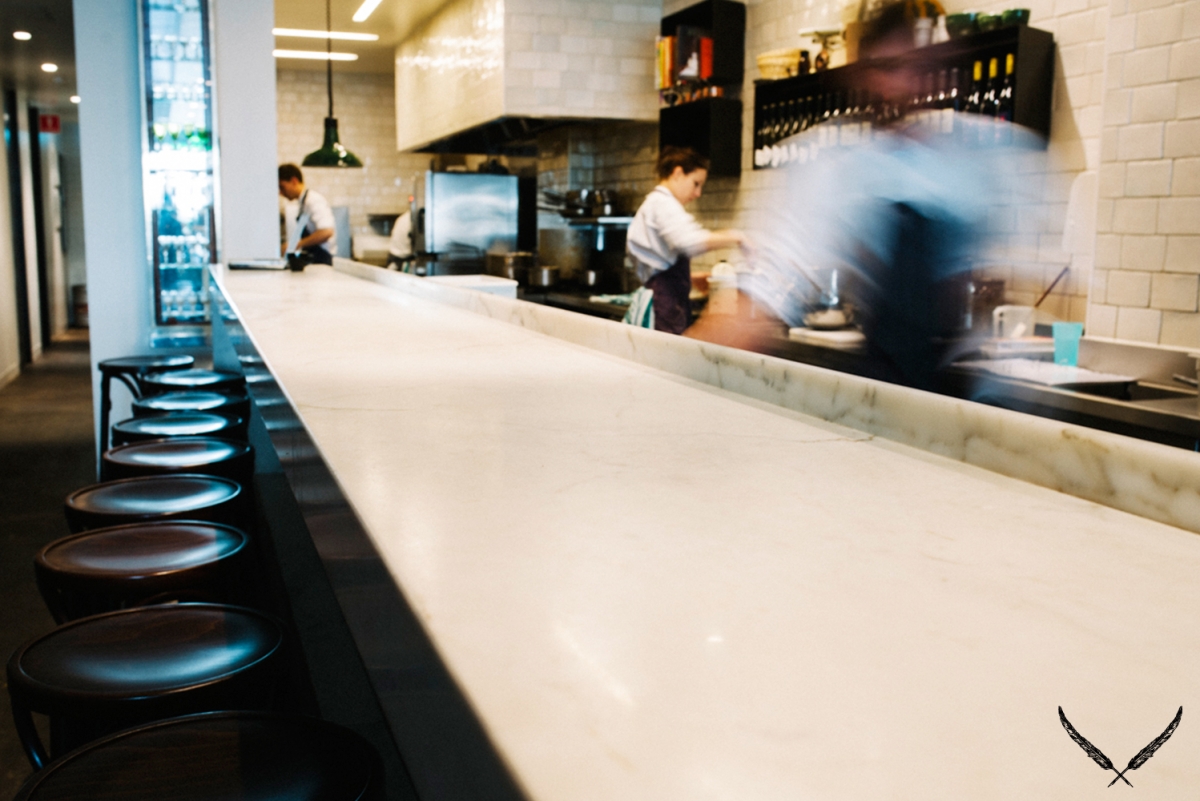 The soppressata from the 'Charcuterie' also makes its way onto my plate. Described as 'chilli' sausage on the menu, it's yummy but a little less zingy than I anticipated.
For mains, my boyfriend and I share the half roast chicken with bacon, brussels sprouts and chestnut from 'Large plates' and fried broccoli, caper raisin dressing, espelette and salted ricotta from 'Small plates'. The chicken is deconstructed into two breasts and thigh blanketed in bacon, and while it's good, the hero of the dish for me is the little green vegetables we all tried to avoid as kids! The broccoli is the real surprise package of the evening (in a good way), with its ashy texture that melts in the mouth.
My crew ums and ahs over dessert and getting home wins out. But not for my boyfriend and I. We can't say no to dessert, so we sneak back in and order the chocolate tart, which is baked to order and accompanied by cultured crème Chantilly. And OMG, I am so glad we did. Its casing is sufficiently crusty and once cracked, its thick, rich chocolatey centre oozes onto the plate.
The drinks list at Luxembourg is impressive and European by default, while the staff are friendly and knowledgeable. ??Luxembourg is the kind of venue we've come to expect from McConnell and the sexy space does not disappoint. I, for one, will be back.
Luxembourg Bar and Bistro is open for dinner from Tuesday until Sunday and lunch from Friday to Sunday. Be sure to get in for 'Le Cinq a Sept' which is the bistro's version of happy hour, where from 5pm to 7pm oysters are half price and an Aperol Spritz will set you back just $8.
Bon appétit!