Finding quality lunch in the CBD while keeping a slippery hold on your sanity is a challenge. Dodge snail-speed walkers, avoid permanently angry drivers and you'll be rewarded with lines out the door of every decent café.
Thankfully, the genius team behind Collins Square are determined to keep you well fed (and well rested). The 10,000 square-metre, ground level retail space is now home to over 38 cafes, bars, restaurants and retailers. We've got the low down on everything you need to eat, drink and shop at Collins Square.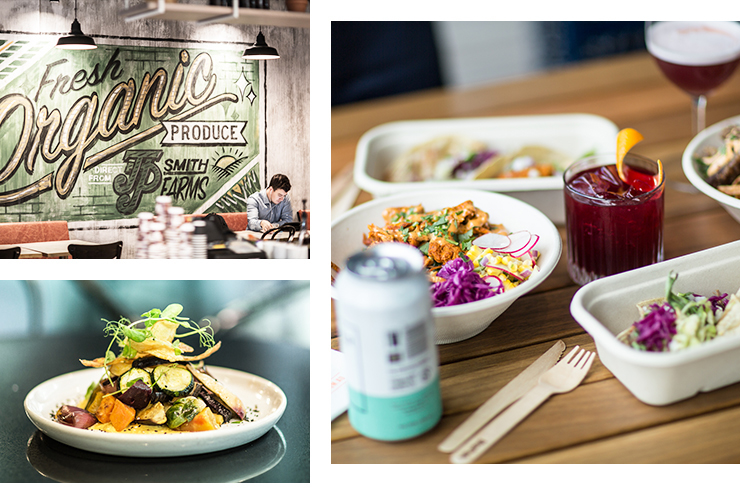 Eat
Belle's Hot Chicken
Melbourne's favourite finger-licking fried chicken has hit Collins Square. Nashville-style fried-chicken is ranked from Southern (suitable for babies) all the way up to Really F**kin Hot (for the sake of your present and future tastebuds, take them seriously). If their mac 'n' cheese special is on, make a beeline for that.
Mr Burger
Generally speaking, there's always a Mr Burger truck flipping your favourites somewhere in Melbourne. With the recent Collins Square location throwing open its burger-loving doors, there's no need to go hunting for the best loaded fries around. Phew!
Tahini
Tahini's second venue in the CBD, the demand for fresh, Lebanese food is clearly high. Tahini brings colour-bursting salads, wraps and falafels to Collins Square. It's authentic and casual, with food favourites including the tablieh—wraps with prawn and pickled cucumber served with chips and dip.
ENA Greek Street Food
An authentic Greek restaurant dedicated to rustic, modern cuisine—ENA does some of the finest, fresh takeaway around. Find share-style lamb cutlets, grilled seafood and salads. If you're having a slow workday – hop along for their rustic seafood soupa complete with ciabatta bread.
Crisp
Eating healthy just got easier with Crisp at Collins Square. Salads are a carful mix of veggies, protein and healthy fats so you don't have to feel guilty about that pulled pork. Pair your favourite salad with a juice including the Clear Mind with lychees, mint, pear, lemon and coconut water.
Nosh
Signature poke bowls at Nosh marry healthy food with flavours that will keep you happy at the desk. The Poke Party is a crowd favourite, with fresh salmon sashimi cubes doused in creamy roasted sesame sauce on rice, edamame, roasted sweet potato, charred capsicum strips, spinach and sesame seeds.
Snack & Drink
Hightail
From the team that (almost) single-handedly bought you Melbourne's food truck revolution; Hightail is an oasis for drinking. By the group behind Welcome To Thornbury, Hightail is an escape from the bustling CBD. Along with cocktails on tap (the DREAM), you can have food from other venues around Collins Square delivered to your table.
Longshot
Longshot keep their menu simple with an all-day selection of toasties, salads, burgers and basic brunches. Coffee and pastry, or coffee and cake specials also run regularly. What more could you want?!
Sushi & Nori Sushi Train
Toot, toot, all aboard the sushi train! Watch as a parade of fresh, authentic Japanese cuisine glides past on a miniature train at Sushi & Nori. Chefs expertly craft and fill the train with nigari, sushi and sashimi along with hot food dishes including tempura, gyoza and spring rolls. If you're a little pick (and who isn't when it comes to sushi?) made-to-order dishes includes udon noodles, deluxe sashimi platters, and Japanese ice cream.
Do
Ella Baché
When you're looking for somewhere to pamper yourself (because you freakin' deserve it), head to Ella Baché. Offering a range of treatments including facials, waxing, tanning and manicures, they are located on the ground floor of Collins Square.
Image credit: Provided, Grace Petrou.
Editor's note: This article is proudly sponsored by Collins Square and endorsed by The Urban List. Thank you for supporting the sponsors who make The Urban List possible. Click here for more information on our editorial policy.