Trunk Restaurant & Bar had a successful 12-year reign at 275 Exhibition Street. And after six years of concept development, Pepe's Italian & Liquor has finally arrived.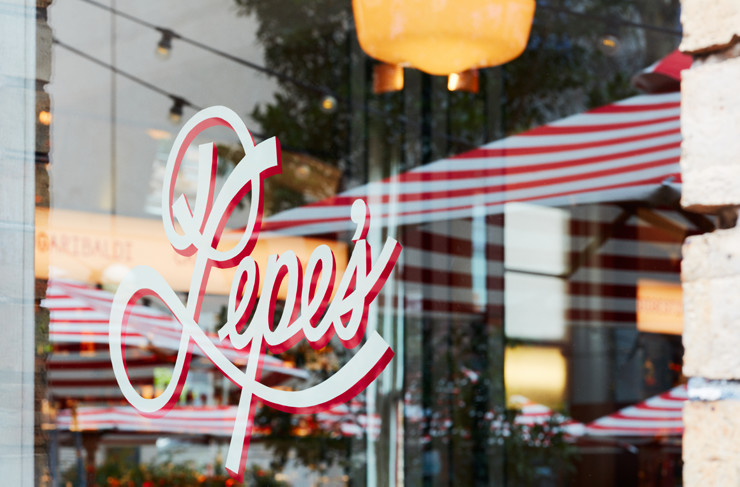 You'll find Pepe's where Trunk Restaurant & Bar once existed, with owner Nick Kutcher drawing inspiration from the Big Apple around the time of the mid-20th century, transporting diners to the golden age of 1930s and 1940s New York.
So you can now walk into Trunk Diner (which has remained very much intact) and grab a stack of berry pancakes or a chicken quesadilla. Or, if you're craving something a little more Mediterranean, you can always waltz over into Pepe's Italian & Liquor.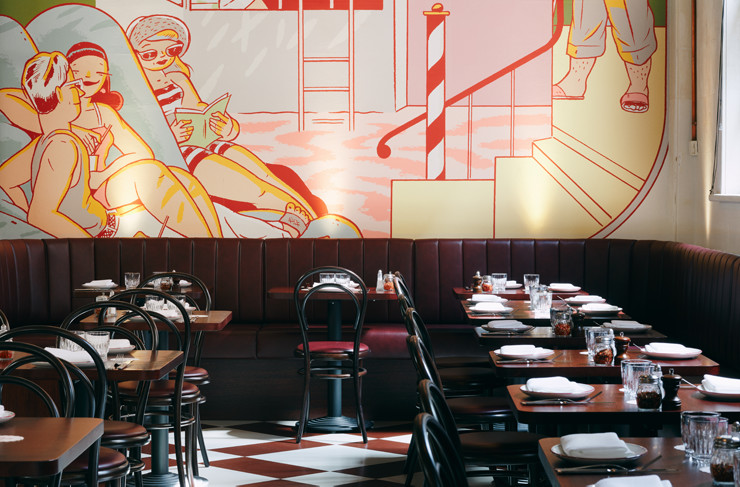 For a long time, owner Nick Kutcher had plans in the pipeline to serve Italian cuisine at Trunk. And now those dreams have come true in all their red and white checkerboard-floored glory.
When you first walk into Pepe's, your eyes will most likely lock onto of the restaurant's key standouts: its 13-metre long, backlit bar which features a zinc bar top and custom wood paneling, where you can opt to perch yourself for a drink (and a meal), or at one of the burgundy leather-decked out banquettes.
You'll also want to check out the mural on the back wall by Belgian illustrator, Jan Van Der Veken, who's renowned for designing several New Yorker covers.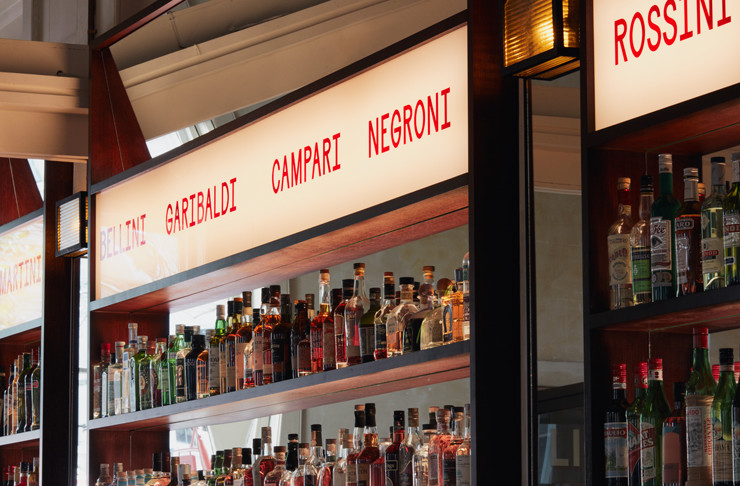 And when it comes to the food and drink offering, it's all angled towards sharing. Kutcher says, "It's nostalgic cuisine that doesn't necessarily have to be traditional—the food and drinks are all a part of the fun."
To start you can check out the stacked list of antipasti, soups and salads. We recommend grabbing the casino clams with guanciale, garlic butter and pangrattato. Or, the beef carpaccio with horseradish, rocket, parmesan and aioli.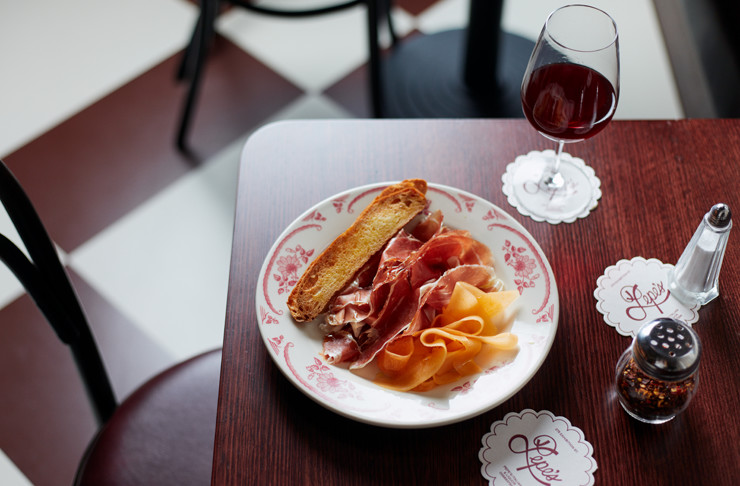 For something larger you can choose from a selection of eight pizzas, seven kinds of pasta, a risotto of the day and protein-based mains. Think the classics like Margherita and pepperoni pizzas, spaghetti with meatballs. Our recommendation? Get stuck into the barbeque pork ribs with a side of garlic parmesan roast potatoes.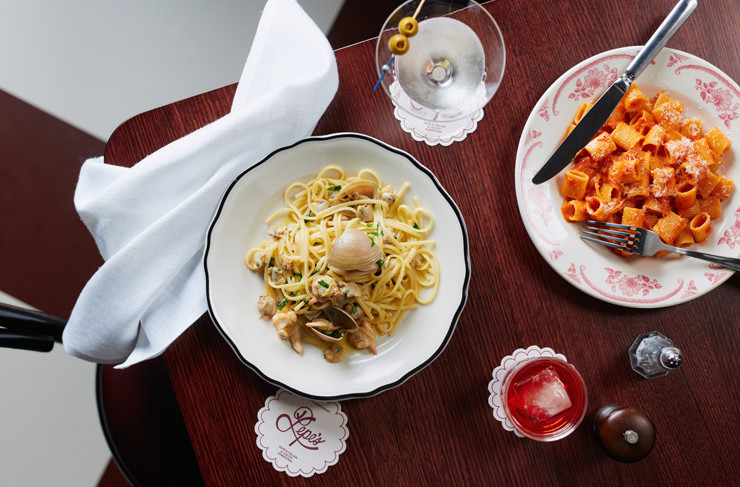 For dessert, there are three menu-listed items including berry cobbler, Pepe's carrot cake and an ice cream sundae with cherries and hot chocolate fudge. There's also a daily dessert option which is switched up on a day-to-day basis to keep things as fresh as possible.
The drinks menu has options for days—which you could only assume once you get a good look at their bar. It includes a whole page dedicated to Martinis, as well as cocktail classics infused with Italian ingredients.
We recommend the Burnt Popcorn Manhattan made with Woodford rye, popcorn and macadamia bitters, or the American Rose, created with Melbourne Gin Company gin, eau de rose, grapefruit, sugar, lemon and egg white. There are also 80 wines on the list, all priced at less than $100 a bottle.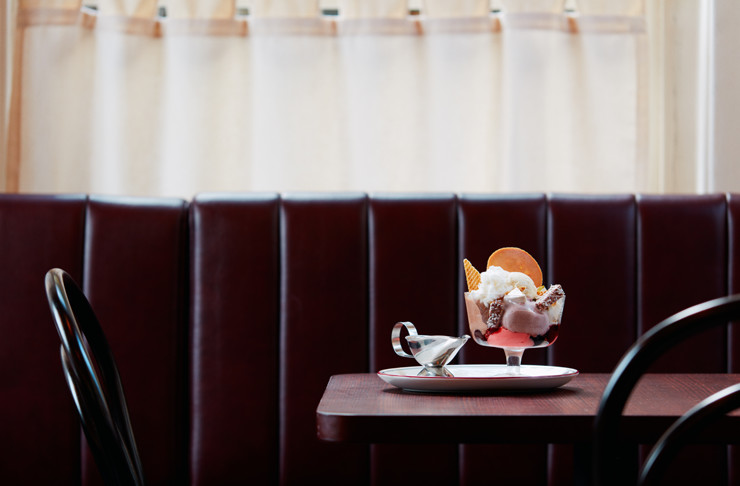 Head chef Orazio Cutuli says, "We think it's a great space and a big enough room to handle the vibe. At night-time, it's really cosy, warm and approachable and friendly. And that's what we always wanted to be. And just serving good, honest food—that the true inspiration behind Pepe's."
So what are you waiting for? Come in and make yourself at home; they insist.
The Details
What: Pepe's Italian & Liquor
Where: 275 Exhibition Street
Image credit: Gareth Sobey