With Mt Eliza on one side and Mt Martha on the other, Mornington is a bayside 'burb that kind of flies under the radar. A lot of Melbournians probably forget it's there, like Cremorne, or they assume it's somehow part of a huge 'peninsula' and not a real suburb at all. But Mornington locals know they're onto a winner. Strolling down Main St, grabbing a coffee, kicking back on one of the Bay's best beaches...even the most hardened northsider will start to questioning their commitment to concrete and flannel. For like two minutes, anyway.
Looking for good grub in Mornington? Here are our favourite spots.
Coffee Traders
Coffee Traders promises 'food, wine & espresso', which is pretty much the secret to life in general. The space is warm and cosy, with plenty of exposed brick (why would you ever cover up brick?) and the baristas behind the counter pump out some seriously good coffee. Like the sort you travel for. They make freaking bears out of the foam. Okay we'll move on. There's a solid menu if Instagramming your incredible coffee gets old, including a Lebanese labneh that will knock your breakfast socks off. It comes drizzled in olive oil and paprika, along with home-made bread and olives. Delicious.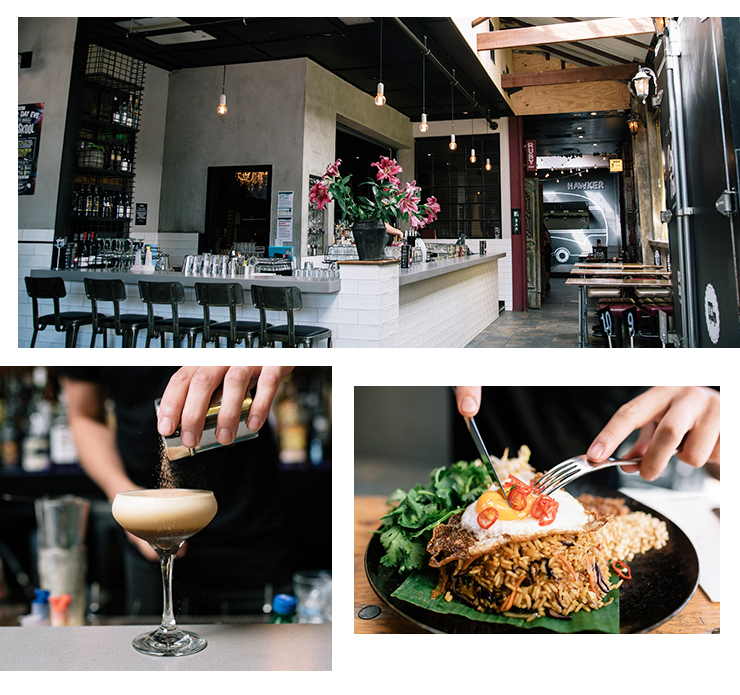 Merchant Lane
It's the kind of venue that would absolutely dominate in Fitzroy or Brunswick, so it's a bit surprising to find Merchant Lane tucked away in sleepy Mornington. The concept is pretty simple: seven different food-truck-style outlets, each serving a different cuisine, and each open a different night of the week. Turn up on Monday and grab a 250g porterhouse for $9 at The Butcher's Club, or swing by Wednesday night for a 'Parmaology' parma and chips. Fridays and Saturdays are more of a free-for-all affair, with four stores open at once. A solid late-night option.
Commonfolk Coffee
Tucked away from Mornington's main drag, Commonfolk Coffee is another café that makes travellers from the inner suburbs feel like some intrepid explorer discovering Machu Picchu. Of course Mornington locals discovered it long ago, and tuck into the cinnamon French toast with OJ-braised rhubarb, macadamia crumble vanilla Crème Fraiche with a certain haughty arrogance. Our tip? Hang around 'til lunch and grab a Po' the Boiz with ramen crumbed chicken, apple and cabbage kimchi, sweet-as kewpie and hot mint mayo on a toasted roll. And yes, that is as delicious as it sounds.
DOC Pizza & Mozzarella Bar
Bet you didn't know Carlton's favourite pizza bar had a sister in Mornington? (If you did know that, full marks to you. Here's a gold star.) DOC Mornington is all about the fresh produce, even more so than its northside cousins. The tomatoes come from San Marzano, the truffle oil is from Chianti, and Tony Nicolini fires his pizzas the old school way: crispy and thin, with simple, beautiful toppings (and lots of creamy buffalo mozzarella). The store is also a sort of provedore and deli, a "concept store" Nicolini calls it, and you can get everything from wheels of Grana Padano to real-deal olive oil and some hearty Italian reds.
The Winey Cow
You can kind of guess it from the name, but The Winey Cow is all about two things: cheese and wine. You'll find it on Main St, just near the beach, next to La Porchetta (but don't hold that against them). This is a modern café oozing high-quality design. Owners and Mornington locals Jill and Campbell Henderson have built a clever little menu. We were tempted by the toasted croissant with goats cheese, belly bacon, poached egg and hollandaise, but in the end went for The Winey Cow: braised short beef ribs with a manchego bubble and squeak cake, chipotle mayo, buttered broccoli and marrow jus. Went pretty damn well with the 2012 Axiom Shiraz.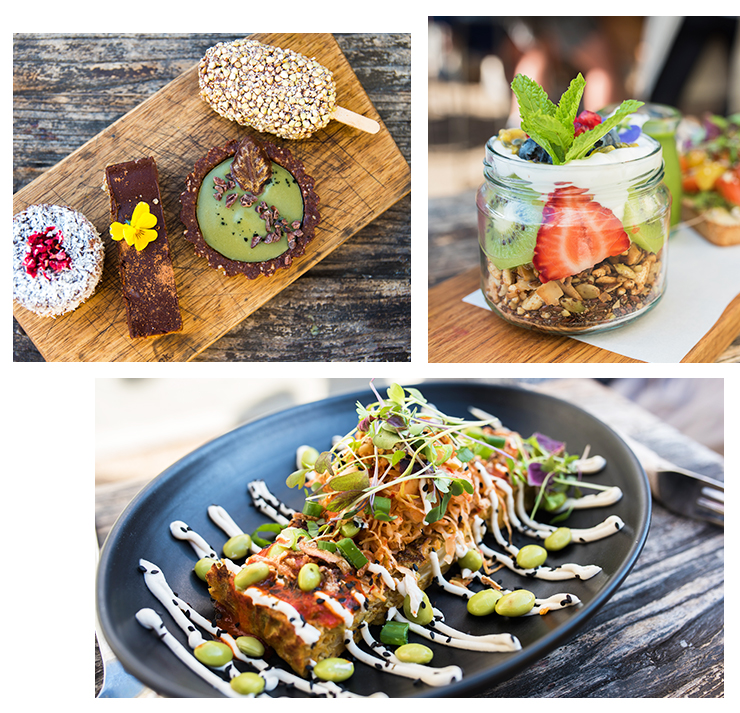 ​
Store Fifteen
Mornington's home of healthy brunch. We're talking vegan-level healthy. But veggie-sceptics take note: this place doesn't sacrifice on flavour. Take the Vegan Crumpet Stack, a sure-fire crowd pleaser with crumpets, house-made raspberry chia jam, lemon cashew cream, fresh berries, coconut ice-cream and a roasted almond crumble. Honestly, bacon wouldn't even improve it (and that's the biggest compliment you can get from a serial meat eater). Drop by after lunch and try the vegan nacho bowls too, along with a frankly alarming range of lattes (beetroot coffee is a definite possibility).
Manhattan in Mornington
Another little Italian joint, just off Main St. This one isn't a Melbourne-conquering juggernaut like DOC, but it is a cute family-run operation that pumps out some of the best bruschetta we've ever eaten. They keep it simple with a crispy pizza base, marinated tomatoes, basil, parmesan and balsamic, but the result is more than the sum of its parts. The twice-cooked pork belly and apple crackling salad was another standout, but you'd be a fool to pass up the pizzas. Our top pick? The Ai Funghi: a mix of wild grilled mushrooms, gorgonzola, parsley, rosemary and rocket. Simple and delicious.
How do you know if you're from Bayside? We've got the ultimate spotter's guide.
Image credit: Jess Prince