Summer holidays down on the Bellarine Peninsula — a mere 90 minutes' drive from Melbourne — means paddling around St Leonards and surfing Thirteenth Beach. And for us, having a few (preferably hot) days off always means hunting down the best places to eat and drink. How else will we fuel all of that healthy, outdoorsy activity?! Check out our gourmet guide to the Bellarine below, all of which can be found on the Bellarine Taste Trail.
Try Grab-It-and-Go Seafood, Cheese, Organic Bites & Baked Goods
Around the Bellarine you can forage for food without getting your hands dirty. There are SO many producers to provide the nosh; you only have to provide the setting (head in just about any direction to find a seaside view).
The Farmer's Harvest
The Farmer's Harvest farm gate is "guarded" by a lazy black dog. But once you gain entry (via one belly rub) you'll score fermented goodies like kimchi, kombucha and kraut, offbeat smallgoods like purple sausages, haggis and black pudding, and a range of biodynamic groceries. Everything in here is chef-approved before it gets Farmer's Harvest's approval. There are even organic icy poles to combat sweltering summer days!
Wildings Pantry Essentials
Duck into the gingerbread-scented atmosphere of Wildings Pantry Essentials for the little extras to make your feast epic. Here you'll find handcrafted honeycomb, old-fashioned meringues and salts infused with the flavours of the Vietnamese jungle, the Saharan desert or the Aegean Sea. It's a top stop for a silky smooth Ocean Grind latte too.
Manzanillo Grove
Manzanillo Grove looks just like a slice of the Tuscan countryside has been plonked in Drysdale. No platter is complete without olives in our opinion and here there are seven biodynamic types to choose from. Your pantry also needs olive oils scented with citrus or spices and a batch of healthy olive leaf tea.
Tuckerberry Hill
Over the summer season, you can grab a pail and pick your own sweet blueberries and strawberries right off the bush at Tuckerberry Hill (the berries are chemical free so you can eat them straight away). Aside from the goods, you might spot the odd peacock strutting around and the farm hosts a local produce market every Saturday too.
Advance Mussel Supply
Seafood lovers will want to stop by Advance Mussel Supply's industrial-style cafe to pick up a pot of marinated mussels or mussel jerky before heading to the Portarlington foreshore. Try the Mussel Stout too. Crafted by the local Bellarine Brewing Company it uses Advance's own blue mussels in the secret recipe!
Drysdale Cheeses
Open the first Sunday of the month, a trip to Drysdale Cheeses will make even your dairy-free friends happy. All of their creamy fetta, cheddar, chevre, blue and halloumi style cheeses are made with milk from their very own herd of (frankly adorable) Saanen goats. Don't go past the "shev" rolled in local saltbush ash.
The Cafes Are Super-Creative
If you don't want to go to that much effort for a feed, you are guaranteed a non-boring cafe is never far away.
Annie's Provedore
Annie's Provedore is a mecca for foodies. Aside from hungry travellers, the space is crammed with red geraniums, woven baskets, dried herbs and spices hanging from the ceiling. You could grab some fresh local bread, Spanish lollies or all of the charcuterie and cheese to go, but we recommend sitting down for one of Annie's monster-size sausage rolls or the pressed pork for breakfast (crispy crackling for ever).
Oakdene Vineyards
Everything's a little bit Alice in Wonderland at Oakdene Vineyards. The cellar door is upside down, there are sculptural collections of everything from thongs and teapots, and vineyard tours are done by miniature train. The place goes full on Tim Burton-esque with the painted baby dolls hanging out in the birch trees watching as you eat your lunch at their cafe Mr Grubb. The sticky BBQ ribs slow cooked for 12 hours and the whole, crispy Barramundi done Thai-style are pretty show stopping. Order a bottle of the William Shiraz and do lunch right.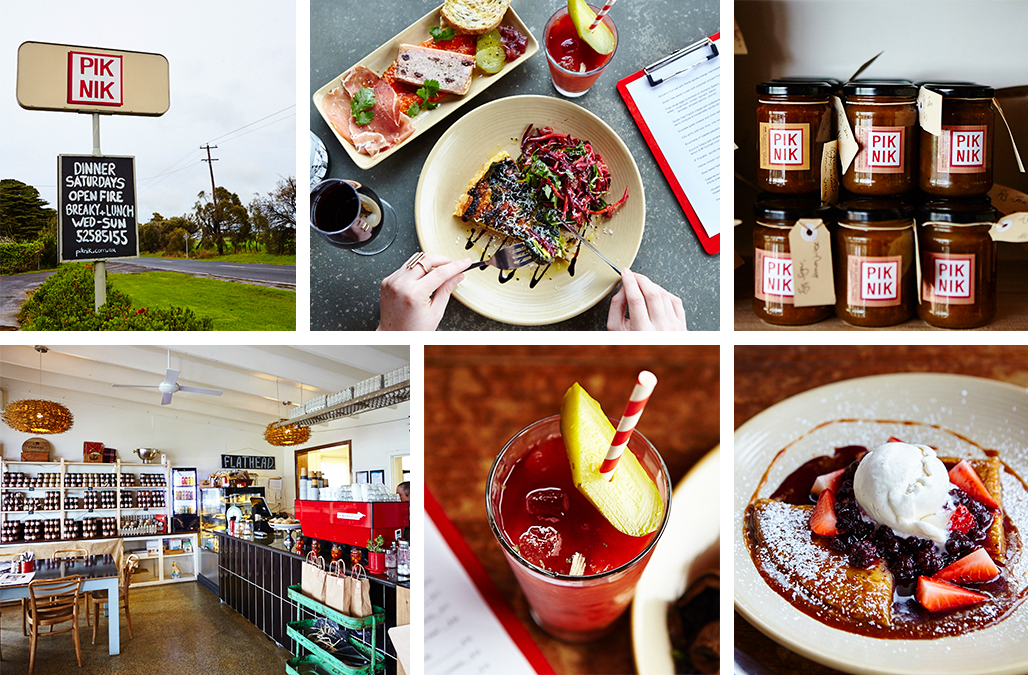 Piknik
Situated in a former Golden Fleece roadhouse, Piknik has people travelling for miles for their scrambled eggs (we can confirm they are fluffy goodness on a plate). Also for breakfast - or let's be honest anytime - they also take the Bloody Mary to the next level by floating a local pinot on top. Don't leave without a slice of house-made coffee cheesecake or salted caramel ice-cream in a waffle cone. Pssst Coeliac friends: the French crepes here are ridic (and they're GF). You can pick up something for a picnic at Piknik too; they make thousands of jars of spreads and jams. Go the apricot vanilla jam.
House Of Jack Rabbit Cafe & Vineyard
We can't decide whether we prefer the bunny-eared bottles or the expansive bay views more at the House of Jack Rabbit Cafe and Vineyard. Order their spritely and addictive Blanc de Blanc and a plate of house-smoked meats and seafood on the side, then sit back and take it all in. Or, if you're in for a full feed, go hard on the mussels, steak sandwich, slow-cooked lamb, and the king prawn curry. Hellooooo holiday food coma.
The Thirst Is Real... And Well Taken Care Of
Vue Street Bar
Cold beer in a fancy place is what Vue Street Bar is all about. Housed within the 135-year-old Vue Grand Hotel, the bar has 70 international and Australian beers on its menu plus rotating showcase brews on tap. While you're here order a beer, cider or hard ginger from neighbouring Wallington, Bellarine or Geelong breweries to go with a big bowl of tangy-spiced chicken wings.
Noble Rot
The bottles that line the walls act as the 3D drinks list at Noble Rot. Aside from the all-important vino, this boutique wine bar offers Mediterranean-influenced nibbles to enjoy in lazy, grazey style. They even offer "reverse corkage" (ie. bottles are cheaper if you want to take them back to your pad/sneak them down to the beach).
Basils Farm
Still thirsty? Find a willing designated driver and take yourself on a private winery tour of the Peninsula. Can't decide between idyllic countryside or water's edge views? You get the best of both worlds at Basils Farm. Grab a bottle of rosé from the cellar door and set yourself up on the lawn on a Sunday for free live music in the sunshine.
Flying Brick Cider Co.
If cider is your sipper of choice, you can't go past Flying Brick Cider Co. The gigangic cider, beer and mouth-watering food venue is all about turning the very best local produce into everyone's favourite fruity drink of choice. As well as having an expansive cider garden and a menu that's worth saving your appetite for, you don't need to worry about bribing the designated driver in your crew—Mustang&Co, a vintage car rental service, provide tours to the cider mecca, letting you sip in retro style until your heart (and stomach!) is content.
Leura Park Estate
Long wine lunches are obviously the order of the day at Leura Park Estate. Once you enter their cellar door, all decked out with nautical chic interiors, order anything with bubbles and take care not to sit on their cat (dubbed Jimmy Watson after the gent who founded Lygon Street's famous wine bar).

Oh We Do Like To Sleep Beside The Seaside
Athelstane House
Can you blame us, if after all of the exploring, we skip the surf and the swim to sleep? We've found just the place. As the oldest guesthouse in Queenscliff, Athelstane House still has a youthful vibe. Grab a balcony room if you can and enjoy an alfresco Pimm's or Champagne Cocktail at sunset. Most rooms have a private spa and there's free wifi and late lunchtime checkouts for everyone!
Melbourne's an incredible city, but sometimes we all need to get out of town for a weekend. The Urban List has partnered with Visit Victoria to bring you our Get Out Of Town! series—the ultimate guide to Victoria's rural gems. For more ideas about where to wander on the Bellarine Peninsula, click here.
Image credit: Michelle Jarni for The Urban List, supplied