Anzac Day is here again. And whether you're planning a bleary-eyed Dawn Service salute or a leisurely sleep-in, there's heaps of stuff going on around town. Services, celebrations, sausage sizzles, two blokes playing two-up in a ring. It's all happening.
Here's our guide for everything to see, eat and do on ANZAC Day in Melbourne.
Events
Anzac Day Dawn Service
The Anzac Day Dawn Service is something all Melbournians should do at least once in their lives. It'll test the alarm function on your phone, but it's totally worth the pre-dawn wakeup. Usually, you want to arrive between 4am and 5am. Prime spots are up at the Shrine, but if you're running late, you can still catch the ANZAC Day Parade down St Kilda Rd. That one kicks off at 9am and starts at the intersection of Swanston and Flinders. Parking is always tricky, but the Ballet Centre and Arts Centre nearby usually open up early for the occasion.
Where: Shrine Of Remembrance
When: 6am
For more info, click here.
Anzac Day Clash
Nothing gets a Melbournian's blood racing like the roar before the first bounce of the Anzac Day Clash at the MCG (even better was the roar after Zaharakis' goal in 2009...but that's just one Bomber supporter's opinion). Tickets are mighty hard to come by, but there's usually a few General Admission spots up for grabs. Otherwise, you can head to a pub in the CBD and watch it on the big screen.
Where: MCG
When: First bounce is at 3:20pm
For tickets, click here.
Anzac Day Mt Macedon
If you're based up north, Mt Macedon's Dawn Service is pretty special. It's staffed entirely by volunteers and takes place at the giant Macedon Memorial Cross every ANZAC Day. The focus of this year's service is the famous Battle of Villers Bretonneux, fought on ANZAC Day 1918. Ceremonies kick off at a sprightly 5:45am, so plan for a very early drive (might be better to snag a B&B in Macedon and make a night of it). Private vehicles won't be able to drive all the way up to the Cross either—there are free buses running from around the Shire instead. Check the website for deets.
Where: Mt Macedon Memorial Cross
When: 5:45am
For more info, click here.
Anzac Day At The Waterside Hotel
The team at The Waterside in the CBD are broadcasting the footy live in the public bar. It's going to get loud.
Where: Waterside Hotel, 508 Flinders St, CBD
When: Doors open at 12pm
For more info, click here.
THE CORNER HOTEL
The Corner always puts on a good show. It's so close to the 'G you can practically hear the crowd roar. Expect to see hundreds of people cheering the Bomber and booing the Pies, BBQ in the beer garden from midday. No bookings, so get in early.
Where: 57 Swan St, Richmond
When: Doors open at 12pm
For more info, click here.
Two-Up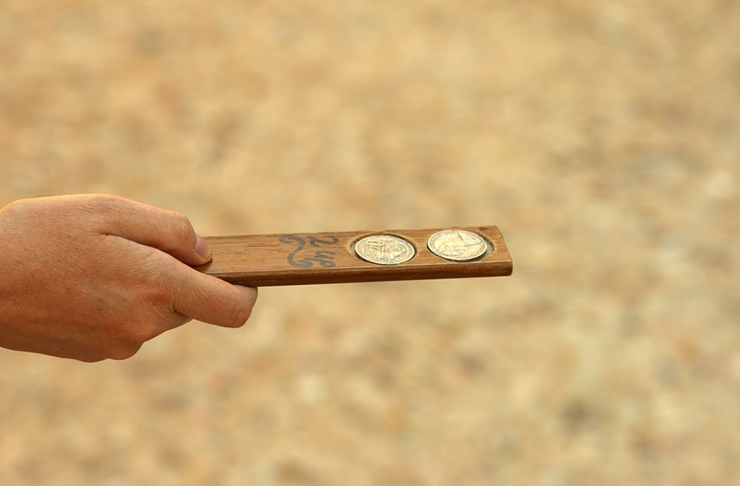 Photography: The Fox Hotel
Wouldn't be ANZAC Day without a game of two-up, right? Here's how you play. Chuck two coins on a paddle ('kip') and gather round in a circle. Everyone screams things like "Tennahead!" (you want to bet $10 on two heads). If you want to take the bet, lock eyes and nod at the better, then hand them your cash (whoever bets heads holds the dough). The 'boxer' (ref) will yell "Come in spinner!" to finish the betting, and the coins are flicked. They have to go higher than the spinner's head and land in the circle. Heads? You lose. Tails? You beauty! One of each? The spinner goes again.
The Mail Exchange Hotel
Always draws a big crowd, including a lot of servicemen and women from the Dawn Service. Brekky kicks off from 7am, and the Two-Up begins at 12pm. Get in quick and enjoy the chaos.
Where: The Mail Exchange, 688 Bourke St
When: Two-Up from 12pm
For more info, click here.
Prahran RSL
ANZAC Day always goes off at The Prahran RSL. It's one of the oldest RSL clubs in the country, and they don't hold back on the big day. Raffles, banquet lunches, live music, BBQ and a cracking game of Two-Up.
Where: Prahran RSL, 301 High St Prahran
When: All day
For more info, click here.
Caulfield RSL Family Day
It's gonna be a big day in Caulfield. They're running a march down St Georges Rd at 6:15am, followed by an ANZAC Service at 7am and BBQ lunch and Two-Up from 12pm..
Where: Caulfield RSL, 4 St Georges Rd, Elsternwick
When: Two-Up from 12pm
For more info, click here.
Roadtrips
Want to get out of town for ANZAC Day? There's a bunch of stuff you can do.
Want to know what's open on Anzac Day? We've got you covered over here.
Image credit: Visit Victoria