If there's one thing we know for sure, it's this: when truffle season rolls around, Melburnians can't get enough. We put it on damn nearly everything: truffle fries, truffle burgers, truffle festivals and now...truffle gin. Can't stop won't stop.
Bass & Flinders Distillery (you know, the guys that made the pink gin that spammed your Insta last year) are back, and they're pulling out the big guns with their latest and greatest invention.
If you want to be the fun-gi at your next party (sorry), you've got to get your hands on their new truffle gin. It's the kind of bottle that'll not only look très chic on your liquor cabinet but will also make your friends go "Why does my G&T taste like soil?"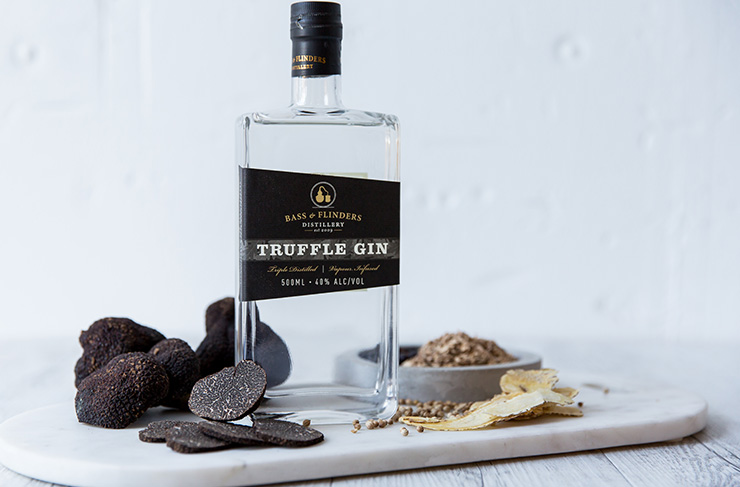 The masterminds from Bass &Flinders recommend having it neat, or served as a thyme-sprigged truffle martini to get the most out of the drink.
You can expect an earthy, truffle-y taste, made from Australian Black Perigord truffles. They've vapour infused the truffles and mixed in juniper, calamus root and angelica root to complement the taste (with those ingredients involved, we might even be able to claim this gin is for medicinal purposes. Hmm…)
Truffle gin is available online or from their distillery on the 'Ninch from this Friday 13 July (don't worry that the website says 'Unavailable', they haven't officially gone on sale yet). If you're on the Bass & Flinders mailing list, you'll be getting special pre-release on Wednesday 11 July.
Make a proper road-trip out of it and have a dab hand at finding your own mushroomy delicacies at their truffle hunt on Saturday 14 July (check their website for deets).
Image credit: Bass & Flinders