Things that make a good hens party slash girls night slash tearful post-breakup gathering: cocktails, tunes and a healthy dose of pink. Rock Sugar has all three, and they know how throw a party better than your bestie.
The clincher is the Feed Me menu banquet. The dinner banquet has smoked trout betel leaves and fried chicken ribs served with red nam jim, lemongrass and chilli caramel. Other favourites including spring rolls stuffed with massaman saltgrass lamb and the chicken and prawn dumplings are also included in the banquet option.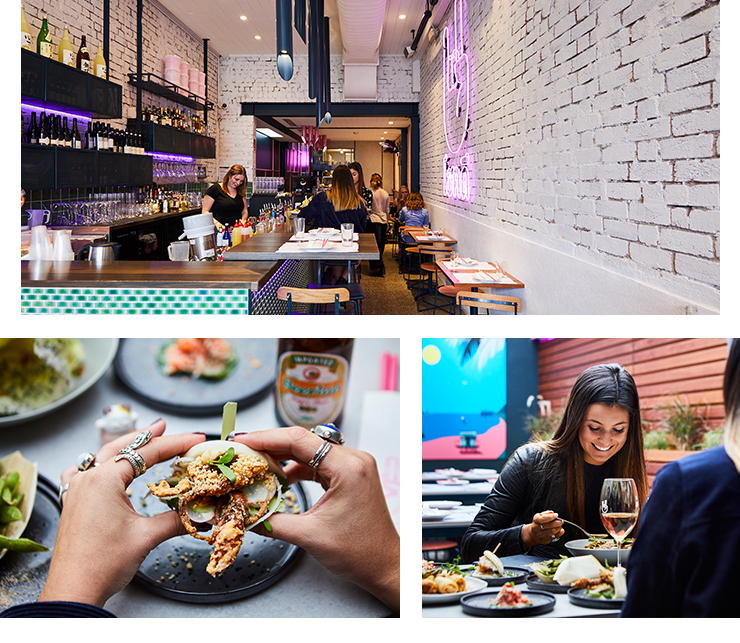 All banquets can be made vegetarian, vegan or gluten-free friendly, because the team are chronic overachievers. If your party is more about nibbles (read: drinks) than full-blown dining, Rock Sugar also offer an Entrée & Rocktail banquet, which includes a cocktail for every person. Is it time to party yet?
Drink favourites include the Fairy Floss Martini, which comes in original or vanilla. The Banana Espresso Martini tastes like a childhood candy store, with coffee and vodka topped with (boozy!) banana foam and banana chips. Other notable, sip-able cocktails (best enjoyed over a giggly gossip), include the Blue Bird complete with lychee popping pearls and served in a bubble cup or Strawberry Coconut Colada, which tastes exactly like it sounds. The Salted Caramel Mocha Martini marries salted caramel vodka, coffee, Baileys and freshly toasted marshmallows.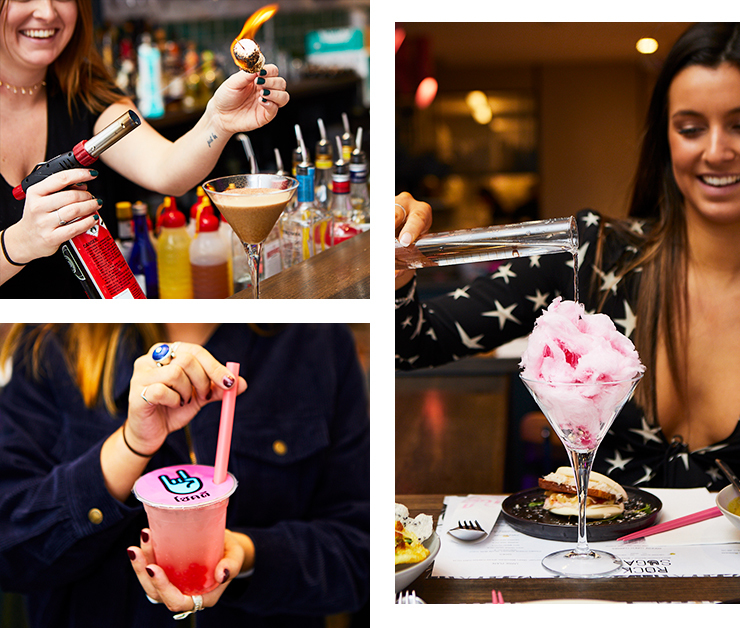 If you're popping along for date night, make sure to snag one of the high tables along the bar. Once you've filled the table with soft shell crab buns, marinated tofu on rice crackers, massaman curry with 18-hour beef shin and crumbled eggplant, you're a sure in for that second date.
Group dining tables form miniature booths, tucked into the corners of the asymmetric restaurant. If you're booking for a party (and when are you not?), the outdoor deck is heated and undercover, and features a beach-themed wallpaper and pink neon lights. You can book the area for a stand-up or sit-down function.
Image credit: Michelle Jarni for The Urban List
Editor's note: This article is proudly sponsored by Rock Sugar and endorsed by The Urban List. Thank you for supporting the sponsors who make The Urban List possible. Click here for more information on our editorial policy.