We'll admit it, we were slightly concerned as we pulled up to Perth burger and BBQ joint 3230 Smoke + Grill. Neighbouring a petrol station, the restaurant kind of looks like it's part of a giant roadhouse, smack bang between a Cheesecake Shop, the local KFC, a heavy industrial area, the freeway and Armadale Road.
But never judge a book by its cover. Upon walking into the restaurant's minimalist interior—which is bang on trend in terms of subway tiles, polished concrete and exposed light bulbs—the thought of anything from outside was replaced with the mouth-watering scent of BBQ.
After ordering a good cross-section of their menu, we sidled into a booth, sipped on our NYC-imported Boylan sodas and waited for what the online reviews said were some of the best burgers in Perth.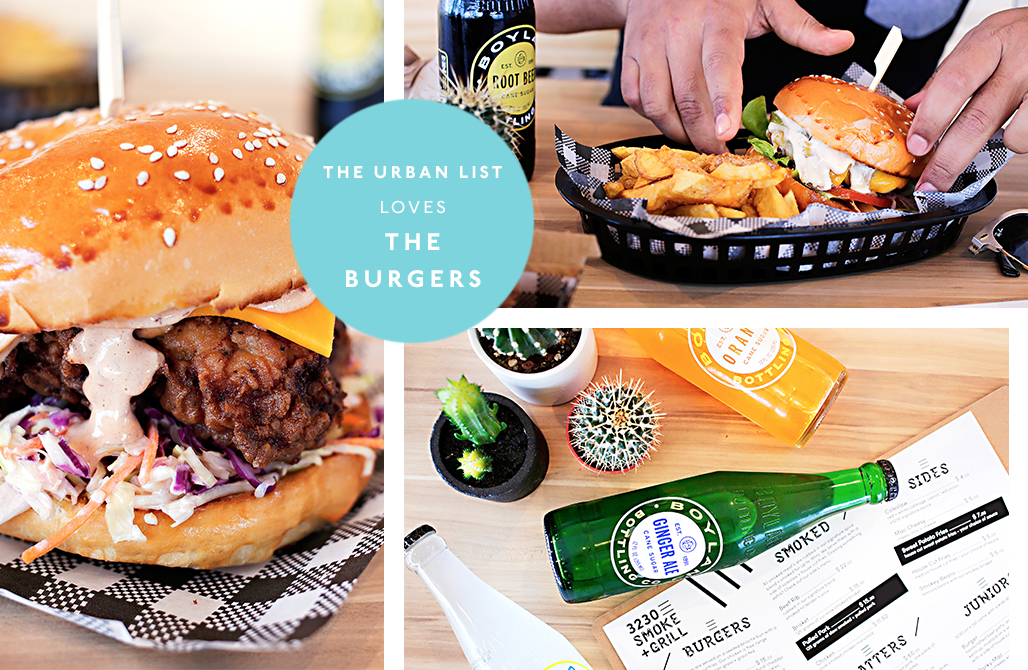 In no time at all, three burgers arrived in small baskets laden with house cut chips and sweet potato fries—the BBQ Bacon Cheesy (a monster of a beef patty topped with crispy bacon, thick cut pickles and a brioche bun), the Spiced Bird (a fried chicken and coleslaw combo) and the Bad Boy Brisket on a gluten free bun—and some mac and cheese, coleslaw and smokey beans, of course.
As we hoed into our burgers between sips of sugary-delicious grape soda and root beer we may or may not have been audibly groaning—they were seriously good. The fried chicken in the Spiced Bird burger was perfectly crisp and well seasoned, perfect when paired with the creamy coleslaw, while the BBQ Bacon Cheesy was a cheesy, meaty, bacon-y injection to the soul. The brioche bun practically melted in your mouth and the gluten-free bun was much better than most.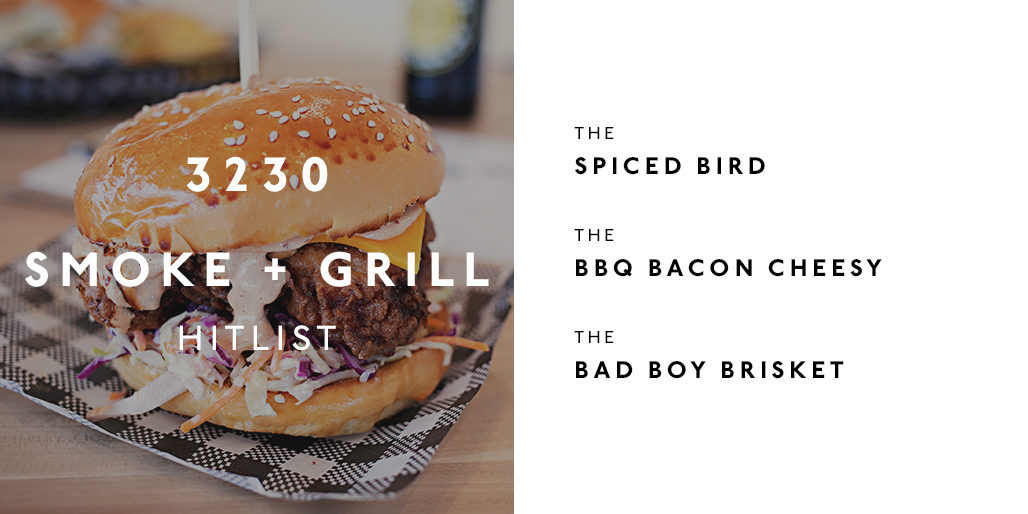 Though we didn't manage to taste the full dinner menu, which offers platters of smoked meats, ribs and other American BBQ staples, the Bad Boy Brisket burger was jam-packed with the most perfectly smoked brisket—as good as we've had at famous BBQ joints in the U.S. This one is our pick of the bunch if you're a die-hard carnivore.
There are a lot of American delicacies that are deceptively difficult to re-create in Perth—hot dogs, Tex Mex, soul food, Jewish deli cuisine to name a few. It's always exciting when one of these concept restaurants come to our shores, but they rarely live up to the hype. Safe to say, the guys at 3230 Smoke + Grill have actually come up with the goods when it comes to American-style burgers and BBQ.
If you're one of the people that lined up for hours for a chance to try In-N-Out Burger (you lovable schmuck), you should seriously consider a visit to this Jandakot gem.

Can't get enough of burgers? Here are the best burgers in Perth.
Image credit: Elle Borgward