Nestled into the leafy and local George Street in East Freo, walking into Ari & Esmay feels like arriving home —that is, if home came complete with an expert pastry chef and breakfast fare on tap.
The place is absolutely gorgeous, doing justice to the beauty and tranquility of George Street with its tall ceilings, spacious floors and abundant natural light. Layering a colour palette of unicorn pinks, rose red, Santorini blues and porcelain white, Ari & Esmay isn't just beautiful—it is well thought out and, above all, true to a vision you can just tell the owners had been dreaming of for a while.
You'll be warmly welcomed by the host and the staff at the coffee machine, quickly seated, and have a tasty coffee in your hand before you can say 'where's the menu?'. You can skip the coffee if it's not for you and go for one of their cold pressed juices or, if you are craving something a bit on the sugary side, we are told they'll soon be offering up hot chocolates that come with whipped cream, fairy floss and a big ol' piece of home made marshmallow that tastes like an actual cloud.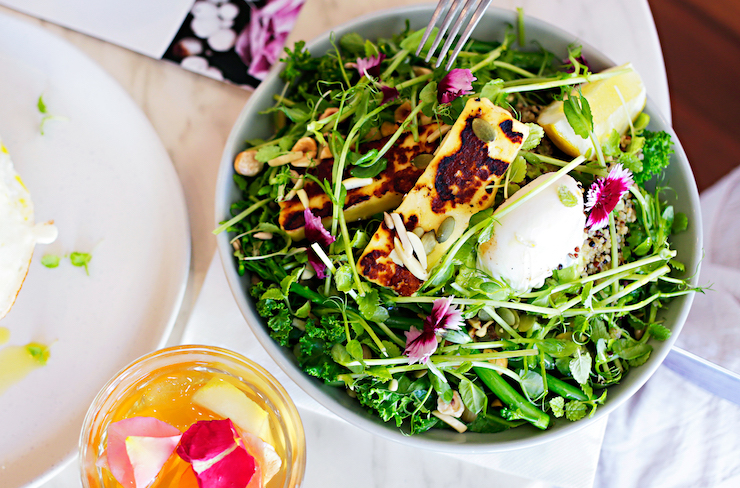 Moving right along: the food. Early introductions of Ari & Esmay have championed the cakes and treats, but do not be fooled—this is absolutely the place to go for a damn good breakfast as well. In honour of not-so-morning-people, the menu is simplistic and organised into categories that do make the taste buds begin to water.
The real hero of the menu is the grilled mushrooms. Grilled to absolute buttery perfection, these are a reminder of how good mushrooms can be. They are arranged lovingly on the plate among a couple of sweet baby vine tomatoes that burst when you bite them, as well as lightly grilled asparagus and halloumi, all underpinned by a lashing of beetroot hummus and topped with a fried egg.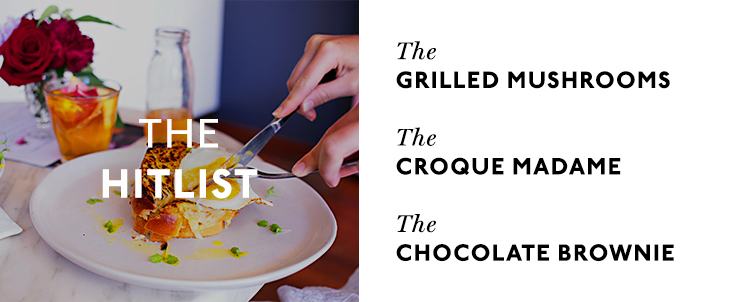 For those strange people who claim not to like mushroom, don't worry: there's plenty of other options on the menu that are downright delicious, too. For something light, pick from the Toast & Muesli or the Pastries section of the menu—where else in Perth can you wrap your mouth around a delicious Euro Breakfast, complete with cheese, ham and an expertly made croissant? Or, for that matter, where else can you get raspberry sorbet on your morning muesli? Here, that's where. Then there's the Meat & Eggs section which features a Croque Madame—layered brioche, cheese, ham and fried egg, for those who really need something heavy.
Ari & Esmay don't fail to deliver on a good avocado smash—theirs comes rather nice and simple, topped with a refreshing tomato and dill salsa and a perfect wedge of lemon for you to douse the dish with yourself. All of their dishes seem to be the perfect size, but If you're super hungry you might need to flesh this one out a bit by adding a side—our recommendation is a bit of salmon!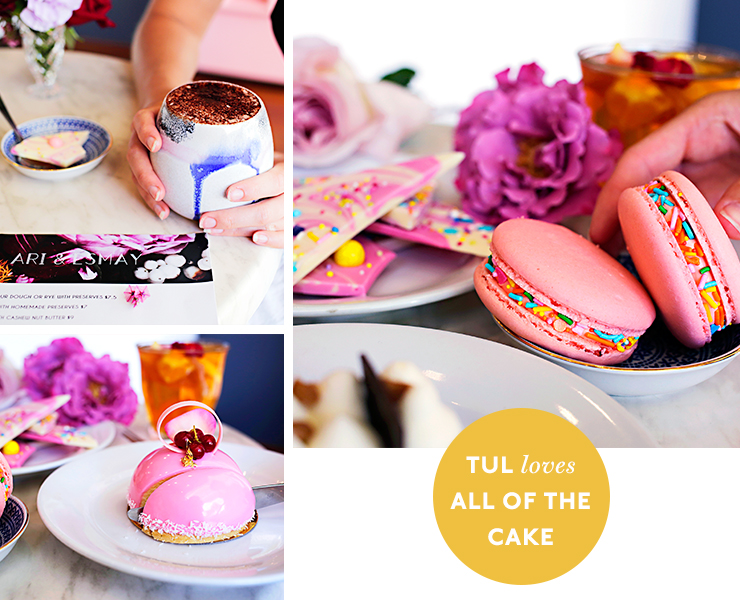 Now, on to the cake cabinet. Sitting quietly in the corner underneath the stairs, behind a sheet of glass it lays—the chocolatey, lemony, fudgey goodness that is Ari & Esmay's cake selection. I don't care if it's 7.30AM, you absolutely cannot leave without ordering at least one cake, if not two (because, well, cake). The chocolate brownie is insanely good—smooth, moist and rich with a thin chocolate icing and a tiny bit of fudge on top. You will not regret getting wheeled out of the place upon finishing—the brownie is worth it. The banoffee was also crafted to perfection—keep your eye out for it though because we are told it won't be a permanent resident of the cake cabinet. More like the cousin from the rich side of the family who visits every now and then and steals all the attention.
When it's all over, you'll walk out of Ari & Esmay feeling full, satisfied, and like part of the George Street family.

Image credit: Elle Borgward