Don't get us wrong, we love a bit of Netflix and chill, but with the weather heating up it's time to put away those doonas, turn the TV off and head outside for some good old-fashioned exploring. Let's be honest, we live in a pretty damn good-looking city!
So, thanks to the boss Ford Escape (everyone's perfect weekend accomplice), we've rounded up the best ways to do a totally screen-free Sunday. We promise they're worth getting off the couch for.
For The Suits Lovers: Swan Around The Swan Valley
There's nothing better than jumping in the car on a sunny Sunday and heading on a road trip. After a quick half-hour drive down the highway, you'll hit the Swan Valley; a mecca for all things good food and wine. Look as suave as Harvey Spector as you swan around the many wineries and restaurants and worry away those impending Monday blues.
For The Stranger Things Lovers: Hit The Seas
Now when we say seas, really we mean Freshwater Bay, but that didn't have the same effect now did it?! Anyway! Get off dry land and have a go at sailing at the Royal Freshwater Bay Yacht Club. While RFBYC is a members-only clubhouse, even non-members can do the adult sailing courses offered, so there's no excuse to not have a crack.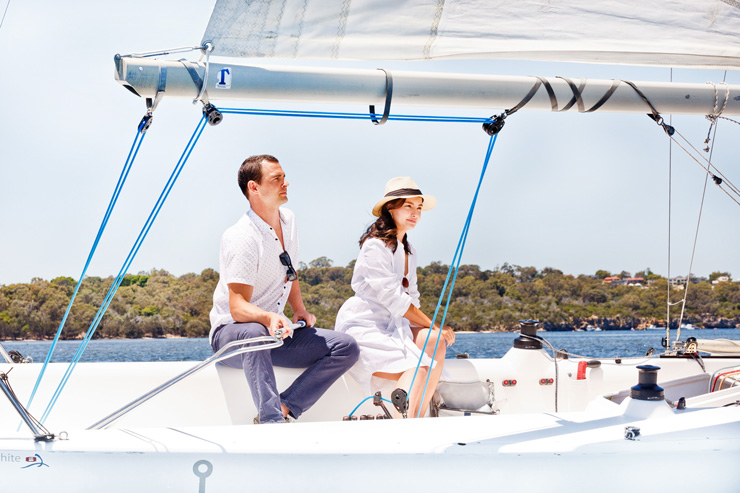 For The Crown Lovers: Hit The Tunnels
This one is for the history buffs out there because when Singapore fell to the Japanese in WWII, the military thought Fremantle may be at risk, so five coastal battery units were built to protect the harbour. The Leighton site still has a 400m network of tunnels underneath, all of which have been restored and are ready for your Sunday tracks.
For The Broad City Lovers: Have A Crack At Stand Up Paddle Boarding
It's the activity that constantly clogs our Insta feeds every summer, so If you can't beat them, join them, we say! There are a few places around Perth you can have a go at and for those balance-challenged be sure to grab yourself a lesson. This can get pretty addictive so you'll be chucking your own board on the roof racks before you know it! YASSSS QUEEN!
For The Vikings Lovers: Get All Primal With Archery Tag
Sundays are for random activities, right?! Well you can't get any more random than some archery tag on Rottnest Island! Fill the car with your finest friends, jump on the ferry and then split into teams to have a head-to-head bout, all in the name of protecting the fortress—how very primal indeed!
For The Animal Planet Lovers: Get Your Animal Fix At The Zoo
Seeing one animal is great, seeing lots of them all in one place is even better! Unleash your inner David Attenborough and head to Perth Zoo to get your animal fix and see everything from an African lion and zebra, to a giraffe, Sumatran orangutan, black headed python and bookbook owl. Hell Yes!
For The Departures Lovers: Chase Waterfalls
If you don't go to a waterfall on the weekend, did you even Sunday?! Head to Serpentine Falls and have one epic Sunday sesh sans TV screen. Pro tip: swap the doona for a picnic rug and an epic picnic feast, then have a dip in the rock pool below the cascading water of the Serpentine River.
For Fifth Gear Lovers: Hit The Highway
Jump in the car and jump on the West Coast Highway for a quintessential WA experience up the sunset coast. Throw your bikini in your bag and check out the 19 beaches that line the coast and then make the tough decision on which beachside cafe to stop at along the way.
For Man V… Lovers: Hit The Farmers Markets
What's not love about the markets? Good bargains and even better food. Head to Perth Home Grown Market and get your hands on some old school baked goods, handmade gifts and homewares and fresh fruit and vegetables. And why not treat yourself to a delicious slice of Honeycake to reward yourself for having a damn good Sunday!?
For The Gilmore Girls Lovers: Unleash Your Inner Child At A Waterpark
Make it a family affair and revisit your childhood at the Cockburn ARC, where you'll find three 18m high waterslides—the rocket is 69m in length and starts with a drop in a glass-enclosed rocket launcher and then a plunge through a loop. That'll really get the Sunday adrenalin pumping through the veins and cure any impending Monday blues!
So there you have it, thanks to the Ford Escape, you now have 10 ways to really live it up on a Sunday, and there isn't a TV in sight!
Editor's note: This article is proudly sponsored by Ford and endorsed by The Urban List. Thank you for supporting the sponsors who make The Urban List possible. Click here for more information on our editorial policy.