Cheap and cheerful Asian food > spending $60 on a steak on a Tuesday. Pretty standard decision making for team Perth. Blame our inability to go a day without coffee or our addiction to ASOS, but over on this side of the table, we're all about tap water, BYO, wearing stretchy pants and asking for a doggy bag. And where better to do cheap and cheerful than your local Thai place or dumpling house.
So next time you're in need of a cheap but delicious bite to eat, head to one of our fave cheap and cheerful Asian restaurants in Perth. Aaaand you are welcome!
Penang Cuisine
Thornlie
Add a little humidity and Thornlie's Penang Cuisine in the Spencer Village Food Court will take you straight back to the streets of George Town in Malaysia. And with Assam laksa for only $8.50, this place is a no brainer!
Fat Maki
West Perth
All hail the legends behind Fat Maki in West Perth! Finally, a cool roll-to-order sushi bar. But how the heck can we choose between the sushi bacon burger, honey soy tofu sushi or Japanese fried chicken bao? We don't. Just have them all. At $8 for two, it's the best decision you'll make today.
Viet Hoa
Northbridge
$13 beef and lemongrass bun xao at Viet Hoa in Northbridge—arguably Perth's most popular Vietnamese—is always a good idea. The fact that it's BYO and there is no corkage is just an added bonus at this ultimate cheap and cheerful Asian restaurant in Perth.
Old Lane Street Eats
Northbridge
When we say you can get all the baos at Old Lane Street Eats in Northbridge for $8.90 we really mean all the baos. Need we say more?
Izyan Malaysia Cuisine
Thornlie
$3.50 roti canai at Izyan Malaysia Cuisine in Thornlie is as close as you'll come to the Indian Malaysian street hawkers in KL. Plus you don't need to fly Air Asia. Extra win!
MOM Dumpling House
East Victoria Park
East Victoria Park locals know what we're talking about. Do they even need a small option? At MOM Dumpling House, it's all about the $13 large plate of dumplings. Because you know, YOLO.
Hawker's Cuisine
Northbridge
A wok, steam and a hop away lies the tastes of Malaysia at Hawker's Cuisine in Northbridge. At $13.90, the Penang fried kuah teoy is our top pick. Or is it the Marmite chicken or the mabo tofu? Ah, we can't decide! All of the above please.
Is Donburi
Northbridge
Is Donburi. Is good (sorry, we couldn't resist). Northbridge's infamous Japanese local pumps out the $13.80 chicken teriyaki don to Team Urban List on a very regular basis.
Trang's Vietnamese Cafe And Noodle House
Girrawheen
A giant bowl of what might just be the best Pho in Perth for $10 sounds almost too good to be true. Throw in a bowl of nuts to nibble on while you're deciding what to order and you've got yourself a deal.
Pinto Thai Restaurant
Kensington
Team Kensington is going to be so mad that we're breaking their little secret. Sorry not sorry though when Pinto Thai Restaurant is serving up all the delicious curries for $16.
Hong Kong BBQ House
Northbridge
Go straight to the rice page. Order the roast pork rice for $12. Regret nothing. Northbridge's Hong Kong BBQ House is where it's at. Get there early if you don't wanty to queue.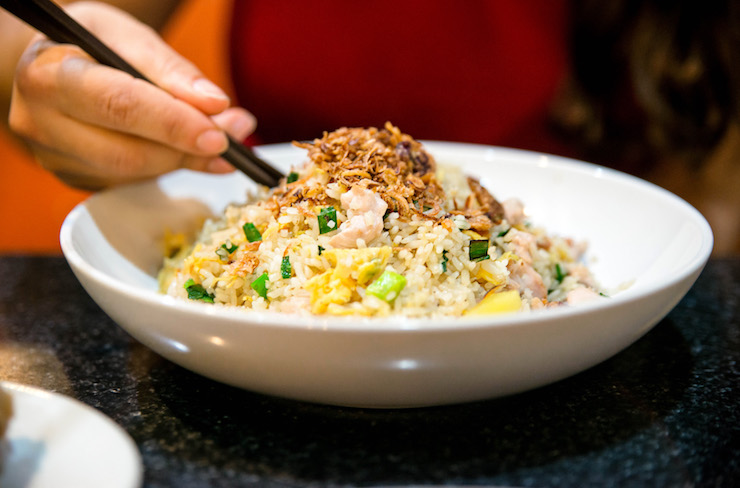 Pad Thai Cafe
Joondanna
We feel the clue is in the title but for those playing at home, Pad Thai Cafe in Joondanna for a $12.90 pad thai = easy life wins.
Wok And Ladle: Thai Eatery
East Perth
Wok and Ladle: Thai Eatery in East Perth is as cheap and cheerful as they come. $12.90 tom yum fried rice anyone?
G'Fun Cafe
O'Connor
G'Fun Cafe in O'Connor is the definition of cheap and cheerful and we're really, really into it. We're talking $5 roast chicken rice. It'll cost you more in petrol to get there!
High On 55
Fremantle
There's a reason High on 55 is a fave amongst the Freo locals. The laksa and pho are both top notch and the servings are HUGE. For $12 for either of these, we'd say that's flippin' good value.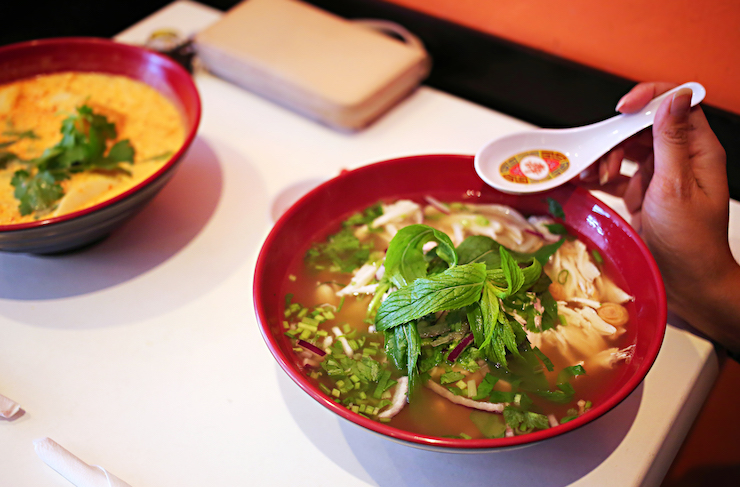 Sarawak Hawker Cuisine
Willetton
Sarawak Hawker Cuisine in Willetton has got the Singaporeans and Malaysians covered with authentic tastes from the South China Sea. Grab a fork, spoon and multiple napkins and order a Sarawak laksa for $10.50 (extra chilli optional, but highly recommended).
Taka's Kithchen
Fremantle and Perth
You know the drill. Head to your closest Taka's, order the katsu don and a bottle of Coke Zero, pay $8.50, take your number, grab a seat and wait for the buzzer to go off. It's the ultimate cheap and cheerful lunch.
Nao Japanese
Perth
Oh please, if you haven't been to Nao Japanese in the City then you've either been a) avoiding the crazed Pottery Barn shoppers or b) living under a rock. Either way, it's unacceptable. $13 shoyu ramen (large, obvs). Get amongst it.
Tak Chee House
Northbridge
Mmmmmm all the Hainanese chicken rice for $9 please from Tak Chee House in Northbridge. Take us now or lose us forever.
Noodle Forum
Various Locations
Boasting four locations, Noodle Forum perfectly combines the best WA produce with the humble Japanese noodle and we're loving it. The beef in spicy XO sauce noodles for $13.90 is a non-negotiable.
New Moon
Northbridge
If you haven't had Dim Sum at New Moon in Northbridge, then we can't be friends. Or maybe just come with us and then we'll let it slide. All the egg tarts please, and extra to takeaway. Xiè Xiè!
Authentic Bites Dumpling House
Perth
Sometimes we feel more like dumplings than adults, and we've decided that's A-OK. It could be because of our excessive consumption of the pan fried pork buns at Authentic Bites Dumpling House. Who are we kidding, there is no such thing as excessive when they only cost $6.50.
Bintang Cafe
East Victoria Park
Don't try to pretend you don't own a Bintang singlet, we know you're lying. Word of advice though, probs don't wear it to East Victoria Park's Bintang Cafe when you go to eat all the $9.90 Mee Goreng. Actually on second thoughts…maybe do.
For more cheap eats in Perth, click here.
Authentic Bites Dumpling House | Image credit: Nancy Hanna