People forget that we live in a truly beautiful country and to not take advantage of that—especially while we're all stuck at home—is all kinds of ridiculous. Being quarantined in WA means being quarantined in the Golden Outback, people. Millions of tourists flock every year to see the wonders of our outback, so why not take advantage of that while we have the whole place to ourselves?
You don't even have to worry about flying; just hop in the car or hire a camper, grab some snacks and make a road trip out of it. Start planning, we've teamed up with Tourism Western Australia to bring you all the exciting outback adventures you'll want to sink your teeth into this year.
Wave Rock, Hyden
It's hard to top the Super Pit, unless you're talking about one of the world's biggest and oldest waves. Wave Rock is a natural rock formation that's shaped like a tall, breaking ocean wave. The wave is roughly 15 metres high and around 110m long and trust us when we tell you, it's an impressive sight. Formed on the north side of a solitary hill called Hyden Rock (over 2,700 million years in the making) the wave is a little under four hours from Perth. You can make it a day trip by taking a self-guided walk or turn it into a weekend trip by taking a tour from Hyden; there's a fun photography tour that includes breathtaking nighttime photography, or a two-day adventure exploring the area surrounding Wave Rock.
THE ROUTE:
From Perth, follow State Route 40 to Lovering Rd in Hyden for about 332 km (about 3.5 hours) then turn onto Wave Rock Road and bask in Wave Rock's ancient glory.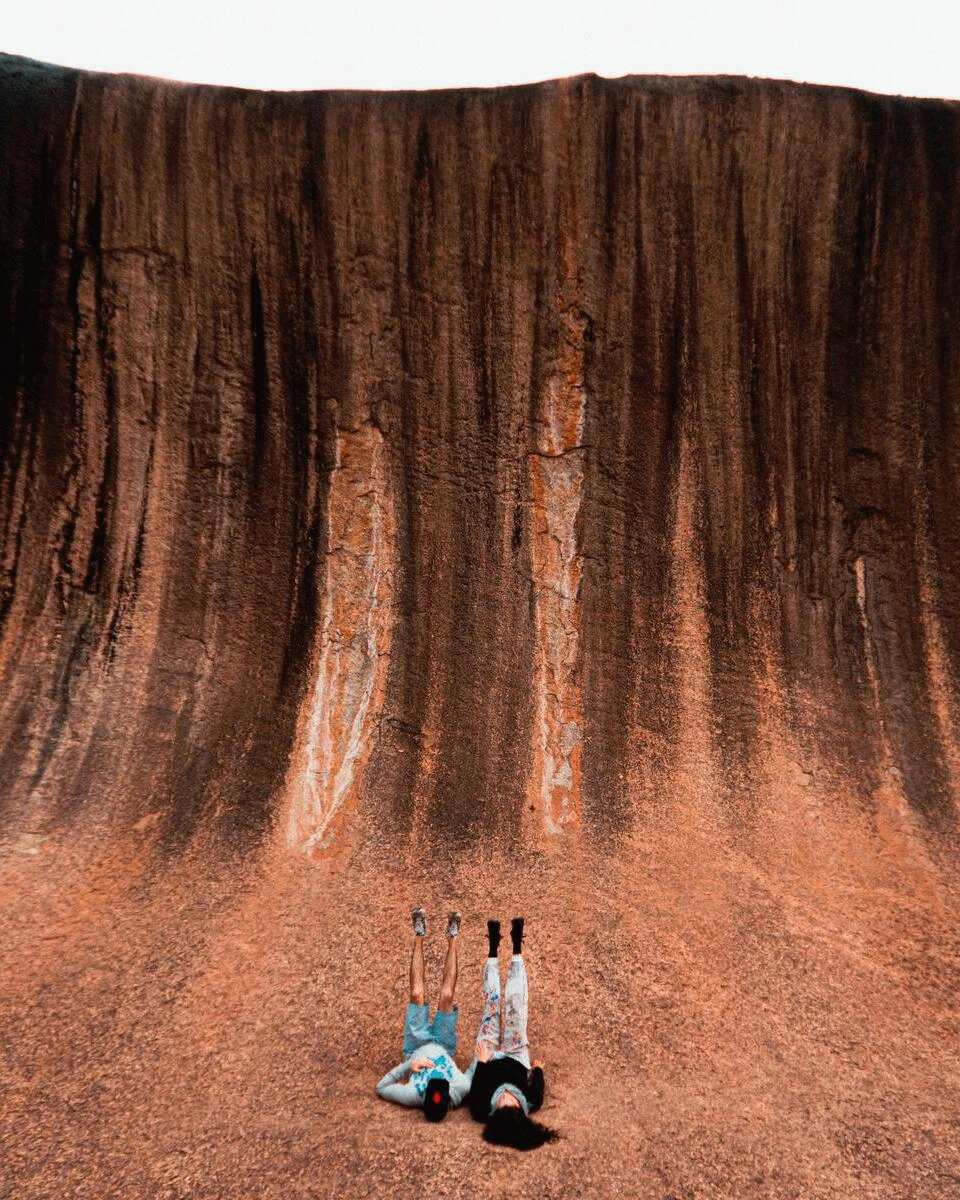 Mount Augustus
Speaking of rocks, have you been to the world's biggest rock yet? And no, we're not talking about Uluru. Mount Augustus is an inselberg—AKA an island mountain—that rises 715 metres above the surrounding alluvial plain. While Uluru is the world's largest rock monolith, Mount Augustus is the world's largest overall rock (and if you want to fight about semantics, you'll have to talk to a geologist.)
There's a 49-km loop drive around Mount Augustus that allows access to all visitor sites within the park, including a variety of walking trails. You can opt for a short walk, a half-day or a full day. There's plenty to see, including an Aboriginal rock art site. And because the majority of Mount Augustus is vegetated, a plethora of wildlife skitters about, so you might get a chance to sneak a peek at emus, red kangaroos, goannas, and more.
THE ROUTE:
From Perth, it's roughly a 1,100 km drive (about 14 hours) via National Highway 95, but don't let that deter you. There are plenty of side adventures to be had at stops like Mount Magnet, Cue and Meekatharra. Check out this super helpful guide that gives you all the highlights of the beautiful road trip along the way.
Cape Le Grand National Park
Sunbathing with kangaroos on Australia's whitest beach? Uh, yes please. Head south-east to Cape Le Grand National Park and experience one of Australia's most impressive beaches at Lucky Bay. Grab a 'Kangachino' from the Lucky Bean Cafe and hike up Frenchmans Peak for sweeping views across the National Park, or head out into the wild with a local expert guide. There's no way you'll get bored at Cape Le Grand.
THE ROUTE:
From Perth, it's about a 740-km drive (8 hours) via National Route 1. You could fly into Esperance but then you'd miss out on the stunning PUBLIC Silo Trail dotted along the way. Alternatively, make your way along the bucket list-worthy South West Edge road trip so you don't miss a thing.
'Inside Australia' At Lake Ballard
Created by British sculptor Sir Antony Gormley, 'Inside Australia' is an outdoor exhibition featuring 51 chromium steel sculptures—each representing a local resident—scattered across a massive 10 square kilometres of blindingly white salt pan. This exhibition is part of the Golden Quest Discovery Trail that spans 965 kilometres through the Goldfields of Western Australia. Along the trail, you can visit the eerie gold rush ghost towns and remarkable historical sites that'll beat all your Netflix marathons put together.
THE ROUTE:
From Perth, it's a 798 km drive (9 hours) to Lake Ballard via the Great Eastern Highway. If you're headed there, though, you might as well do the Golden Quest Discovery trail and visit all these amazing sights along the way.
Lake Hillier
Picture a lake of the brightest bubblegum-pink sitting beside the deepest blue ocean: that's Lake Hillier. Lake Hillier is one of the extraordinary sights you'll see flying or cruising through the pristine wilderness of the Recherche Archipelago, near Esperance (which is an amazing destination on its own). The lake is separated from the Southern Ocean by just a thin strip of sand, which makes it a breathtaking view to experience from above. If you're already visiting Cape Le Grand, Lake Hillier is definitely worth a road trip within your road trip, so get ready for some epic road trip inception.
THE ROUTE:
From Perth, take National Route 1 into Esperance, which is a 697 km drive that'll take you just under 8 hours. Lake Hillier is situated on a remote island, so you'll have to catch a plane directly from Esperance.
Stargazing
Did you know astro-tourism is a thing? Escape the bright city lights and hit up country WA to actually see the stars. There are several towns that are known as astro-tourism hot spots, so whether you're out for the weekend or for a longer trip, there are plenty of destinations that'll fill that stargazing void. Best part? You don't need any fancy equipment for stargazing; just your eyes. (But if you have a pair of binoculars, we strongly recommend bringing those as well.)
THE ROUTE:
The route depends on which town you choose, but one of the closest astro-towns from Perth is Bindoon, which is 75 km (less than an hour) on the Great Northern Highway.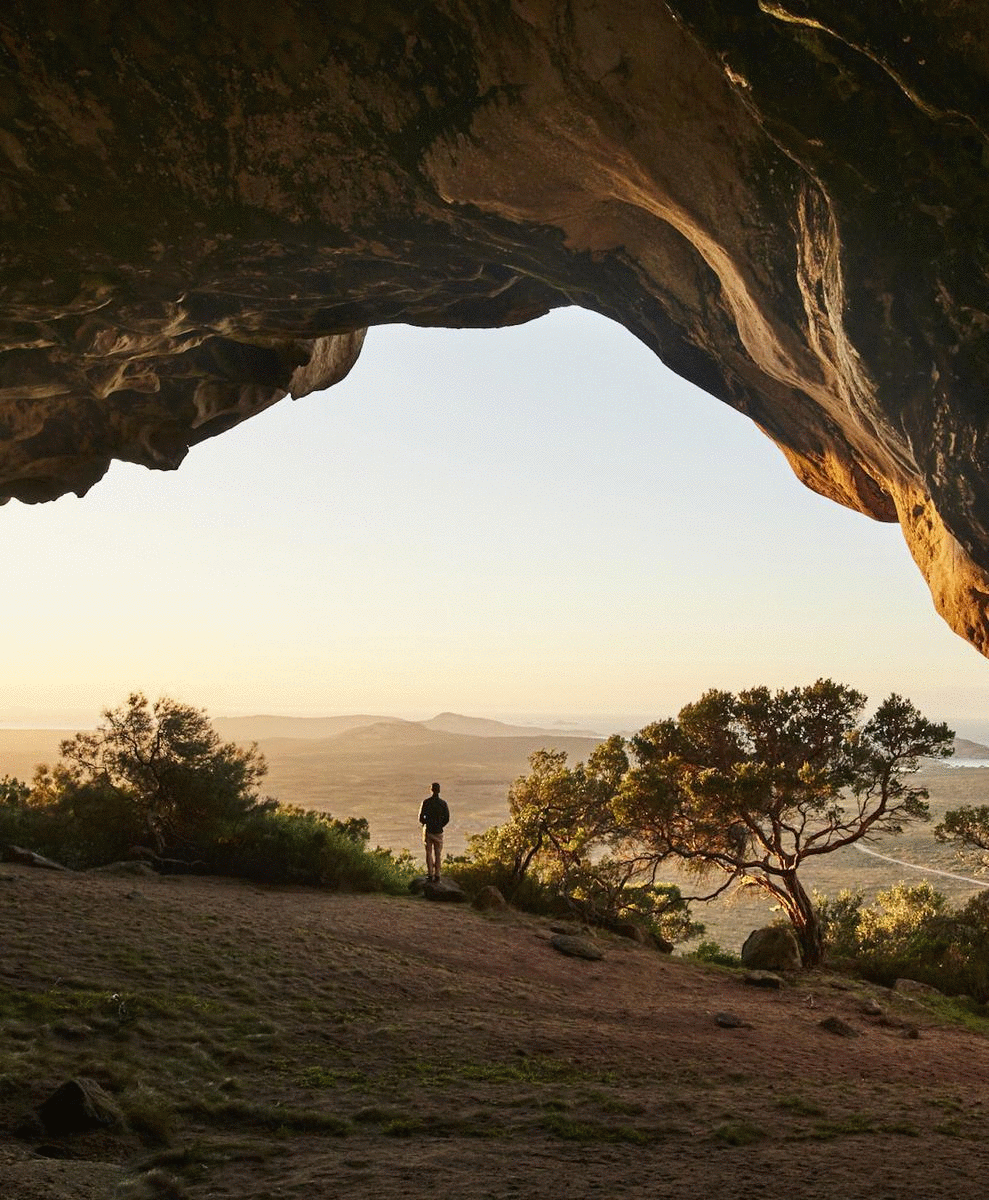 PUBLIC Silo Trail
While not exactly otherworldly, the PUBLIC Silo Trail is a must-see on your road trip if you're headed east. The ambitious project between FORM and CBH Group has brought internationally renowned artists to regional Western Australia to transform a string of massive grain silos into works of art. The trail goes from Northam all the way to Ravensthorpe, so if you're headed east to Kalgoorlie or Cape Le Grand, you'll want to stop and have a peek at the trail on the way.
THE ROUTE:
View or download the official Silo Trail map on the official Silo Trail website.
The Bungle Bungle Range, Purnululu National Park
If you're in Perth and looking for the road trip of a lifetime, we've got just the ticket. With gorgeous gorges galore, the Bungle Bungles' stunning scenery is definitely worth the 3,100 kilometre trip. Take in the view from Walangindji Sunset Lookout or hike through Cathedral Gorge, Piccaninny Creek Walk, Mini Palms Gorge and Echidna Chasm. But the best way to experience this otherworldly range is by air; so if you can, book a helicopter or plane tour and marvel at the beauty of this 350 million-year-old range.
THE ROUTE:
From Perth, take the National Highway 95 for about 1,600 km and then merge onto National Highway 1 all the way into Purnululu. If you're short on time, you could fly into Kununurra. From there, it's a 312 km drive—less than four hours—to Purnululu.
Kalgoorlie Super Pit
The Fimiston Open Pit—also known as the Super Pit—was Australia's largest open-cut gold mine until 2016, when it was surpassed by the Newmont Boddington gold mine. It's called the Super Pit for a reason: at 3.5 kilometres long, 1.5 kilometres wide and more than 600 metres deep, it's a stunning sight to behold. The full tour of the Super Pit will make your jaw drop so once you're done picking that up off the ground, you can head into Kalgoorlie for some delicious food and a few tours of gorgeous heritage buildings.
THE ROUTE:
From Perth, follow the Great Eastern Highway all the way to Kalgoorlie, which is about a 593 kilometre drive (about 6.5 hours). From Kalgoorlie, you can head to the Super Pit Lookout, which is located on Outram Street in South Boulder, just off the Goldfields Highway.
Is your suitcase open on your bed and half-packed by now? It's time to dig deep and support this beautiful place we call home, starting with a bucket list outback adventure. Join our 20 For 20 Challenge and make 20 pledges to live your best life in WA again.
Editor's note: This article is sponsored by Tourism Western Australia and proudly endorsed by Urban List. Thank you for supporting the sponsors who make Urban List possible. Click here for more information on our editorial policy.
Image credit: Auyeung Photography, Tourism Western Australia