Let me guess, your mouth began to water the minute you read the headline? Yep, that's what Nutella does to all of us. There's something really special about this hazelnutty, chocolatey goop which we all go crazy for. And apparently you can do more with Nutella than eat it directly from the jar (news to me).
Here's Perth's best Nutella everything. Cue the drooling!
Nutella Calzone | Threecoins Italian Trattoria
What could be bad about pizza dough, sandwiched with Nutella, cooked on the wood fire and served with vanilla bean ice cream? Nothing, that's what. We love you Threecoins!
Nutella Fries | Frankly My Dog
If you're one of those geniuses who dips their Macca's fries in ice cream, then you already know that Nutella fries are sure to be a winner. Grab some at Frankly My Dog along with a savoury hot dog and carb load like there's no tomorrow.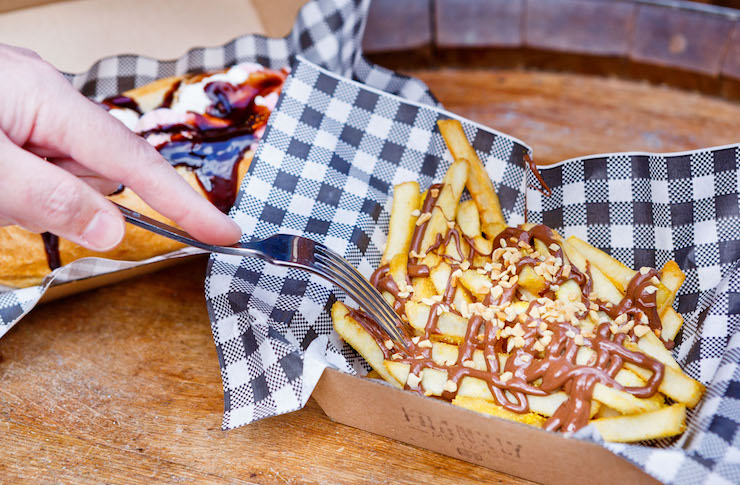 Nutella Panna Cotta | ATLAS Food + Coffee
The Nutella panna cotta with torched marshmallows and fig granola is the crowd pleaser at Atlas Food + Coffee. It's not hard to see why.
Nutellero | Whisk Creamery
Think deconstructed Ferrero Rocher chocolate in a gelato form with Nutella. This cray cray creation at Whisk featuring Nutella, chocolate gelato topped with crushed hazelnuts and a real gold leaf is everything you need to get you through PMS every day.
Nutella Martini | Benny's
If you can make it past Benny's espresso martini, they also serve a deeeelish Nutella Martini made with Frangelico, hazelnut liqueur and vanilla vodka. Or if you want something sans alcohol, they go a a mouthwateringly good Nutella panna cotta.
Nutella Pizza | Eccolo
Only two of the two things you can't live without—Nutella and Pizza—joining forces to make one great thing at Eccolo. Mamma Mia!
Nutella Hot Chocolate And Nutella Doughnuts | Drip House
A square meal made out of Nutella? Thank you Drip House for answering our prayers. Serving a deliciously sweet Nutella hot chocolate and equally decadent Nutella doughnut, happiness can be found at this little Perth coffee shop.
S'mores | Brooklyn Lounge
Silly Americans, making s'mores with Hersheys…it's just not how it should be done. For s'mores made the right way head to Brooklyn Lounge—choc chip cookie sandwiched with Nutella and melty marshmallow. Yummo!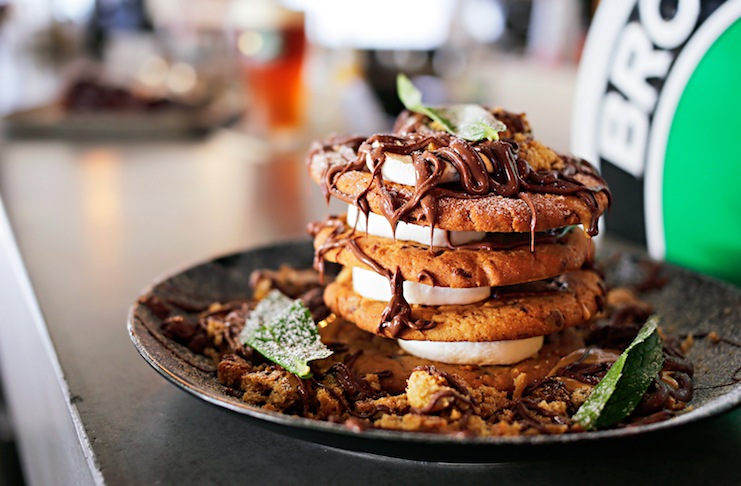 Nutella Cronut | Bites By D
How do you make a cronut even more delicious? You add Nutella of course. Bites By D is definitely serving up one of the best Nutella cronuts in Perth.
Nutella Cappuccino | Cafe Elixir
Coffee = good. Nutella = good. Coffee + Nutella together = mind blown. Head to Cafe Elixir in Wanneroo for a cappuccino doused in Nutella and chocolate chips. If you can handle it, why not get the choc-Nutella pancakes to go with your coffee?
Cookies And Cream Cocowhip | May Street Larder
To get a healthier Nutella fix, order the cookies and cream Cocowhip from May Street Larder—this delightful dessert is made with vegan biscuits and raw Nutella. If you're feeling too skinny you could always opt for an extra serving of raw Nutella.
Nutella And Tiny Teddy Milkshake | Babooshka
This bad boy from Babooshka is made by blitzing up sweet, hazelnutty Nutella and everyone's favourite childhood recess snack, Tiny Teddy's. It's just as delicious as you would imagine.
Nutella Bomboloni | Lena Lu
Lena Lu is Perth's only bomboloni bar and it's worth hunting down. The Nutella bomboloni is basically a Sicilian doughnut, stuffed with Nutella and coated in powdery icing sugar. They also do a Nutella overload box which you can have delivered right to your door. Win.
Peanut butter more your flavour? Here's Perth's Best Peanut Butter Everything!
Atlas Food + Coffee | Image credit: Atlas Food + Coffee, Emma Bryant at Frankly My Dog, Elle Borgward at Brooklyn Lounge