Iceland is a land of extremes. Home to some of the world's most active volcanoes and largest glaciers, it's been dubbed as The Land of Fire and Ice for a very good reason. The summers are bright with endless hours of sunlight, while in the winter you're lucky to get five hours of it. To top it off, Iceland is also home to some crazy activities, from dog sledding and caving to ice climbing and hiking—you're never short of something new to try in this wonderful European land.
To help you get there fast, we've partnered with the American Express Explorer Credit Card. Perfect for avid travellers, with the Explorer Credit Card new members can take advantage of 50,000 bonus Membership Rewards points when they spend $1,500 in the first three months, as well as a $400 travel credit and two Sydney International Airport lounge entries per year. Now that's how you travel in style!
Now, without further ado, here's the first-timer's guide to Iceland. We guarantee you'll be booking those tickets by the time you reach the end of the article!

#1. Warm Up In The Blue Lagoon
One of the 25 wonders of the world, The Blue Lagoon is a must for any visit to Iceland. Made up of nine million litres of self-cleansing, geothermal water that ranges between a glorious 37 and 40 degrees celsius, it's the silica, algae and minerals combined with sunlight that give the water in the lagoon its pastel shade of blue. Don't forget to try out a mud mask (using mud from the bottom of the lagoon) to give your skin a little exfoliation!
#2. Visit Gullfoss Waterfall
It's no wonder the Gullfoss Waterfall is one of the most well-known attractions in the country, it's freaking beautiful. Part of the popular tourist route, the Golden Circle, the water at Gullfoss plummets 32 meters, across two stages into a rocky ravine below. It's one hell of a meditative experience that you'll definitely need to add to your Iceland to-do list.
#3. Hunt Down The Northern Lights
The best time to see the northern lights in Iceland is over the cooler months from September through to April. While these dancing lights are active all year round, it comes down to some pretty particular weather conditions as to whether us folk on the ground are lucky enough to spot them—it needs to be a completely dark, clear night. Check the Aurora forecast before your trip to find out where you might be able to spot them. Why not book an Aurora Floating Tour where you get to lie back in the toasty warm Secret Lagoon while listening to underwater music and watching the lights put on their show. The full tour includes breakfast (you cook your egg in the geothermal springs), tastings of fermented shark (Iceland's national dish) and Black Death (Iceland's signature liqueur) and an in-water massage!
#4. Cool Down At A Glacier
Glacier tours can be pretty intense and last for several days, and for some that might be too much time dedicated to ice while on holidays. The good news is there are a few options that only take a day, so you can get in and see the freezing cold wonders of a glacier and be back to home base in time for bed. Glacier Guides offer a pretty speccy tour of the Vatnajokull glacier and Jokulsarlon glacier lagoon. Extreme Iceland also offer an even shorter ice cave tour, but you'll have to make your way there on your own, which shouldn't be too hard as driving in Iceland is painless!
#5. Descend Into A Magma Chamber
Ever wanted to journey to the centre of the earth? Well, the best place to do it is in Iceland where you can descend 120 meters into the dormant Thrihnukagigur volcano that last erupted 4,000 years ago (and is not expected to do so again any time soon)! Hop on an Inside The Volcano tour and you'll ride the open elevator down to the bottom for a visit to the magma chamber which, during an eruption, is the last place you would want to be as it's filled with liquid rock. Usually magma chambers close over with lava post-boil, but not this guy!
#6. Be Blown Away At Strokkur Geyser
Natural wonders are aplenty in this land of fire and ice and one of the best ones to make a beeline for is the Strokkur Geyser. About an hour and a half's drive to the east of Reykjavik, this geothermal fountain spouts water 40 meters into the air every few minutes or so, and if you're not careful it will blow you away literally as well as figuratively!
#7. Hike The Amazing Terrain
If you haven't already put it together, Iceland is home to some of the world's best natural landscapes, making it the perfect place to get out and explore on your own two legs. From black sands and colourful mountainsides to glaciers and lakes, this place is hiker's heaven. One of the most speccy spots to head out on a walking expedition is the Laugavegur trail. Trek Iceland offer an unbeatable four-day hiking tour where you get to spend your nights in remote mountain huts and your days taking in the breathtaking view of rhyolite mountains, waterfalls, geysers, glaciers, volcanos, flora and fauna as your guides tell you all the tales from common folklore.
#8. Ride On An Icelandic Horse
When in Iceland you must do as the Icelandic do, which is riding Icelandic horses! These fluffy, adorable, pony-sized creatures are too cute not to get up close and personal with. If your legs are in need of a little rest, why not saddle up and hop on a tour with Eld Hestar. There are plenty to choose from—journey below mountains, to hot springs, across the black sandy beaches, over rivers and beside volcanoes. You'll only be sad when you find out you can't take one of these glorious animals home with you!
#9. Take In The Sights Of Reykjavik
Take a day off from adventuring to check out the sites of Iceland's capital, Reykjavik. Visit what's possibly one of the strangest looking churches we've ever seen, Hallgrímskirkja, and take the elevator to the top to look out over downtown Reykjavik before setting out on a spending spree in the very cool Laugavegur shopping street. Architecture fans will do well to visit Nordic House and if you're intrigued by the geothermal activity below you can pay a visit to the Geothermal Energy Exhibition, a 20 minute drive from the city centre. While you're out and about grab a hot dog from the famous street stall, Baejarins Beztu Pulsur.
#10. Swim Between Two Continents
One of the best diving sites in the world, the Silfra Fissure is where North America and Eurasia meet, and you can snorkel or dive right between the two continental plates. The waters are some of the clearest in the world, with visibility up to 100 meters—they're even safe to drink! Book your dive or snorkelling experience through Dive.Is.


Reykjavik is the capital of Iceland and the best place to centre your stay around, with many attractions nearby and loads of great food and drink options, but if you're after more of a secluded escape you might like to head a little further afield. Whatever you decide, American Express make booking easy—click here to see how!
REYKJAVIK
Townhouse 41
In the heart of Reykjavic with city views and the coolest interiors, Townhouse 41 is the perfect home-away-from-home for the discerning traveller.
The Swan House
Lush finishings with all the modern luxuries, you'd be happy to call The Swan House home while abroad. It's well located, right by the shopping street in Laugavegur and you get free WIFI. Bonus!
Rey Apartments
Light, bright and colourful, Rey Apartments are well located close to the Reykjavik Art Museum and the trendy Skolavordustigur district.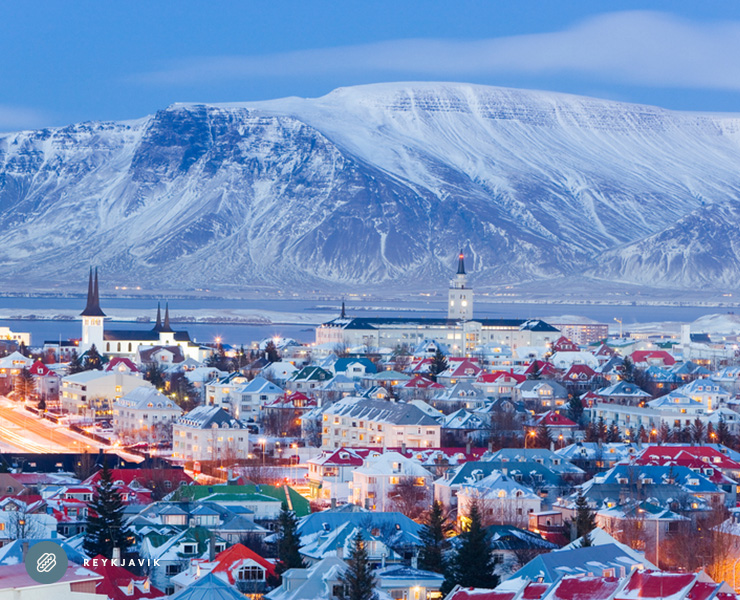 A LITTLE FURTHER AFIELD
Silica Hotel
A 40-minute drive from Reykjavik and a short walk from the Blue Lagoon, Silica Hotel is about as Nordic as you can get. Set among lava rocks, the rooms feature beautiful Scandinavian furniture and panoramic views, plus, guests also have access to a private bathing lagoon.
ION Luxury Adventure Hotel
Around an hour away from Refkjavik, the ION is perfect for adventure-goers (which should be everyone who visits Iceland) located along the Golden Circle. Close to the UNESCO listed Thingvellir National Park and glaciers and a great place for catching a glimpse of the northern lights, the rooms here are pretty speccy too.

Iceland's national dish is fermented shark, but don't let that put you off heading out to dinner, as there are plenty of delicious haunts to check out for a feed.
THE LAUNDROMAT CAFE
The Laundromat Cafe first opened in Copenhagen as a space where people could do laundry while getting their daily feed in comfy surroundings. Since then they've expanded to include a cafe in Reykjavik. Grab a book, some breakfast (the pancakes look good) and a hot cup of coffee and settle in to the day.
THE PEARL RESTAURANT
Sitting atop the Perlan building, The Pearl Restaurant offers 360 degree views of Reykjavik, top notch service and a seasonal menu featuring a smattering of Icelandic delicacies (yes, there is fried whale on the menu) and some more modern delights (lamb two ways and lobster soup, anyone?).
SANDHOLT
Stop by Sandholt for some of the tastiest baked goods in Iceland. The family-owned bakery has been around since 1920 and is open for breakfast, lunch and dinner. Baked daily, Sandholt make everything from barley and bulgar bread to rye and smoked pumpkin seed bread, using only the finest ingredients and zero dairy or sugar, so it'll be friendly on your tummy. Don't forget to grab a sweet treat on the way out!
FISKFELAGID
Icelanders are all about their seafood and for top notch nosh of this variety, look no further than Fiskfelagid. They offer two menus, Journey Through Iceland and Round The World, but no matter which you choose you're in store for a treat. Open noon until night, you'll definitely want to reserve a table at this spot.
NOODLE STATION
When it's ridiculously cold outside all you want is food that warms the soul and that's exactly what they dish out at Noodle Station. The offering here is fairly simple, with beef, chicken and vegetarian noodle soups, but it's definitely one to stop by to warm those cockles before heading back out into the snow.
DILL
You'd be a real dill if you didn't stop by one of the hottest restaurants in Iceland while you're there. DILL serves contemporary Nordic fare using seasonal ingredients in super cosy, yet cool surrounds. The wine list is strong too!

Getting There
Getting to Iceland is no easy feat as you'll have to jump on a couple of planes, but it'll be totally worth it when you get there. And hey, you might even have enough points to upgrade to business class to make the journey a little less painful!
Climate
It's pretty chilly in these parts (go figure, it's called Iceland) so definitely pack a toasty jacket and loads of layers.

When To Go
October to April for winter activites, May and September to avoid the crowds and June to August for summer, endless daylight and loads of activites.
What About Money?
The currency in Iceland is the Króna.

How To Say?

What To Pack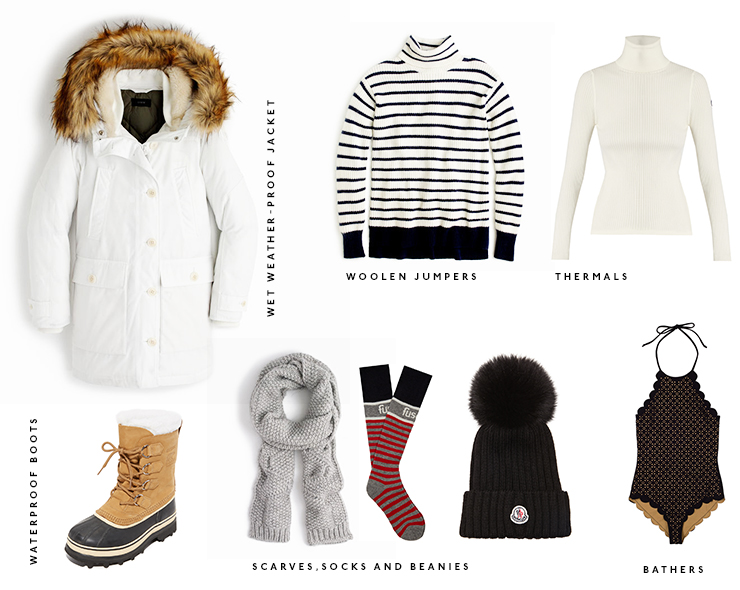 Did you know?
#1. The Icelandic phrase algjört rassgat (translation: absolute asshole) means that something adorable is being cute. So if you see a tiny puppy chasing its tail it's totally appropriate to say it's an absolute asshole!
#2. Taking advantage of their geothermal activity, the roads and sidewalks of Iceland are kept snow-free and homes are kept warm by pumping the hot water through pipes underground. Can we move there already?
Top Tip
Enjoy some alone time. For such a small island, it's quite easy to find a space all to yourself in Iceland!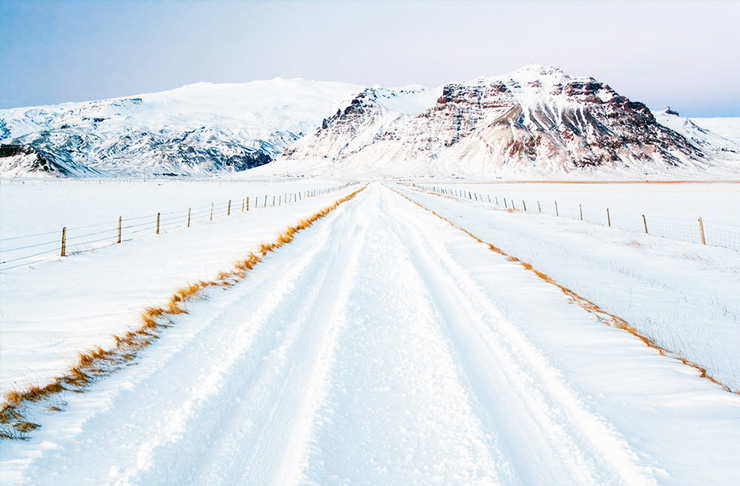 Editor's note: This article is proudly sponsored by American Express and endorsed by The Urban List. Terms and conditions apply, click here for more information. Thank you for supporting the sponsors who make The Urban List possible. Click here for more information on our editorial policy.
Image credit: Stocksy / Design credit: Gabby Stjernqvist