Their giant neon pink 'Bar' sign might be what lures thirsty office workers across the train tracks to Northbridge but The Standard is so much more than a watering hole. It's got some serious dining prowess going on, not to mention some pretty killer industrial-chic digs—including a split-level outdoor area with city views.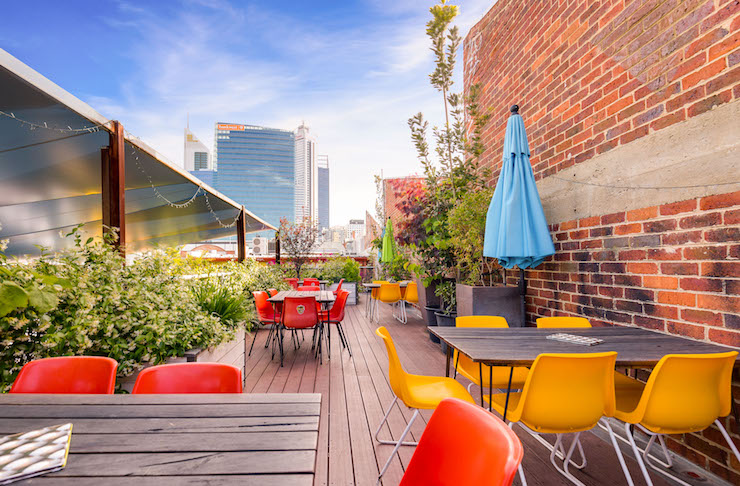 There have been many reincarnations of the menu at this Northbridge institution, with Head Chef Chase Weber always keeping the standards high in his kitchen. And the man on the pans has just returned from a four-week stint through Asia, channelling his post holiday buzz into a new menu of Asian-inspired dishes.
Expect lots of flavour, fusion, fish sauce, miso, peanut, tamarind, turmeric and more from the new menu. Everything from Cambodian-inspired dishes—like the caramelised pork satay dip—to the Miso Mushrooms, brought to you by a recent trip to Tokyo. Basically, you can spend your meal hopping around from country to country like a backpacker on a gap year.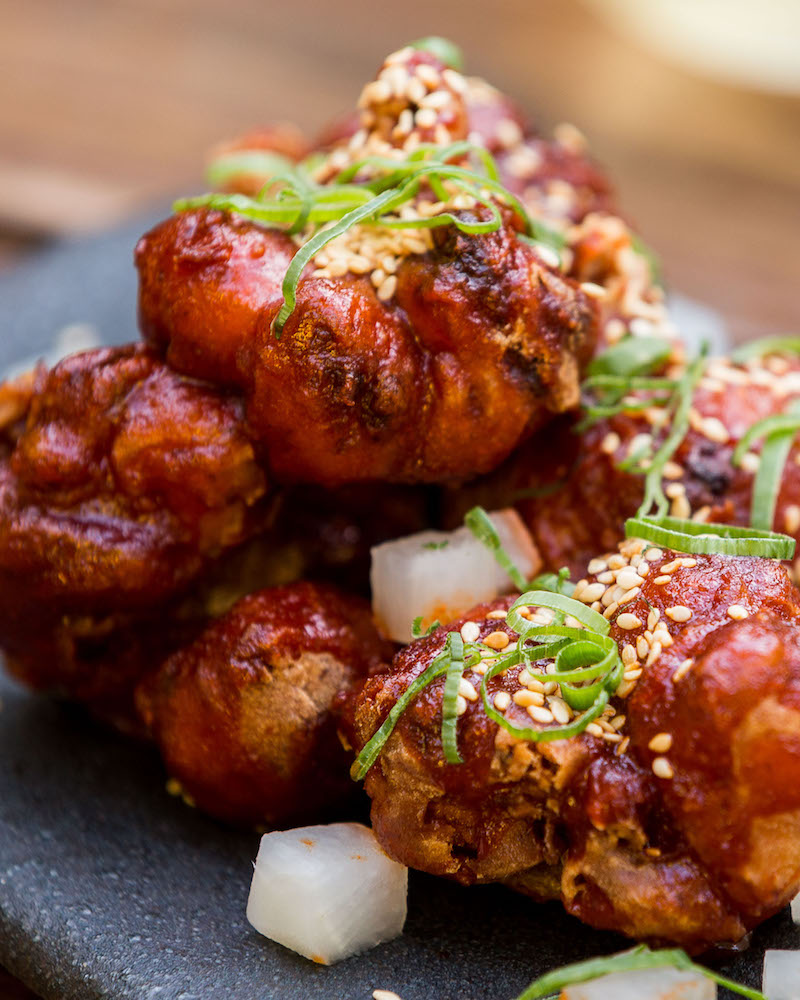 After being set up in the back courtyard with a seriously good dry rose from Margaret River's South by South West (just one of the amazing rose selections from their pimped out wine list) we started our tour of The Standard menu 2.0. Our first destination was the Korean Fried Cauliflower, which packed a punch with its sticky Korean BBQ glaze, sourdough batter, fermented cauliflower and toasted sesame seeds.
The kingfish ceviche sounded pretty outlandish with its combination of coconut kefir with toasted coconut crumb but, man, it was so damn good—creamy, silky, crunchy, fresh, fragrant and not nearly enough of it. But I suppose no one ever gets to fill up on ceviche.
Next up was the shredded duck salad wrapped in a turmeric wafer and topped with herbs, tamarind and peanut. It tasted like Spring on a plate. 10/10 would recommend on a sunny day with a glass of rosé.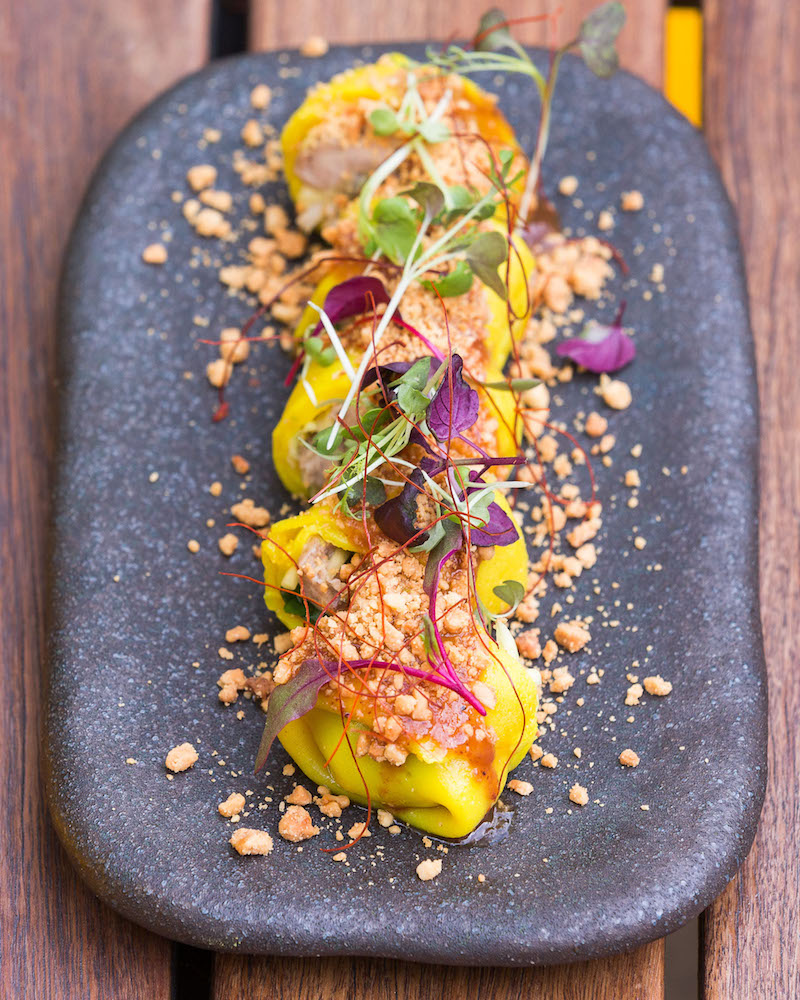 From the mains menu, we tried the turmeric and coconut fish curry with rice gnocchi and green mango. Bright in colour and flavour, the saucy curry went so well with the crunchy and chewy rice gnocchi. Why isn't rice gnocchi always an option with curry?
Our other main, the pan fried wheat noodles with eggplant XO, toasted sesame and leek was one of the restaurant's heartier dishes (good for soaking up some of those after work drinks). The wheat noodles were delectable and the caramelized eggplant throughout was jam-packed with a charred flavour. This dish is not for the faint-hearted.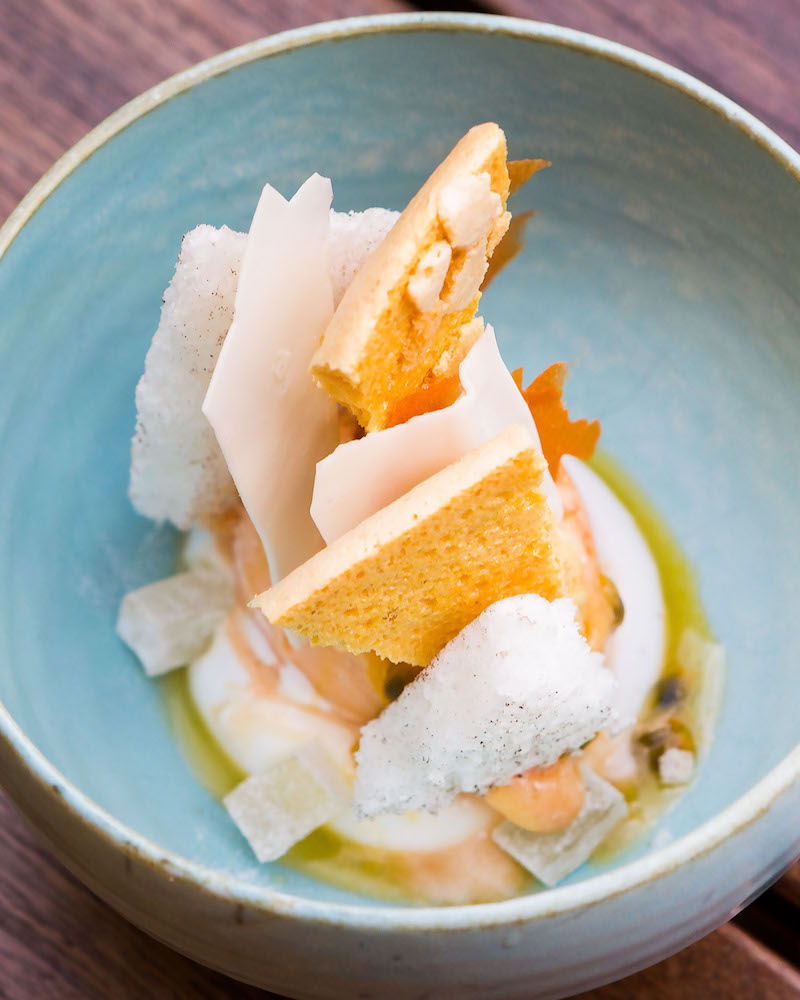 For dessert, we tucked into the whipped blue cheese with brik pastry, balsamic vinegar, rice jam and candlenut. It was a super tasty alternative to the old cheese, quince and crackers, just as the passionfruit sorbet with coconut cream and vodka gummies took the traditional Eton Mess to new heights. It looked like a piece of art—with plenty of impressive technique going into the shards of coconut water meringue, coconut cream glass, passionfruit leather and coconut-kefir cream. I felt like Banksy with a shredder as I destroyed it with my spoon. Powerful.
There's so much fun and fusion going on in the new menu at The Standard—from the food to the drinks menu, which is packed full of new takes on classic punches and cocktails (like the 'shake your own' espresso martini served in jar). It's this playfulness paired with serious skill that will always keep you coming back to The Standard.

Image credit: Emma Bryant