Australia might be best known as the land of diverse natural beauty and the most relaxed populace south of the equator, but that doesn't mean we don't know how to let loose in our spare time. Never ones to shy away from removing a (giant) spider from the bathroom ceiling, catch a killer wave or to put our bodies on the line for an extreme sport, we know how get the adrenaline juices pumping. Australia has more than a few spots to satisfy even the most daring of thrill seekers; think bungy jumping in Cairns, skydiving over wine country and executing aerobatic pozzis in a 1940s era plane.
Ready to set your heart a-thumping? Here's the thrill seeker's guide to Australia.
Tick Bungy Jumping Off The Bucket List
When any of us think of heart-pumping activities, bungy jumping is probably the first thing that comes to mind. There's just something about free-falling towards (un)certain death before being snapped back to reality that makes everything al the more exciting. AJ Hackett Cairns is Australia's only bungy tower. Sharing the name of the Kiwi who popularised the sport of bungy jumping way back in the 80's, AJ Hackett allows dare devils to jump 50 metres into the middle of a forest and touch the pool below. You can also tandem jump or even ride a BMX bike as you dive off the edge—you know in case regular ol' bungy jumping was too plain for you. Run, don't walk.
See The Sights From A Hot Air Balloon
While hot air ballooning might be on the more chill end of the extreme spectrum that doesn't mean it isn't worth checking out. Imagine watching dawn break over the Barossa Valley, slithers of light painting the sky around you as you gently float above the clouds. All that stands between you and the gorgeous, rolling wine country below is a wicker basket and a shit load of sky. That's adventurous AF. Barossa Valley Ballooning, located only an hour's drive north-east of Adelaide, offers all this and more by combining your sunrise hot ballooning experience with a champagne breakfast to wrap the whole thing up. Yup, you could be drinking in 360-degree views of vineyards and the ocean before sipping on a glass of bubbly, all within one morning. Sign us the heck up!
Free Fall Over Wine Country
Okay, so you're feeling like something a little bit more daring than hot air ballooning. Why not give free-falling over the Yarra Valley a go? Skydive Yarra Valley offers tandem sky-diving that will let you free-fall for 60 seconds before floating 15,000 feet over the patchwork glory of wine country fields. The entire experience is completely guided by an expert instructor, so you can spend less time worrying about, well, dying, and more time living in the moment (#followyourbliss). Oh, and did we mention you'll reach speeds of up to 220 km/ph? Go on, give yourself this one.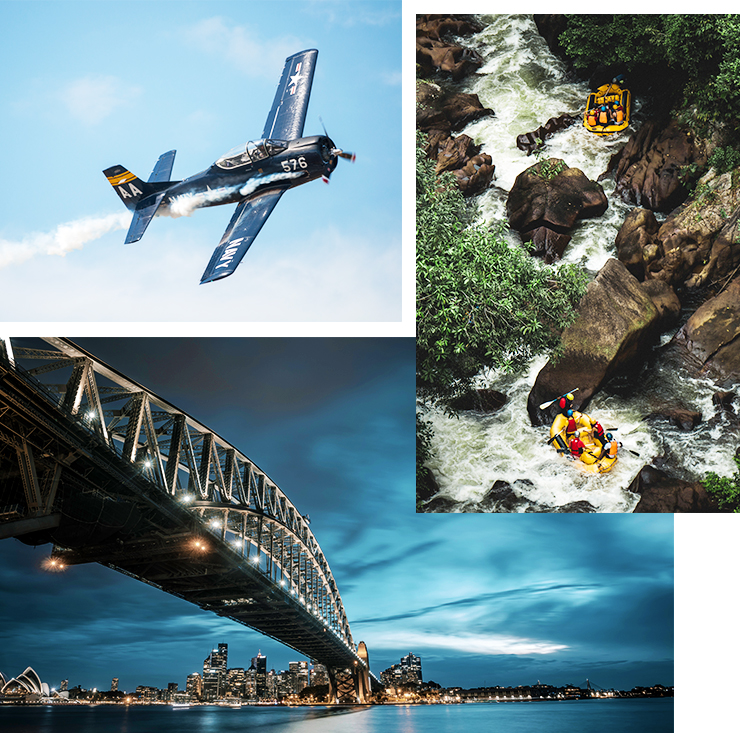 Tackle V8 Race Car Driving
They're loud, they're fast and there's just something about the way they turn corners at breakneck speeds that leaves our hearts racing. V8 Race Car driving is a tried and true adventure activity and something every adrenaline junkie should try at least once. Luckily, Queensland Raceway has got you covered with driving lessons that pair you with a personal in-car coach. There's no limit on speed and overtaking is common, so you'll have to keep your wits about you if you want to be the champion at the end of the session. Inside tip: organise your squad and tackle this one as a group because you can have more than one car on the track at a time. The loser has to buy the rest of the crew lunch, of course. Now that sounds like a win-win to us.
Take A Ride In A Tank
Guys, you can take a ride through a field in a fudging 35 tonne Centurion tank. Now that's the Australia we know and love! The aptly named Tankride, located in Tamborine, lets you clamber inside an Ex-Australian Army Tank that served in Vietnam for a joyride. The tank will make its merry way through a purpose built track, conquering treacherous dirt mounds and ploughing through muddy crossings. The tank has room for up to 6 adults at a time. As part of your ticket, you'll also be given a guided tour of the tank and time to pose with your new metal BFF for photos. Gather your favourite people, hop in the tank and have fun enacting Brad Pitt in Fury. Australia, you know what to do.
Zipline Through A Pine Forest
Climbing through treetops on a rope course is one way to capture our attention, but when you go and combine it with zip lining through a pine forest well that just forces us to get out our credit cards and book flights. What can we say, we're weak. So when Trees Adventure Lane Poole Park, in Western Australia, popped onto our radar we just had to share. Trees Adventure offers nine levels of difficulty on their treetop rope course, so every member of your party can have a go without pushing themselves to the extreme. Trees Adventure also boasts a number of zip lines that collectively stretch for over a kilometre through the heart of the forest. Talk about getting up close and personal with nature; it's hard to miss when you're zipping through the air at incredible speeds. Our recommendation: combine a sightseeing trip to some of Western Australia's most iconic sights (Esperance's Pink Lake, anyone?) with a thrill-seeking excursion to Trees Adventure. You can thank us later.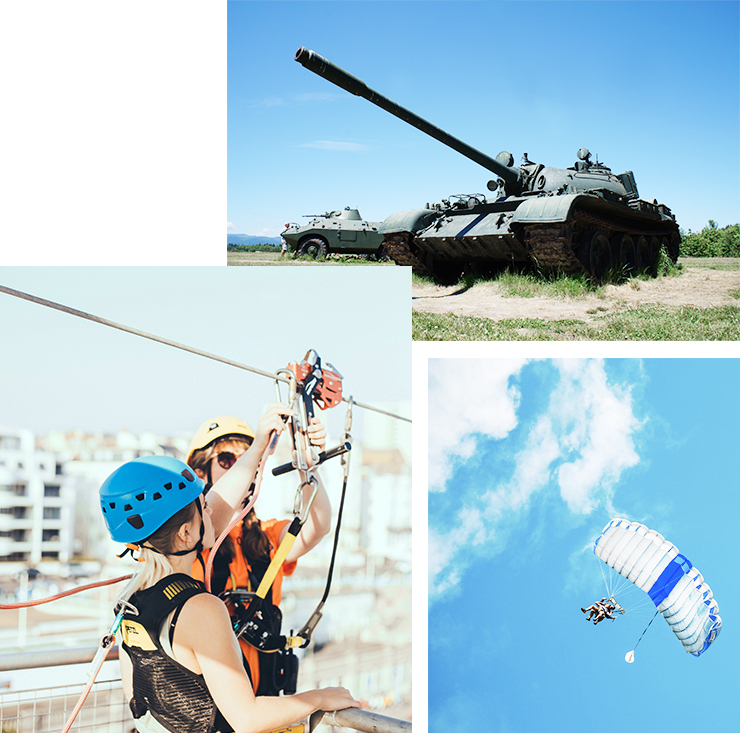 Go White Water Rafting In A World Heritage Rainforest
There's water, there's adrenaline, and there's stunning scenery in the form of the World Heritage Listed rainforest south of Cairns –its white water rafting on a whole new level. The Tully River Rafting Adventure allows thrill-seekers to raft over rapids for five hours while basking in the nature of the surrounding greenery. The rapids themselves are intense and the experience will bring you into contact with the Tully River's most famous rapid, the dramatic Theatre Rapid. After you've conquered this beast, you'll be treated to a barbeque lunch with your raft-mates by the riverside. Looking for something adrenaline-inducing but terrified of heights (#same)? White water rafting might just be right up your alley.
Experience Being A Stunt Driver
Okay, so you've tried V8 racing and riding in a tank, why not add stunt driving to the list? Sandown Raceway, in Melbourne, had the same idea and offers the chance for you to sit shotgun while a professional stunt driver does their thing. Your adventure will be filled with 180 degree parallel handbrake turn parking, a la every action movie ever made, multiple 360 degree spins and jumping between two 50 foot long ramps. At the end of the day, you'll be issued with a certificate that shows the world you survived a one hour session in a stunt car. Yeah, you bet you have to hang that one above your desk at work.
Climb The Sydney Harbour Bridge At Night
And here we were thinking that climbing the Sydney Harbour Bridge during the day was hard-core when they go and offer night tours. These tours depart after the sun has set and will see you traverse the iconic bridge climb underneath a blanket of darkness. The tour is fully guided and has all the perks of the regular Sydney Harbour Bridge climb with the added addition of being able to see Sydney lit up like the stunning, bustling city it is. It's just like experiencing the sight of flying over a city at night but with way more time to drink it all in and without those exxy plane fees. Oh, plus the wind rushing through your hair and the buzz of traffic passing under foot. Treat yo' self, thrill-seeking friends.
Try An Aerobatic Flight In A 1940s Plane
Have you ever dreamed about conquering the sky in the style of Amelia Earhart and the Wright Brothers? Sick of flying through the air in stifling, completely sealed metal tubes? Why not take your chances with an aerobatic flight in a tiger moth, a 1940s-era, open cockpit two seater plane that looks like it walked straight off the set of a period movie and into the skies above Camden, in New South Wales. Upon arrival at Airborne Aviation's Tiger Moth hanger, you'll step into the cockpit, don a leather flying helmet and googles and be told to strap in tight. The aerobatic flight will offer jaw-dropping views of the Blue Mountains and Warragamba Dam while the pilot takes you through a number of gravity-defying aerobatic manoeuvres. Expect to be flipped upside down just as a teaser. We told you Australia doesn't mess around when it comes to thrills.
Love chasing those thrills and dreaming of heading across the ditch? Be sure to check out our thrill-seeker's guide to New Zealand.