Print Hall, who went heritage-chic before it was cool, has undergone yet another transformation. They've whipped away the white tablecloths of their formal dining area and in its place have opened Gazette—a modern Italian restaurant with a more casual vibe.
We stopped by on a Tuesday night to experience the new joint, which Head Chef Giles Bailey—he's handled the pans at restaurants like Cantina 663 and the award-winning Selene Brasserie in Broome—has been manning for several weeks now.
After making our way through the crowd of suits, we pulled up to our booth at Gazette, where the thumping base from the bar faded at least a decibel or two (wow, it wasn't even seven and it sounded like a German nightclub).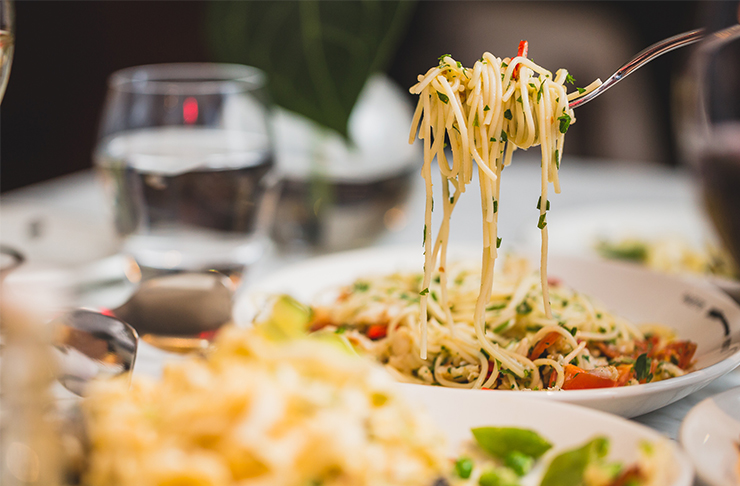 But our griping ended there—when we were poured two glasses of Prosecco (funny how that works).
With our bubbles, we snacked on our first of many starters—a whipped cod roe served with salmon caviar, buttery toast and lemon. It was fresh, crunchy and completely moreish. My dinner date had to remind me three times not to fill up on bread. Thank god I didn't listen.
We happily made our way through almost twelve of Gazette's dishes that night, a drop in the ocean of their sizeable menu. They've well and truly covered their bases—with plenty of pizza, pasta, meats, seafood, salad and dessert options. And a pretty amazing wine selection to boot. You could be wearing the stretchiest of the stretchy pants and still not cover much ground.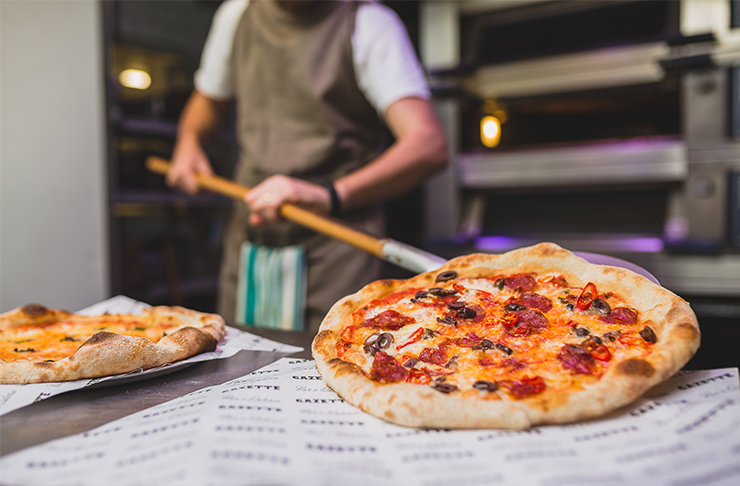 The seared veal with poached tuna, aioli, caper and rocket entree was a pleasant discovery. It was a coupling that sounded outlandish but in reality was fresh and simple—the creamy aioli was nicely balanced by the acidic hit of capers. The West Australian Bay bug tortellini with shellfish broth was also a winner. The pasta was good but, quite frankly, I could die happy drowned in a bowl of that tasty broth.
Then came a pretty respectable salami pizza, the base of which, I'm told, is left to rest for 72 hours to ensure perfect consistency. They certainly weren't slacking off with this Italian staple.
The real standout of the meal came courtesy of the Josper, a charcoal grill taking pride of place in Gazette's kitchen. The Margaret River scotch fillet, which was beautifully charcoaled and served simply with jus and a side of braised potatoes. For a pretty reasonable $44 a pop (not a bad price considering how much money is in those banker's pockets), I predict these 300g beauties will be flying out of the kitchen most nights.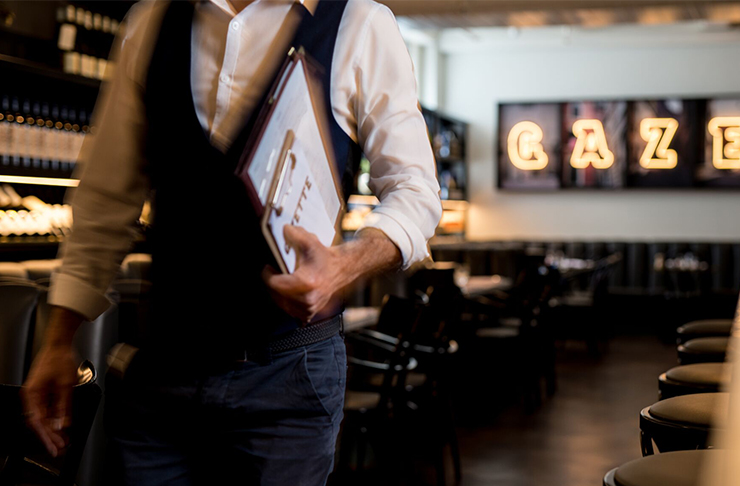 Towards the pointy end of the meal, the suits had migrated from the bar to fill out the rest of the restaurant, not bad turnout for a Tuesday night. Clearly, the locals were already digging the new low-key dining option.
We ended our ginormous meal with two monster sized desserts—a fried crumbed custard served with fig gelato and spiced honey (is it bad to say it reminded me of a deep fried Mars Bar, but in a good way?) and a rich Valhrhona chocolate espresso cake served with praline semifreddo. Both were as rich and fatty as the bar's clientele—I'm kidding, no more banker jokes. What I mean to say was…each bite was completely delectable—and took our caloric intake that night into the millions.
Print Hall's latest addition to its culinary family serves up wholly satisfying fare that's kind of like a cross between modern Italian and pub food. The perfect place to move onto after some after-work libations in the bar.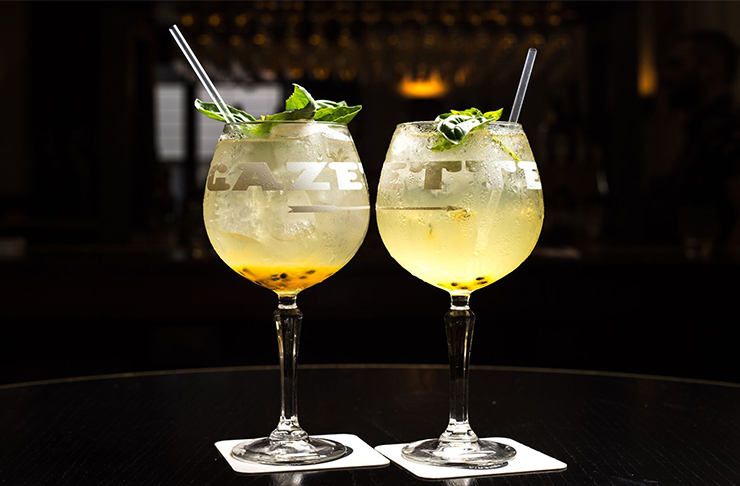 Image credit: Ok Media Group and ShotbyThom
Editor's note: This article is proudly sponsored by Print Hall and endorsed by The Urban List. Thank you for supporting the sponsors who make The Urban List possible. Click here for more information on our editorial policy.