Ohhhh, winter. You're so close we can feel it (literally) and no matter how many pairs of socks we put on, we'll never be as warm as we are the moment we wake up in our oh-so toasty beds each morning. That is, unless we're seated in front of a crackling fireplace (or piping hot heater) with a Coopers Session Ale.
Unfortunately, an endless summer doesn't exist, even though it's the only thing we've ever wished for. Lucky for you, we've put together this neat list of the cosiest bars and pubs to keep you warm this winter.



The Grace Darling
Collingwood
Built in 1854, The Grace Darling Hotel is the second oldest pub in town. Loved by locals for a reason, it was basically built for winter and long, lazy Sunday afternoons. Get amongst their famous Sunday roast and wash it down with a Coopers Session Ale.
Rooftop Bar
CBD
Rooftops are not just reserved for summer; pull up a chair and take in the city skyline at Rooftop Bar. Keep toasty by a heater in this picturesque beer garden, which boasts frothy brews, signature cocktails and a selection of juicy burgers to munch on.
Fitzroy Beer Garden
Fitzroy
'Gardeners' come for the ice cold beer and so much more. From trivia to regular DJs, The Fitzroy Beer Garden throws some of the biggest parties of the year so get ready to dance and let loose. They're even serving up mulled wine to keep you warm all winter long.
John Curtain Hotel
Carlton
Three words: Beers, Bites and Bands. You will find some of the best LIVE music from up-and-coming artists at this anti-scene hotel in Carlton. The quintessential pub slings drinks with a slew of pop up kitchens to drool over.

3 Weeds
Rozelle
Tucked away in Rozelle (seriously, it's not where you think), 3 Weeds was made for those days when you almost can't feel your feet. Complete with a fireplace and alllllll of the snug feels, nab a spot on the leather chairs and kick back with a Coopers Sessions Ale and your whole crew.
London Hotel
Balmain
Established in the 1870s, this true blue Aussie pub is a mainstay in Balmain. The London Hotel houses an extensive list of brews including sixteen beers on tap! So popular with the locals, patrons often spill out on to the street and you can even nab a view of the Sydney Harbour Bridge.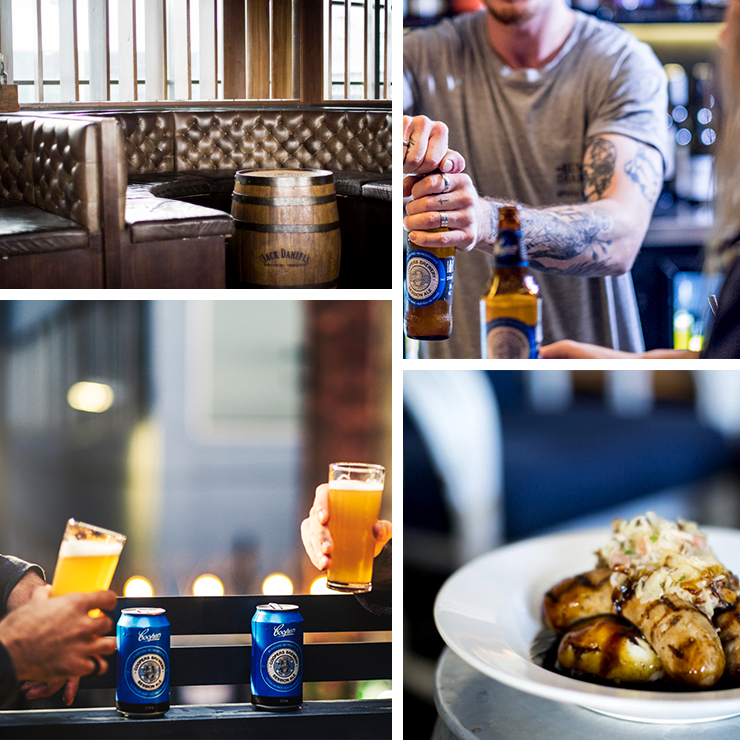 Empire Hotel
Annandale
Escape the cold at Empire Hotel for the perfect balance between pub and bistro. Laidback and intimate, the family friendly joint's motto is "your local, no matter your style". From a casual lunch and afternoon Beer Club to a sophisticated dinner or high tea, it truly has something for everyone.
Ete Restaurant
Barangaroo
This modern French restaurant is nestled in the heart of Barangaroo. Sourcing only the best local produce and pairing it with an ever-changing seasonal drinks menu, Eté will warm you up with a journey to provincial France (and without the plane fare).

The Norfolk Hotel
Fremantle
Old Fremantle fave The Norfolk Hotel offers a relaxed atmosphere, live music, historic feels and a warm upstairs bar that's the perfect haven from blustery winter days. Warm your cockles with a delicious Coopers Session Ale and tasty, tender eats from the dedicated smoker menu.
Paddington Alehouse
Mount Hawthorn
The Paddo is part-sports bar, part-bistro, part-live music venue. Boasting over 150 types of beer – yep, 150! – this pub literally has a Hall of Fame for its brews and is known as a haven for all of Mount Hawthorn throughout the winter months and all year long.
The Grosvenor Hotel
Perth
This heritage pub is located in an original Victorian-style home from 1886. Of course it has since been renovated into a well-loved watering hole while keeping the historic look and feel. Relax with a beer and a hearty pub classic under the green canopy.
The Flying Scotsman
Mount Lawley
You've got to love a venue with the bar placed smack bam in the middle so you can grab a beer from any angle. Boasting good Aussie grub, in an honest Aussie pub, sit back and listen to great music with a cold bevvy to wash it all down.

Mr Edwards Alehouse & Kitchen
CBD
Trends come and go, but good hospitality is forever—that's the vibe at Mr Edwards. It brings a healthy mix of European eats and craft beer to their long communal tables, and making it way too easy to sink a few Cooper Session Ales with a group of mates
Southbeach Social
Southbank
Southbank equals A-plus views of the Brissy river and the city skyline, and that's what you get at Southbeach Social. The look is "holiday beach shack", so even in winter you can pretend you're somewhere more tropical, and while away a lazy, boozy afternoon with friends. They've got cocktails, they've got wine, they've got happy taps of cider and Cooper's Session Ale. See you there.
Isles Lane
CBD
First things first, this is a drop dead gorgeous place to drink and dine. The old Rush Bar has gotten a makeover, and it's all natural light, handsome foliage, and green and cream accents (it's even been nominated for the Sydney Design Awards). At Isles Lane, there's plates to share, bevvos to drink, and good communal times to be had. In this spot of Post Office Square, no doubt you'll be supping and sipping in some slick surrounds.


Maleny Hotel
Maleny
This iconic hotel has been kicking around Maleny for a good century or so, and it's a thriving social hub for the local community. The Bistro Bunya dishes up crowd pleasers (parmies, pizzas and their famous pork ribs), and even when the weather is a little chilly, the beer garden is still a beautiful place to enjoy a couple of solid bevvies.
Little Sister Noosa
Noosa Heads
If you like your burgers juicy, your cocktails fruity and your beer cold, you've come to the right place. Little Sister Noosa swung open its doors in June 2017, and they've attracted a young, hip local crowd who knows a good pub hangout when they see it. Pair one of their popular parmy burgers (yes, you heard that right) with a cheeky Coopers Session Ale, straight from the tap.

The Loose Moose
Broadbeach
From the looming moose head to the menu of burger, bbq and buffalo wings, there are some serious North American vibes going on at The Loose Moose. There's an impressive 22 beers and ciders on tap, including the fresh-drinking Cooper's Session Ale, and too many bottled and canned options to count.
Tupe-Aloha
Kirra
It's described as "when Hawaii meets Mexico & has a holiday in Kirra", but we prefer "cheeky tiki with a side of pineapples". There's fun and spunk in every corner of Tupe-Aloha, from their tasty-as burritos, tropical cocktails, and Coopers Session Ale on tap. We can't imagine what their drink-umbrella overheads must be like—they're spiked into a majority of the food and drink, but we're not complaining.

Eddie's Grub House
Coolangatta
When a Coolangatta dive bar promises a heady combo of bevvos, music and mayhem, you've gotta to check it out. This place has got 'tude (in a good way) and they're not afraid to get a bad-ass with their monster-sized burger specials. Would you like your burg topped with a lamb rib? Or packed with a 180g rib eye and hashbrowns? If you've thought about it, they've done it. You're going to need napkins, and schooner of Coopers Session Ale to cut through this happy mess.
The Malt House
Robina
When there's a dedicated keg room for punters to check out, you know they take their beer seriously here. The sweet, sweet beer flows from the overhead copper pipes and straight to their pouring taps. Kick back with a Coopers Session Ale, and tuck into their delicious gastro-pub food fare (the Sunday roast is an easy $20).
Editor's note: This article is sponsored by Coopers and proudly endorsed by The Urban List. Thank you for supporting the sponsors who make The Urban List possible. Click here for more information on our editorial policy.
Image credit: Coopers + Hayley Williamson