Let's not beat around the bush here, Australia is the best gosh darn country in the world. We've got the beaches and the people, but most importantly, we've got the food. Weird and wonderful, sometimes strange, but always delicious, Australia Day is the perfect time of year to indulge in all of the fare that makes 'Straya what it is. But rather then just a plain old lamington or snag in bread, we've found the most pimped out classics for you to feast upon this Oz Day. Pro tip: make sure you're hungry.
Lamington Italian Shake | Tommy Sugo
Leederville and Nedlands
As if the concept of transforming a lamington from solid to liquid wasn't mindblowing enough, the decadent Lamington Italian Shake from Tommy Sugo will blow your pluggers off and into next week. This shake is giving us all the feels with the perfect blend of chocolate and coconut which will have your jaw on the floor and fill an internal void you didn't realise needed filling.
Lamington Cake Gelato Pop | Whisk Creamery
Northbridge and Subiaco
Yeah, so, um, we're shook. A lamington cake gelato pop? What kind of sorcery is going on at Whisk?!!! Layering silky coconut gelato, lamington cake sponge and raspberry jam before being dipped in chocolate and rolled in coconut, this treat couldn't be more quintessentially Australian if they tried. Stock up now for Oz Day because you can get four for just twenty-five dollarydoos, just saying…
Lamington Cocktail | Prince Lane
Perth
It wouldn't be Australia Day without a little jiggle juice now would it?! If you're not big on creamy cocktails, we feel you, but the Lamington Cocktail at Prince Lane defies all preconceived ideas. Keeping it light with subtle coconut and chocolate flavours, we think the perfect place to enjoy one (or four) of these treasures is on Prince Lane's total stunner of a rooftop. Cheers to that!
Vanilla Slice And Trifle Doughnuts | Top Dup Doughnuts
Willagee
Because what's better than one Aussie classic? Two, duh. Top Dup is known for their A-grade goodies so anything they create is going to be a certified banger but this Australia Day they're going in HARD. Bringing us two specially crafted delights which scream 'straya, and a third gorgeous green and gold themed classic, because, doughnuts. If trifle is your game then get ready to indulge in the burnt strawberry and vanilla Chantilly doughnut which is available now. If you vibe more on vanilla slice then prepare your taste buds for this brioche doughnut packed with passionfruit icing, hand-made custard and glazed puff pastry which will be available on Australia Day. Oh, and if you just want a green and gold doughnut, keep an eye out for their collab with The Sprinkle Co which will be dropping on Australia Day too. Caution: minds will be blown.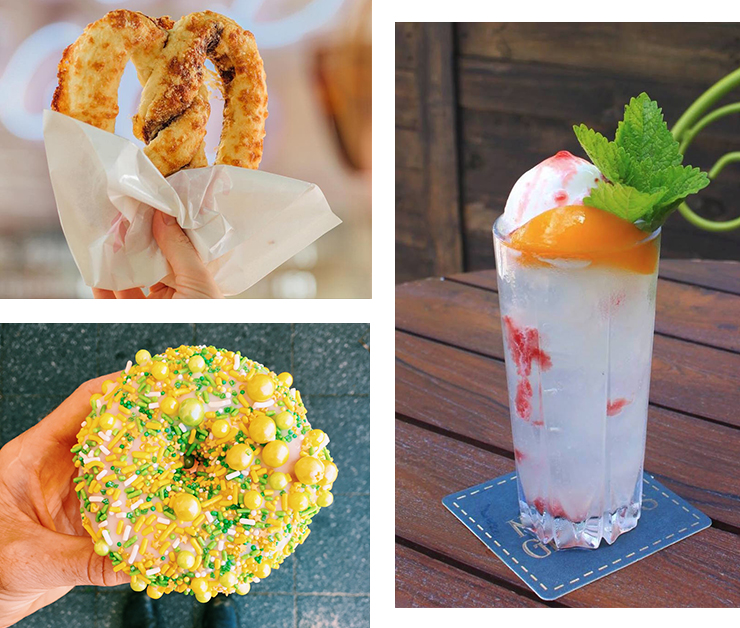 Pavlova Cocktail | Market Grounds
Perth
Reiterating our love for the humble Pavlova is the genius cocktail take on the much-loved Aussie favourite by the mixologists at Market Grounds. The perfect summer bev, this blend of pavlova vodka, raspberry jam and lemon, topped off with a scoop of ice cream will have you saying 'crikey' in delight. Oh, and did we mention that Market Grounds is open every day of the long weekend? You're welcome.
Pavlova Gelato | Gusto Gelato
Leederville and Elizabeth Quay
Prefer your pavlova in Gelato form? No wokkas. Get yourself to Gusto Gelato from Thursday 25 January and get your mitts on some of the best gosh darn gelato of your life. If you managed to get a scoop of this last you know it's not to be missed. If you didn't, think sweet cream gelato with smashed meringue and all sorts of delicious fruity ripples. You beauty.
Vegemite And Cheese Pizza | The Aviary
Perth
Bringing back the OG vegemite and cheese sanga but as pizza (aka everyone's favourite food) is the kind of genius we need in our lives. And who says Australian's don't have culture? The Aviary is bringing all the feels this long weekend where you can score this culinary masterpiece for just $10. Day = made.
Cheese And Vegemite Pretzel | Pretzel Perth
Perth and Whitfords
Yeah we didn't think that this could get any better either but alas, Pretzel has proven us wrong yet again. Their cheese and vegemite pretzel looks like something crafted by the gods. A golden twist of salty vegemite and of course a generous addition of cheese, we know how we're going to be having our vegemite this weekend. But beware—they're super limited so don't beat around the bush, get onto this quick sticks to avoid disappointment.
Pavlomington | Iluma Fine Foods
Wembley
Are you seated? Good, because we have the most important news of 2018. Iluma gets that you want to have your pavlova and eat your lamington too, so has morphed both into the most Australian dessert EVER. A lamington base supports a pavola topped with summery passionfruit mousse and of course topped with more lamingtons (because one layer is never enough). It's our childhood in one and we could not be happier.
Need some inspo for what to do on Australia Day (apart from eating all of this goodness)? Click here.
Prince Lane | Image credit: Emma Bryant