Valentine's Day. It may only be a two-word phrase but it is one of the most dreaded in the English language (I know, dramatic much?). But, gals, what we've learnt is that you don't need a man to have a loved up V-Day. Sometimes the person who is going to appreciate you the most is your main gal who's been there for your through it all #RealTalk. The one you get dolled up with for a night on the town, binge-watch crappy reality TV with whilst eating pizza and ice cream, and will comment 'YAS QUEEN! SLAY' on all of your Instagram posts—even though she spent the last hour going through filter options with you.
So, this year we're saying a big "byyeee!" to Valentine's Day and treating our BFFs to one hell of a Galentine's Day this February 13.
Our pals over at Emma & Roe totally understand the power of your female BFFs so we've teamed up to bring you the ultimate Galentine's Day guide for all the besties that have been by your side, no matter what.
Make It The Perfect Staycation With A Night At West Hotel Sydney
In the spirit of treating you and your bestie the way you deserve to be treated, splash out for a night at the brand spanking new West Hotel right in the CBD. It's new and it's lush AF, and yes, there is a bathtub (we got you covered, girl). With a location that couldn't be more central if you tried, West Hotel is the ideal base camp for all the adventures you guys are going to have.
Sweat It Out With A Session At The Barre Project
Now is the perfect time to actually try that new fitness class that you always say you're going to do but never actually get around to (we totally relate). Barre is the fitness obsession that we weren't expecting to hang around but we're so glad that it has. Combining yoga, Pilates, dance, strength and interval training, you'll both leave feeling flexed and ready to hit the town (and stuff your faces) at The Barre Project.
Break Out The Sweet Tooth At Laduree (Who Now Do Cocktails)
This is not a drill: Laduree are now blessing us with a range of cocktails (and mocktails) to take your sweet treat trip to the absolute next level. Be transported back to Paris (it's the city of love after all right?! How fitting) with a macaron in one hand and an espresso martini in the other. Perfect? We thought so too.
Be Silly And Get Wild At Archie Brothers Electric Circus
One of the best things about being with your bestie? You don't have to worry about pulling an accidental ugly face in front of them because let's be real, they've already seen you at your worst. Archie Brothers is a chance to escape to the circus with amusement park activities, arcade games, a laser tag arena, dodgem cars and actually so much more if that's even possible. It's the perfect excuse to get out and laugh a little (read: a lot).
Settle In For An Afternoon Sesh At Cargo
Always a guaranteed good time, Cargo is the bar you need to settle in to for drinks galore and change it up from the usual suspects. Oozing 1980s NYC vibes, the drinks menu is extensive and doesn't skimp on creativity, and of course share plates galore if you're feeling a bit snacky.
Treat Yourself To Afternoon Tea At The Langham Sydney
In the spirit of treating yourself, you and the gals should get around one of the gorgeous spreads at The Langham. With pastel-hued everything, it's the ultimate girls day out, and 100% the perfect opportunity to buy that outfit you'd been eyeing off. Make it even more deluxe by sipping on a glass of bubbles for ultimate Galentine's Day vibes.
Max Out On Brunch Vibes At Mr Café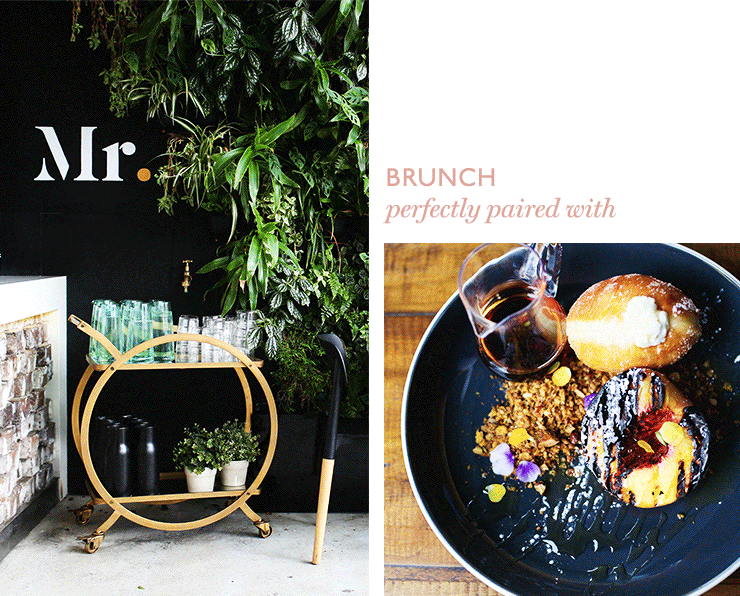 Nothing screams Galentine's Day more than brunch, and it's time to try somewhere that you perhaps wouldn't usually. Mr Café is new to the Balmain café scene but you know that it won't disappoint. The menu is short but big on flavour and yes, they offer alcoholic beverages from 10am. Now that's our kind of place.
Phew! Sorry, not sorry if you're now 100% down a for a Galentine's celebration with your girls after reading this. Saint Valentine who?! To start packing, check out the list below or go rogue and reward yourself for being single over on Emma and Roe's website.
Editor's note: this article was produced in partnership with Emma and Roe. For more information on our editorial policy please click here.
Image credit: Grace Elizabeth Images for The Urban List