There's no doubt spring has sprung and there is SO much on this weekend that we can barely contain our excitement! Whether you're keen on celebrating Oktoberfest, heading to the races or rejuvenating your mind and body, there's plenty of things to do in Sydney this weekend!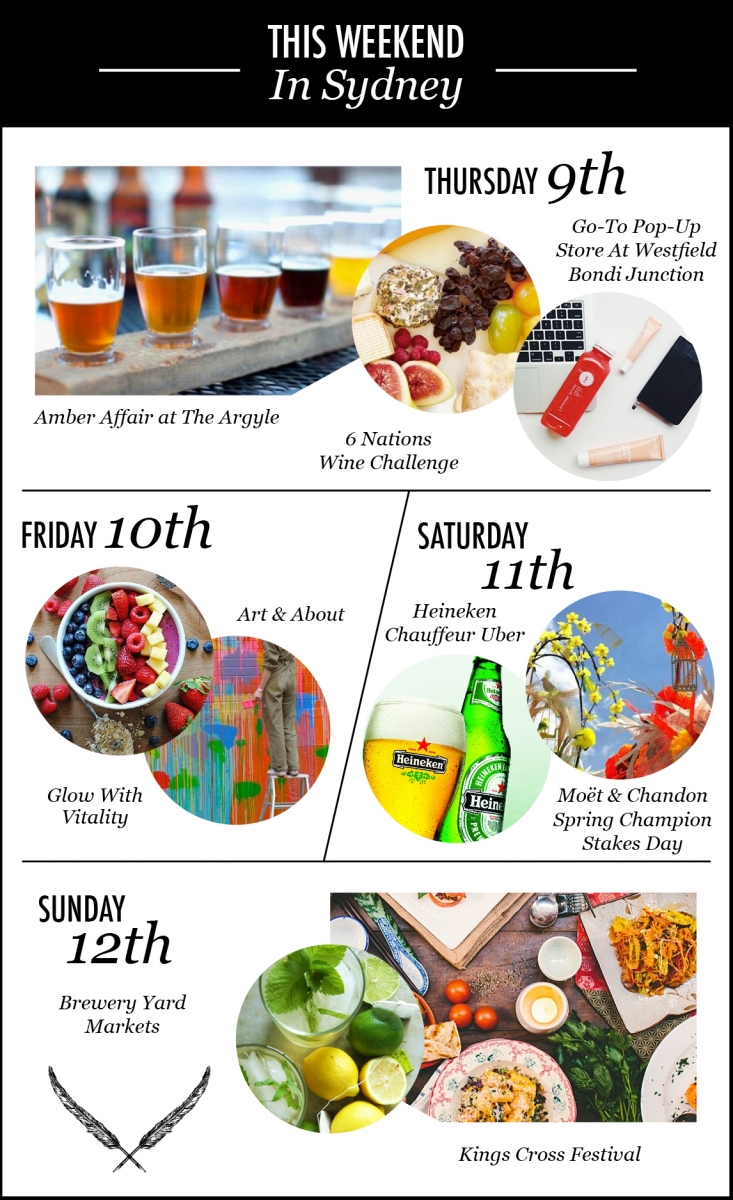 Thursday 9th October
Amber Affair at The Argyle
The Argyle is bringing its A-Game once again this year with the annual Amber Affair event. A night filled with boutique beer tasting, canapés and a bit of 'relaxed' fundraising for Sydney Children's Hospital, Randwick. So why not kick-start your weekend a day early, head out for some arvo beverages and embrace the good karma coming your way. For more information and to purchase tickets head to the Amber Affair website.
Go-To Pop-Up Store At Westfield Bondi Junction
At The Urban List we LOVE a good pop-up store and this one is no different. Zoe Foster-Blake will be launching her Go-To skincare products offline for the very first time! For those who haven't experiences the range IRL, now is the perfect time to smell and swipe and slather those beauty products in the flesh (excuse the pun). Head down to Westfield Bondi Junction for a bit of late night shopping and have a chat with the Go-To captains about which product is the perfect one for you! For more information visit the website.
6 Nations Wine Challenge
Calling all wine lovers! Don't let the 6 Nations fool you, we aren't talking sport, we're talking wine – 600 wines to be exact. Located in one of the most picturesque spots Sydney has to offer, Doltone House on Jones Bay Wharf, 20 trophies will be awarded; one for each of 17 Classes, plus White and Red Wine of Show and Wine of Show. But for the guests it really is all about quality wines, matched to quality foods with time to make choices and wind down from a hard day's work. Head to the Boutique Wines website for more information.
'How Good Is This' Competition From 4 Pines Brewery
Fancy gazing at some awesome photos of our beautiful city? Well, this Thursday the Australia Centre for Photography will be hosting a pop-up art exhibition showcasing the very best from their 'How Good Is This' competition. Sponsored by 4 Pines Brewery, the event will be kicking off at 6pm. There will be free beer, music, a great vibe and prizes for the winning entrants – how exciting! The brief that the entrants received was to capture that special feeling you get about living in Sydney that makes you think 'how good is this'. We're sure everyone will be saying just that by the end of the night. For more info head to the website.
Friday 10th October
Barossa Homestead Pop-Up
It's time to get cultured, people! Escape from the daily grind this Friday with Barossa Homestead's pop-up in Paddington. Each day, a different group of artisans will welcome you and take you on a journey. Book your journey to the Barossa with a FREE pass that will ensure your comfort throughout the experience. The Barossa pop-up is open the entire weekend from 1pm-7pm daily. To book your complimentary pass head here.
Art And About's last weekend
This is the last chance for you to check out Art And About around Sydney! See art by local and international artists at a number of different locations around Sydney. Get a bit of culture into your weekend with Art And About. For more information about what's on, visit their website.
Glow With Vitality
Everyone wants to have that refreshing glow this spring, and with Vitality you can! Located at the Royal Hall of Industries and Hordern Pavilion this weekend will be a fresh experience for those after a spot of retail therapy, pampering, personal development, fitness, nutrition, entertainment, travel, fashion, beauty and more. Sounds good to us! For more information and to purchase tickets head to the Vitality Show website.
Oktoberfest At The Local Taphouse
For beer-based things to do in Sydney this weekend, make sure you pay a visit to The Local Taphouse in Darlinghurst this Friday for a day filled with German bier goodness! The day will kick off at 12pm with some of the freshest official German beers, Australian beers brewed to the Oktoberfest style and German food. Inspired by the 16-day beer festival from Bavaria, it's set to be a great afternoon complete with highly satisfying and truly thirst quenching beers. Prost! For more information head to the website.
StreetFest at Pyrmont Bay Park
Between 10am and 5pm this Friday, head down to Pyrmont Bay Park for an exceptional line up of delicious food trucks, live art, refreshing drinks and cool tunes. Don't miss Night Hawk Diner's famed Philly cheesesteak sub or Tsuru food truck's salted palm sugar ice cream buns. With a custom cocktail in hand, we can't think of a better way to spend a Friday afternoon! Find out more about this event on their website.
Saturday 11th October
Moët & Chandon Spring Champion Stakes Day
Forever known as the 'glamour day' of the Spring Carnival Calendar is the Champion Stakes Day. Sponsored by Moët and Chandon (two of our classy favourites), bring your posse and enjoy a day filled with trackside fashion, fun and famous faces and socialites. All attendees will be able to discover a host of new pop-up bars scattered around the course including a Chandon Sparkling Bar, a Pimms Bar, the Canadian Club Draught Bar and a Cider Bar. Plus, those that enjoy a bottle of Moët & Chandon will go into the draw to win a glamorous trip for two to Paris valued at more than $8000 – sign us up for that one! For more information and to purchase tickets head to the website.
Star Wars Reads Day At Kinokuniya
Let the force be with you this Saturday with the International Star Wars Reads Day at Kinokuniya. This action-packed Star Wars themed day is suitable for the whole family! Bring along your fellow Jedi Knights for a day filled with celebrity readings, competitions and the chance to win BIG prize packs! The first reading will begin at 11am with the day coming to a close in the late afternoon. For more information and to find out how to register for the competitions head to the website.
Open Your City With The Heineken Chauffeur And Uber
Here at The Urban List we love taking advantage of things that are FREE and when we found out about the Heineken Chauffer partnership with Uber our jaws dropped! Over the next few weeks Uber will be available to take you and your friends on an adventure to remember. At the push of a button, the Heineken Chauffeur will take you and up to three friends to a mystery location in a premium UberBLACK vehicle between 6pm-9pm every Thursday, Friday and Saturday night. You may end up at a trendy bar, an exclusive cocktail bar or even an overnight adventure in another city with flights and accommodation included – Umm yes please! For more information click here.
Sunday 12th October
Brewery Yard Markets at Central Park
By now we're sure you've all seen the newly transformed Central Park on Broadway and if you haven't, you should. Well, starting this Sunday is the fresh and trendy Brewery Yard Markets. Come down and browse around an array of stalls featuring the very best in fashion, art, music, food and drinks. The BYM are Sydney's newest markets and will be running every second Sunday from 10am – 4pm. For more information, visit the website.
Kings Cross Festival
Head down to the iconic Kings Cross this Sunday for one of our favourite spring festivals. Local restaurants including Popolo, Jimmy Liks, Kim Restaurant, The Bourbon, Harajuku Gyoza, Chester White Diner and more have jumped on board, showcasing dishes from their menus for you to enjoy. There will also be an array of pop-up cooking demos, wine tastings and artisanal products for you to enjoy. Sit back and relax on the Macleay Street Long Table in the surrounds of beautiful Fitzroy Gardens and enjoy all of your favourite restaurant and café food in the one place! The festival is family friendly event and will be running from 10am – 5pm this Sunday only. For more information, head to the website.
'Geppetto's House' At TWT Creative Precinct
For some more cultural things to do in Sydney, 'kind of — gallery' will be hosting a charity group exhibition titled 'Geppetto's House'. The contributing artists come from a variety of contemporary, traditional and street art backgrounds ranging from painters, illustrators, graphic designers and typographers. These artists have been asked to work with the concept of whales in any way they see fit. It's sure to be an amazing experience for all viewers. The exhibition will be running until Sunday 26th October, so if you can't catch is this weekend there's still plenty of time! For more info head to their website.

Image credit: Vitality