It's no secret that we love food, especially when it's cooked by somebody else. But dining out in Sydney often means a serious splurge, and before you know it there goes your pay cheque. But fear not, foodie friends, now you can devour good grub all from the comfort of your living room. We're not talking about reheated TV dinners, we mean nutritious, wholesome and delicious meals delivered straight to your door. And for budding MasterChefs we've even thrown in a couple of great 'mystery' boxes for you to cook up a storm. Watch out Gary and George!
Mumu Grill
Mumu Grill's home delivered meatbox is sure to get you salivating. Jam-packed with cooked, marinated and fresh meats sourced from sustainable farmers, there's plenty to dig your teeth into. All the meat is cryovaced, and there's even a bunch of recipes and sauces to get you started. The Mumu Grill meatbox is available as a subscription or a one off protein-fuelled purchase.
Dinner Ladies
There's nothing worse than getting home late after work and having to whip a meal. Never fear, the Dinner Ladies have got you covered with their delicious and healthy range of soups, salads, pies, stir fries and lasagna, which will be waiting for you at the door. The menu changes each week and is inspired by everything from international street food to your grandma's home cooking. Plus, there's no cleaning up!
Eat Fit Food
With an emphasis on fresh, healthy and calorie-conscious food, this is dinner that certainly delivers! Eat Fit Food offer fresh, nutrient-rich meals that have received the tick of approval from Aussie celebs such as Hugh Jackman, Michael Klim and Delta Goodrem. Apart from their great tasting menu, there are also cleanses and detoxes for those looking to kick start their summer bod.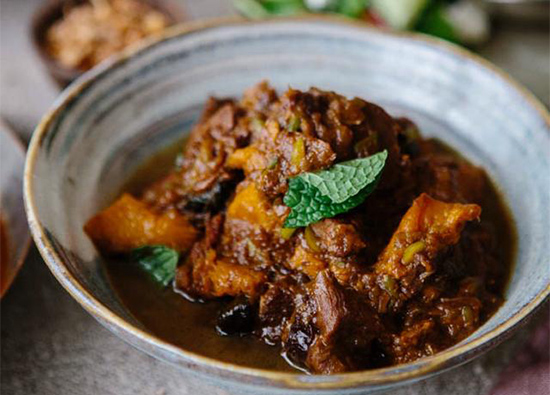 The Floury Baker
A newcomer on Sydney's home-delivery scene, The Floury Baker offers rustic style curries, slow-cooked meats, pastries and delicious cakes. There is plenty to get you salivating, from the beef rendang and chicken tagine to the frangipani tart and New York-style cheesecake for dessert. It's all delicious!
Realfood Connection
For all you gluten-free kids, RealFood Connection delivers paleo style meals that are both hearty and delicious. Order online or visit them at their Camperdown café. Our eyes are on the mango chicken, lamb merguez meatballs and coconut mousse with nut granola and berry compote. Take home and enjoy!
Box Fresh
Stocked with the best seasonal produce, Box Fresh delivers your weekly dose of fruit and veg. Okay, so you still actually have to cook up a meal (or just go raw) but at least it will be brimming with flavour. Not much in the fridge? You can also add fresh herbs, eggs, dairy and breakfast staples to your delivery.
My Food Bag
For those looking to work their magic in the kitchen, My Food Bag delivers the ingredients and recipes needed to cook up an incredible (yet super quick) dinner, five nights a week. Each delivery is chockful of free-range meats and local Australian produce, perfect for families or foodie couples.

Have we missed any of your favourite healthy home delivery options? Let us know!
Image credit: The Floury Baker