It wasn't so long ago that the only way you ate beetroot in Brisbane was straight from the tin and onto an "Aussie" burger alongside tinned pineapple slices and a fried egg.
But the beet is well and truly back — a resurgence in recent years now sees it on just about every menu in town.
It's one of those ingredients with a flavour and texture that can be totally altered depending on how you prepare it — and it always adds a brilliant splash of colour to your plate.
We've shown you some of our favourite ways to enjoy the beet, and the Brisbane restaurants and cafes to check out serving beets on the menu.
And don't miss our recipe for a warm Moroccan beet salad, below!
Roast
One of the easiest (but messiest) ways to prepare beetroot is by roasting. The end result can be added to salads, paired with oily fish, blended to make purees or dips, or just layered with goat's cheese in a toasted sandwich.
Wrapping the beets in foil or leaving them exposed is a hotly debated technique and will result in a slightly different texture because the wrapped beets will steam. Don't forget to wear gloves when peeling to avoid staining your fingers!
For inspiration, check out Il Centro's roasted beetroot risotto with pickled beetroot, Woodside goats curd, and green asparagus.
Relish
Spiced, tart, or naturally sweet, beetroot makes a great condiment to cold meats, cheeses, sandwiches, or BBQ favourites. Flavour with fragrant spices like allspice, ras el hanout, or cumin depending on which cuisine you're matching with.
Claret House use beetroot relish to cut through the richness of their blue cheese soufflé alongside pickled cauliflower.
Pickled
Everyone nowadays seems to love pickling anything they can get their hands on, and beetroot happens to be one of the best to experiment with. The flavour can be adapted based on your ratio of sugar and vinegar, the type of vinegar you use and the spices you add.
Malt match up delicate flavours and textures perfectly in their 'Tastes of Ocean Trout' with gin and tonic gel and pickled beetroot.
For a simpler beetroot hit, add a touch of sweetness to a fresh salad like Botanica do with their raw beetroot, orange, feta and mint salad.
Or, try our warm beetroot salad recipe!
Moroccan Beetroot Salad Recipe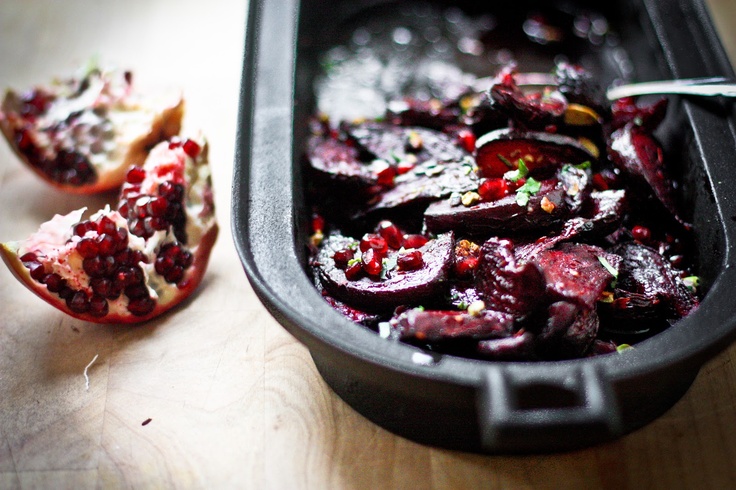 You'll need…
1 bunch beetroot, washed with stems removed
2 tbsp olive oil
1 tbsp red wine vinegar
½ tsp ground cumin
1 red onion, thinly sliced
2 tbsp flat leaf parsley, chopped
To prepare….
Cook the beetroot by boiling in salted water for an hour or until tender.
Remove from the water and allow to cool. Wearing rubber gloves, peel the skin off the beetroot and chop into wedges.
Mix together the oil, vinegar and cumin to make a dressing, then add the wedges of beetroot and sliced onion.
Mix well and scatter with parsley.
Serve warm.
Image credit: Feasting at Home, Food