We're an observant lot, here at The Urban List so there aren't many things that pass us by (besides the odd electricity bill or close relative's birthday — sorry Mum!) but on the occasion that an undiscovered dining gem does fly under our radar, we know it's time to check it out. If you're clever enough to make awesome coffee and do it sneakily, we want to know about you.
So, to shine a light on Brisbane's lesser known (but no less delicious) cafes, here are ten of our favourites that you may not have heard of but need to try out ASAP. You could even take Mum along?
Five Sisters
Staking its claim as an 'art house cafe', Five Sisters is a coffee-shop-cum-art-gallery with a Greek twist. The family owned cafe is hidden away in a heritage listed Melbourne Street building and does a mean spread of traditional Greek sweets (how does freshly baked orange and almond cake sound?) as well as faithful breakfast dishes including eggs on sourdough and French toast with fresh berries, alongside their own house roast coffee blend. Five Sisters also have a container at the bustling Eat Street Markets on Friday and Saturday nights, and the cafe is now licensed so you can enjoy their homemade Chicken Souvlakia for dinner with a cold beverage too.
Crema and Cream
Not living in Stafford is no excuse for not having sampled Crema and Cream's infamous Mars bar cheesecake. Dessert chef, Grace is an expert in sugary deliciousness and the cafe's cake cabinet boasts red velvet cake and overflowing raspberry and white chocolate muffins alongside chocolate bar experimentation. Coffee is a robust, five-bean house blend and comes courtesy of barista Ron, also known as 'master of the coffee machine.' They also do a breakfast well worth crossing town for.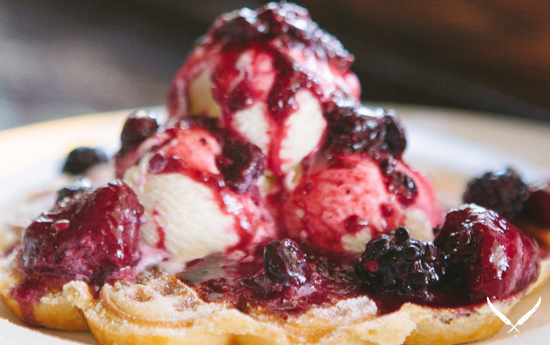 Pompidou Cafe
The French-inspired Balmoral cafe has long been a favourite of hungry eastsiders, but its French toast and crushed avocado have been proving too hard to resist for breakfasters from across the river, too. If the croque-monsieur* at Pompidou isn't enough to transport your taste buds to a rustic French farmhouse, the aging wine bottles and old family portraits will surely do the trick.
*Editor's Note: For the sandwich rookies out there, croque monsieur is a seriously decadent French take on the ham and cheese toastie.
End of the Road Coffee
End of the Road don't mess around when it comes to coffee. The New Farm cafe's award-winning blend uses beans from Central and South America and is roasted by West End's The Coffee Roasters. Residing in a disused bus depot next to the ferry terminal, End of the Road is ideally situated for that commuting caffeine fix.
Little Pawpaw
Given that it only opened this month, we'll let you off for not having heard of Little Pawpaw... but only if you get over there stat and try their homemade banana jam. The latest venture from the brains behind Pawpaw Cafe, Little Pawpaw is bringing the much needed combo of kitsch 'n' coffee to Kedron.
Wild Canary
Our new favourite Brookfield bistro, Wild Canary is already winning plaudits for its locally sourced dishes (and we mean very locally sourced, as in walking distance from the kitchen) and airy dining space. Open seven days a week until four, it's a must for your weekend brunch hit list. A welcome addition to the Brisbane cafe scene!
Samson and Sophie
'Hole-in-the-wall' can sometimes be a polite way of saying 'You'll walk past it every day without even noticing it's there' and while Samson and Sophie is undeniably in the wall, we defy anyone to wander past their cute Teneriffe shop front without noticing. Owners Fergus and Sep are part of the team behind the always delicious Esher St Cafe Deli, which would explain why locals are already hooked on Samson and Sophie's house muesli (bahbah yoghurt, seasonal fruit, honey and vanilla: yum)
Betty's Espresso
Diverge from the main West End strip and you'll find an unassuming Queenslander that's been commandeered by 'Betty' and her irresistible mix of nostalgic decor, experimental baked goods and great coffee. Betty's Espresso is one cafe you can't go much longer without hearing about: we all need more watermelon macarons in our lives.
Bear Bones Espresso
Move over Flamingo, there's a new quirky cafe in the Valley and they're as serious about their coffee as they are about the funky graffiti that adorns the walls. Bear Bones Espresso roast their own beans from their Mclachlan Street warehouse cafe and also do a great breakfast and casual lunch menu.
The Odyssey Project
Milton coffee roasters and espresso bar, The Odyssey Project may not have a full selection of food onsite (bar the homemade cupcakes and chocolate fudge brownies from Two Teaspoons) but their single origin house blends are more than enough to keep your palate occupied. Plus, they do bacon and maple syrup waffles on Fridays. Odyssey is still so unknown that just getting seen with a cup of jo at this Brisbane cafe will gain you serious street cred'.
Image credits: Daniel Maddock