After an unfortunate incident with a bottle of Gympie-made wine years ago — not Australia's most noted wine region as it turns out — I all but swore off Queensland wine.
Call me crazy, or affected by the State of Origin fever going 'round, but I'm feeling kind of parochial, and like it might be time to dabble with Queensland wine again.
Obviously, I'll be steering clear of the Gympie varietals but luckily there are some damn good drops to play with in our sunny state.
Because I don't have time for the risk of drinking bad wine, I went straight to the source of some of Queensland's best, most award-winning wine: Sirromet Wines.
Not only do Sirromet have a great 5-star winery in the hills in Mount Cotton, they also have amazing function spaces, a wine club with some great perks and a super handy online shop.
But there are plenty of reasons — other than being a hardcore Queenslander — why you should be drinking Queensland wine.
Here, we've noted a selection of them (in no particular order) so you can drink Queensland wine with pride.
1. Because you are a Queenslander. 'Nuff said.
2. It's made with the best fruit.
Queensland is known for it's tropical fruit but did you know the Granite Belt region — where Sirromet wine starts its life — is perfect for wine grape growing? Thanks to its granite terroir (vino-speak for characteristics), cool climate and high altitude, you could be drinking some great varietals like Verdelho, Viognier and Pinot Gris, all grown right here. [Editor's tip: Pick up a bottle of the Signature Collection from www.sirromet.com.]
3. You can drink it in jaw-dropping landscapes.
Yeah, sure, France has some beautiful countryside, but the Sirromet Wines property is stunning and it's just on our doorstep. Sitting on the mountain top at Mount Cotton, it has views across the vineyards onto Moreton Bay and some excellent eateries serving up fresh local ingredients prepared by celeb' chef Andrew Mirosch, and of course, the wine.
4. Origin?
Queensland's the best state in all things, right?
5. The food.
Restaurant Lurleen's is a must-do Queensland experience, so why not take a day trip. Open for breakfast lunch and dinner (various days and times), and featuring fresh, local Queensland produce, each dish is matched with a Sirromet drop so you can get the full experience. The top-notch food also extends to their excellent function packages, which explains Sirromet's popularity in the wedding venue space.
6. Sirromet has 700+ international awards.
That's a lot of awards. The judges of these competitions know their stuff, so drink up the good stuff, because this is officially one of the best Queensland wines.
7. Um, because wine?
Let's not pretend we only drink wine from the south of France or something. There are some great local wines getting about these days and Sirromet is one of them.
8. It's the product of traditional methods and modern winemaking and viticultural techniques.
Old meets new makes for great results in our books.
9. It's made with world-class equipment.
Sirromet is the first Australian winery to use cross-flow filtration (something the world's favourite viticulturalists, the French, developed). I won't go in to the details, but essentially, it is what makes the clarity of the wine so damn good.
10. You'll be supporting the industry and helping drive the Queensland economy.
That's an altruistic side benefit to getting your drank on, right?
11. There's a lot of it.
Sirromet has 97 wine tanks on-site with a total capacity of 2.16 million litres and the largest tanks hold 120,000-litres each. In other words, you could swim in it!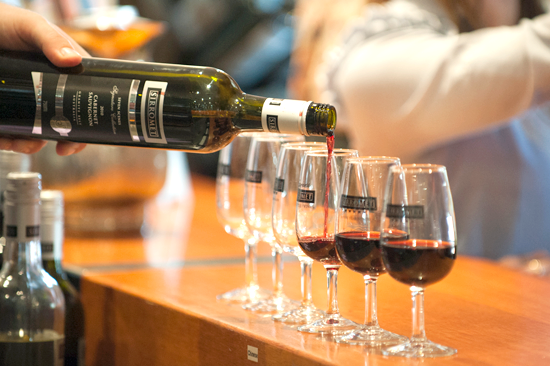 Image Credits: Daniel Maddock, Sirromet, VROG in Bristol, 31 Media
TUL Note: Today's List Love post is proudly sponsored by Sirromet Wines and endorsed by The Urban List. Our sponsored posts will never be a secret — the List Love seal will be stamped on any sponsored material you see on the site. Thank you for supporting the sponsors who make The Urban List possible.