Australia, you beauty, how can you keep surprising us day after day with new destinations to add to our ever growing bucket list. It seems like the list of stunning natural splendours right on our doorsteps is never going to stop – and boy do we not want it to. Sorry, not sorry, but we've taken it upon ourselves to round up 14 more places you just have to visit in OZ. You bank account might hate us but imagine what your 'gram feed is going to look like at the end of yet another epic adventure. Don't worry, you can thank us later.
---

Situated only a few minutes before the iconic Twelve Apostles on the Great Ocean Road, Loch Ard Gorge is a spot with the lot. Think dramatic rock formations, golden sands, jaw-dropping views over the surrounding ocean and turquoise blue waters just begging to be captured in some way. Visitors are treated to a variety of walking trails around the peninsula, as well as the climb into the gorge itself, and the killer views are well worth the stop. Add this one to your road trip plans, friends, and we promise you won't regret it.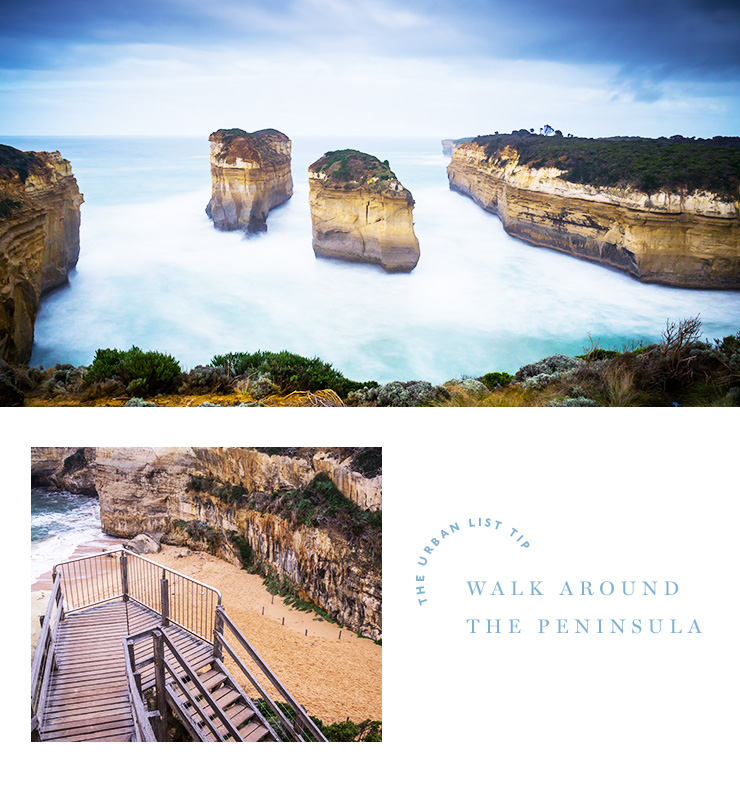 ---

The Mornington Peninsula combines everything we love in a good trip away: gorgeous views, even better tastes and activities to suit every member of the family. Drive along the coastline and be treated to a veritable smorgasbord of waterfront restaurants and cafes, with views that'll have all your 'gram followers quaking with jealousy. Afterwards, meander through a heavenly lavender farm, get lost in a massive hedge maze and indulge your hippy side by hugging trees from the 1860s. Oh Mornington, you just get us.

---

A list of stunning spots to add to your OZ bucket list just wouldn't be complete without at least one mention of the Whitsundays. We've all seen the dreamy pictures of jaw-dropping Whitehaven Beach and imagined lounging in a designer swimsuit by the pool on Hamilton Island. This collection of 74 tropical islands, only a hop skip and jump away from the Great Barrier Reef, consistently ranks as one of Australia's many natural wonders for a very good reason. Trust us, you definitely don't want to miss this one.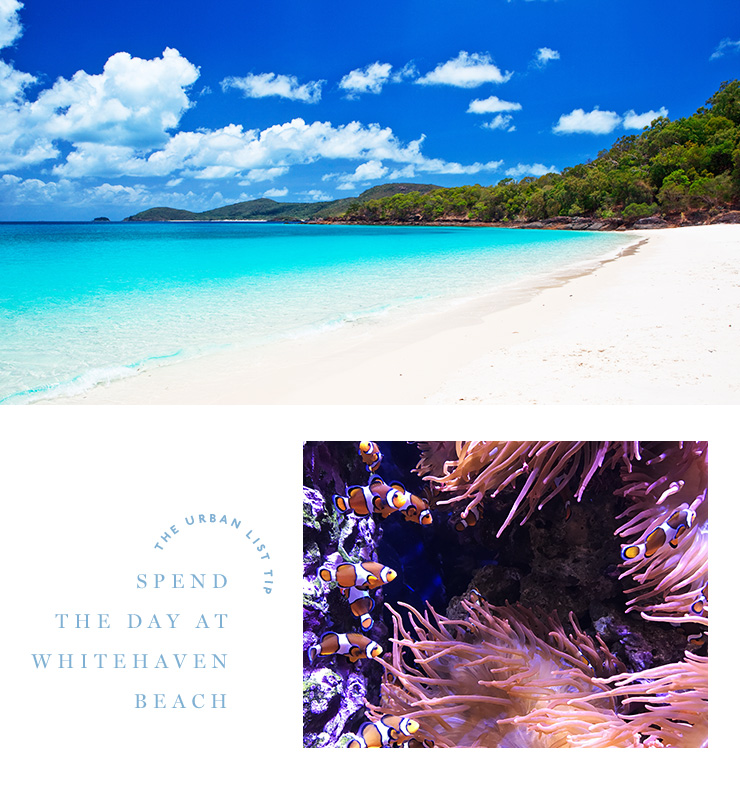 ---

Sweeping valley views, waterfalls made for chasing and rainforest pathways begging to be hiked are only the beginning of Lamington National Park's ample splendours. Start your day by exploring the gorgeous Natural Arch before wandering through the popular Morans Falls track to get the fall Lamington experience. There's just nothing like getting back in touch with nature to remind you how dang beautiful Queensland is. We will never stop harping on about this place, it's just that awesome. You can thank us later.

---

Sure, you could head to the Blue Mountains on your epic OZ adventure or you could head west of them to the Jenolan Caves instead (or combine the two, because why not). Dubbed Australia's most spectacular caves, the Jenolan Caves consists of nine stunning caves threaded with sparkling underground rivers and mind-bending limestone formations. Family-friendly tours abound through the caves, but the more adventurous amongst us can also have a crack at adventure caving and all the Indiana Jones-esque manoeuvring it implies. Oh and did we mention there's a range of accommodation options adjacent to the caves that also look over the gorgeous Blue Mountains? Be still our beating hearts.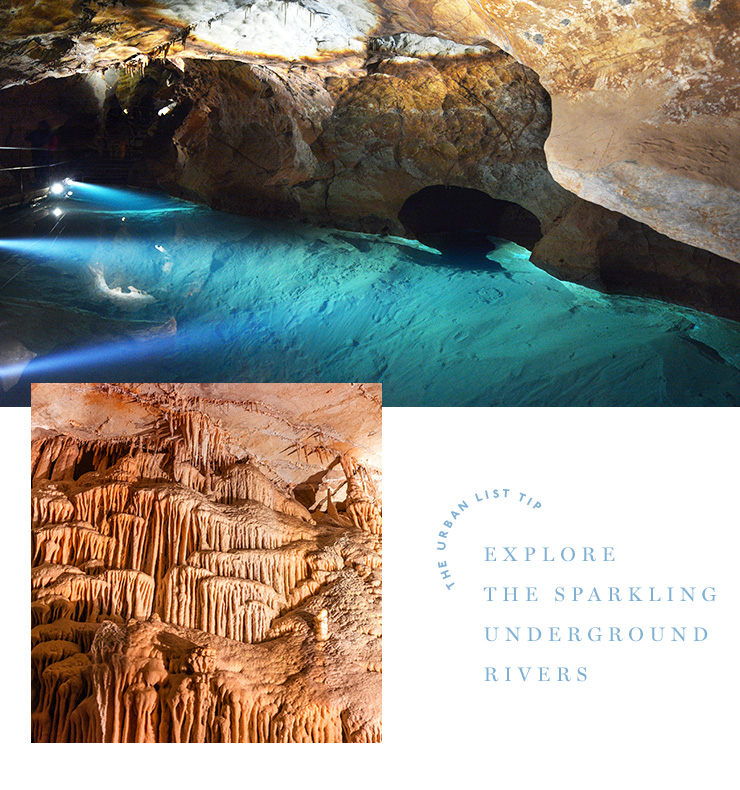 ---

Okay, that's enough cave spelunking for now. Why not enjoy some of the finest wine from Australia's best known wineries instead? Pokolbin, situated at the heart of the lush Hunter Valley wine region, is the gateway to this thriving slice of wino heaven. Set against the backdrop of the stunning Broken Back Range, Pokolbin boasts quaint boutique accommodation, award-winning restaurants and outdoor music events that cover opera, jazz and rock. Two of Australia's biggest wine names, Tyrell's and Tulloch, are also based out of Pokolbin so you can be sure they know their stuff. Did anyone say sunset photoshoot against rolling green vineyards with a good glass of red in one hand? Uh, yes please!

---

When you think of one of the world's best beaches, you don't really think of Tasmania. But our island neighbours down south are keeping more than a few stunning spots under wraps. Sorry Tasmania, the world needs to know about Wineglass Bay and book the next flight to Hobart. Picture Whitsunday-worthy crystal blue waters, pink granite mountains rising straight out of the ocean and peaks perfect for those panoramic views. Wineglass Bay seriously looks like another world. It didn't earn its title based on nothing. Run, don't walk.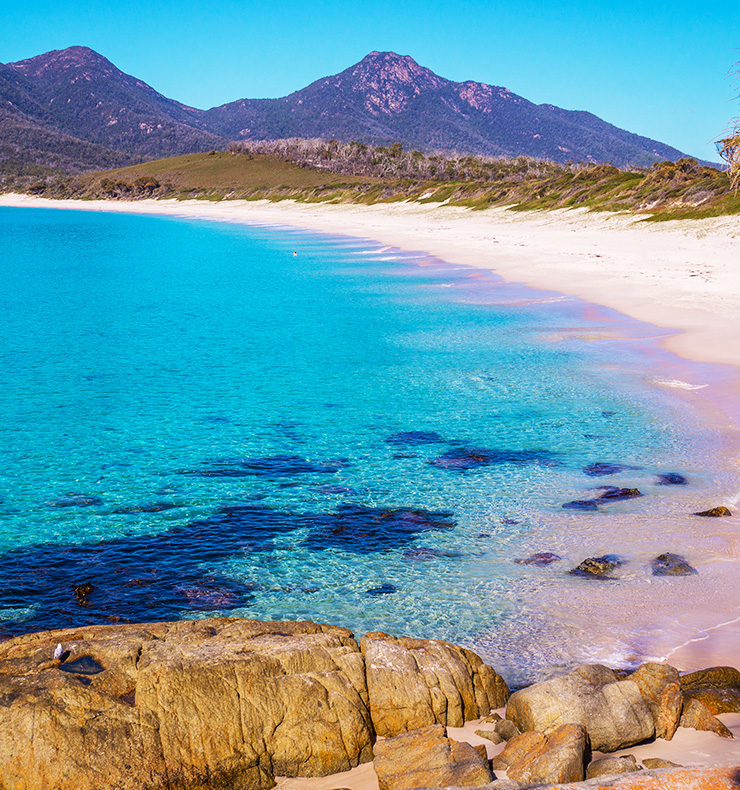 ---

Damnit Tasmania, stop it with the amazing natural splendours. Russel Falls is a three-tiered (we didn't know that was a thing either), gushing waterfall that will remind you just how impressive nature is (as if you ever forget). Surrounded by dense rainforest in the middle of Mt Field National Park, part of Tasmania's World Heritage Wilderness Area, Russel Falls is only an hour's drive away from Hobart. Night-time wanderers are also able to find their way to the falls by following a wooden handrail which glow-worms have made their home. Actual magic is happening in Tasmania, guys.

---

No trip to South Australia would be complete without at least one evening spent sipping some of Australia's finest wines in the Barossa Valley. This lush yet compact strip of wineries, measuring only 25km from end to end, manages to produce 21% of Australia's wine supply, probably making it your definition of heaven. With a colourful German heritage, the Barossa Valley is no stranger to hearty eats with the perfect accompaniment – of both the scenic and alcoholic variety. Located only 65km southwest of Adelaide, the Barossa Valley is the perfect day trip to squeeze in among your other adventures. Go on, we won't tell if you don't.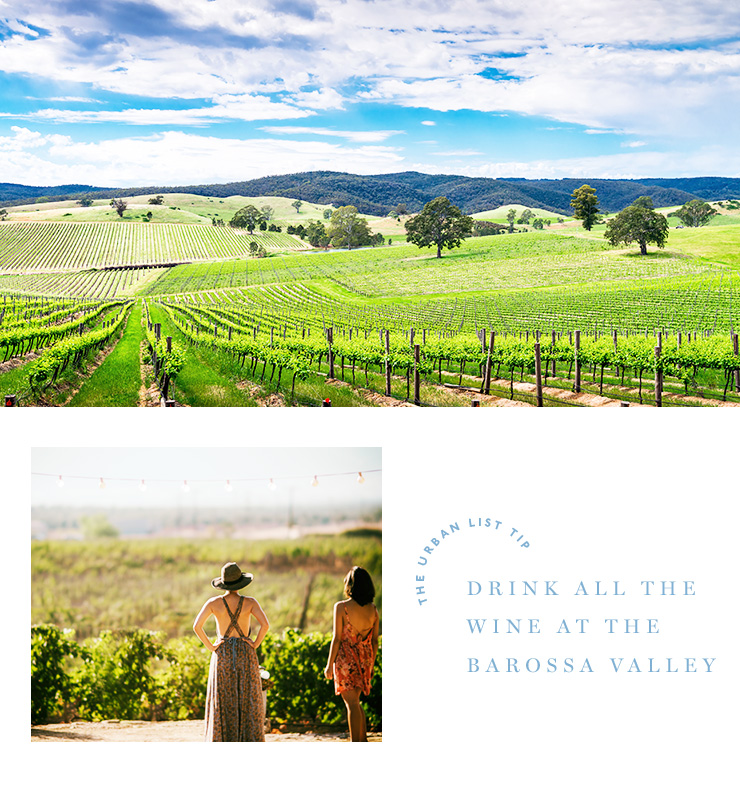 ---

While not a traditional choice for official Aussie stunners, Coober Pedy – South Australia's famous underground town – has a different type of beauty all on its own. Descend into subterranean tunnels made with the Outback's distinct red dirt and discover a whole new world bustling right beneath your feet. We're talking cosy hotels-come-private-caves, gastronomical foodie delights and a welcome escape from the scorching Central Australia heat. Guys, it's an underground city IN AUSTRALIA! What are you waiting for?

---

The perfectly adorable quokkas might be the start of the show on Perth's Rottnest Island, but that doesn't mean that the island's stunning scenery is any less impressive. Rottnest is home to white-sand beaches, secluded coves and water blue enough to make Whitehaven eat its heart out. Surfing aficionados can also catch some gnarly waves at Strickland Bay, while snorkelers can get their fill at Radar Reef, off the island's western tip. At only 19km west of Freemantle, Rottnest Island is a definite must-see for your Western Australia adventure.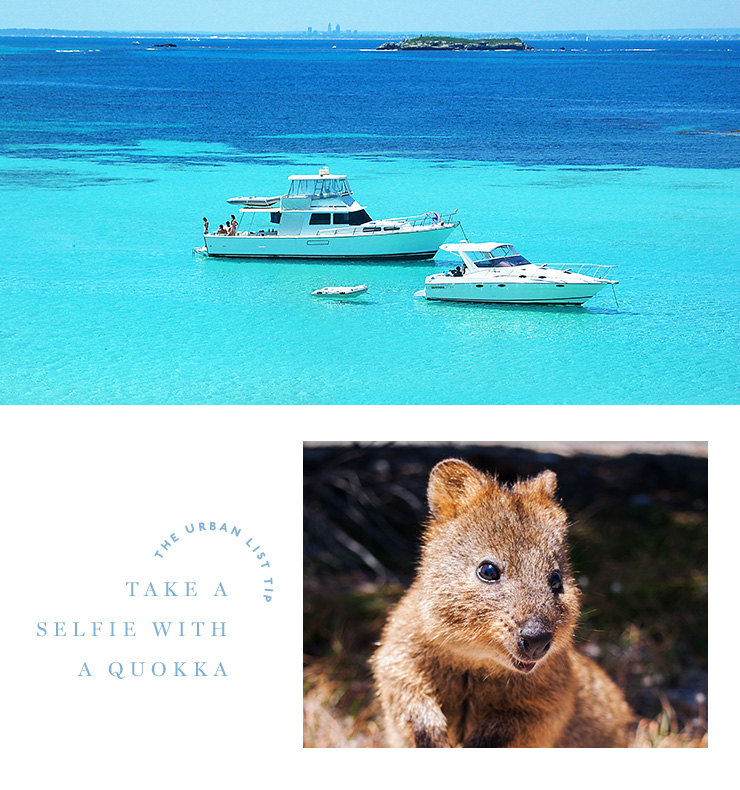 ---

If seeing red dirt country is high on your travel agenda, look no further than the Northern Territory's gorgeous Kings Canyon. Nestled between Uluru and Alice Springs, in the Watarrka National Park, Kings Canyon features soaring sandstone cliffs and is a truly stunning spot to catch the sunrise. Oh and did we mention the view over the surrounding countryside from the top of the canyon? So. Worth. It.

---

Western Australia boasts a number of wanderlust inducing natural sights, but the Pink Lakes, located just outside Esperance, have to take the cake. Pink Lake itself is located only three kilometres from Esperance and its water turns the titular colour due to a high concentration of algae in certain weather conditions. Lake Hillier, the largest of these bubble-gum pink lakes (that's right, no pastels in sight), is frequently quoted as one of the most photographed places in Australia. We can definitely see why. While swimming is a big no-no in these high saline lakes (can anyone say ouch), you could always treat yo' self to a scenic flight you'll never soon forget. Sign us the heck up!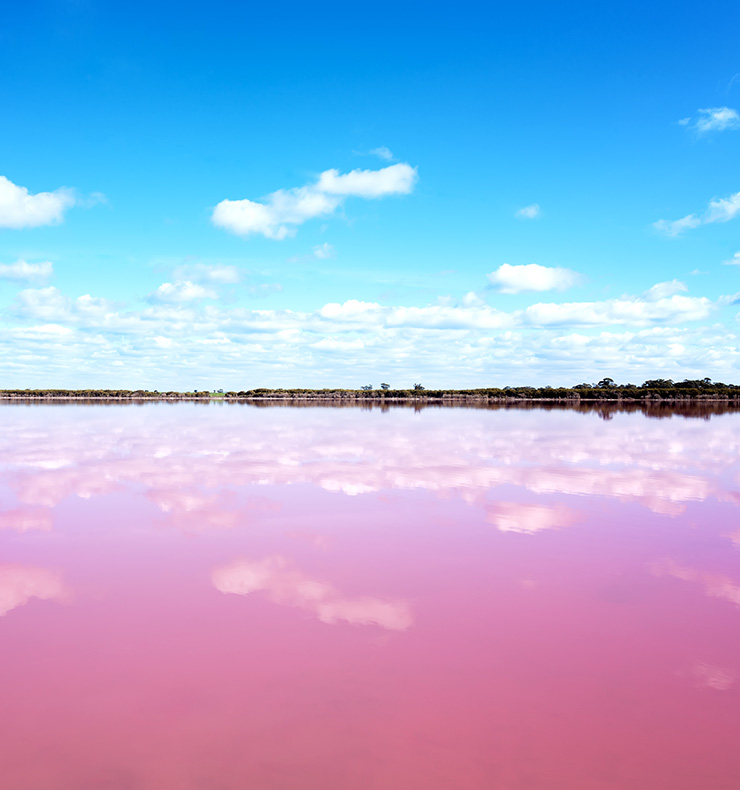 ---

No must-see list of Australian sights would be complete without a mention of Nitmiluk National Park. Best known as the home of the iconic Katherine Gorge, Nitmiluk also boasts plenty of swimming holes, gushing waterfalls, Aboriginal rock art and walking trails to keep even the most intrepid traveller wanting more. Those who prefer a day on the water also have access to opportunities for canoeing, boating and fishing. Or you could just kick back and float in a completely natural swimming hole while you bless the travel gods for your good fortune. Talk about the ultimate chance for R&R.
Keen for a weekend country getaway closer to home? Check out these farms you can actually stay on in QLD.