?MBFF is almost upon us (that's Mercedes-Benz Fashion Festival for all you style rookies), and we getting excited! We sat down with the man behind the makeup brush, Mr Napoleon Perdis, to talk fashion festival goss', makeup tips (apparently we've been applying our mascara wrong this whole time), and the products you need (right now!).
TUL: How did you get started in the makeup industry? Why are you so passionate about making women look their best?
NP: As a teenager I used to love doing my mother's makeup when she went out in the evenings with my father and that's actually how my passion for makeup began. Over the years I started doing bridal makeup on the weekends with my wife, Soula-Marie assisting me and the business just snowballed from there. We opened the Napoleon Perdis Makeup Academy in Sydney and launched my signature line at the same time. That was almost 18 years ago!
TUL: How do you want women to feel after they've been in your makeup chair?
NP: Beautiful and glamorous, of course, but more than that I want her to feel confident and in control. I also want her to feel motivated and empowered to master that very look I've created for her at home every day.
TUL: What's your beauty philosophy?
NP: Be the very best version of yourself you can be – and do it every day.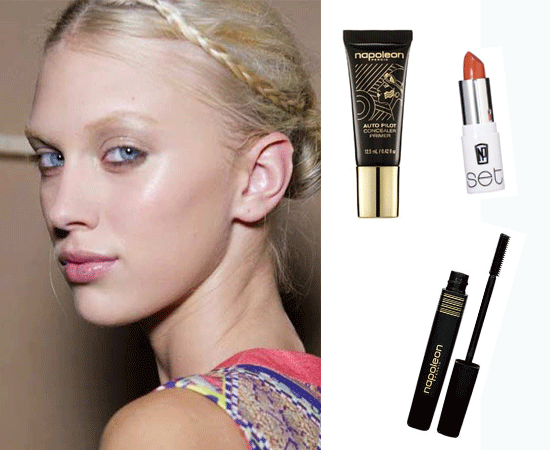 TUL: Which 3 products should every women own?
NP: Primer because 'not to prime is still a crime' – and it really is the key to complexion perfection; a great mascara to open up the eyes; and a cream lipstick. A new lipstick is the fastest and cheapest way to upgrade your look – and it can also double as a blush.
TUL: What's your favourite product right now?
NP: Well that's like choosing a favorite child isn't it! I'm always about looking forward and so I'm quite obsessed with a couple of products we have in development for 2014 that my makeup artists and I are testing. I am also loving my BBB Cream as it's such a great multi-tasker; it has amazing anti-aging actives like snail mucus, has HD properties to even out skin tone and impart a flattering radiance, and of course SPF30 sunscreen. If you wear one thing on your face, make it this. It really does cover all bases.
TUL: What's one makeup trick every woman should know?
NP: Apply your mascara first as it helps to map the rest of your makeup look. By adding that definition and enhancement to the eyes, you can then work out what you want or need to do from there – and you know, it might be as little as some concealing, a few strokes with a brow pencil to frame the face, and a quick slick of gloss and you're done!
TUL: What's the best part of your job?
NP: Connecting and engaging with people who inspire me, whether that's working on a new product formula with my wife and muse Soula-Marie, planning a launch into a new retailer, talking to a beauty editor, or meeting my customers in store. I love every day; I'm never doing the same thing.
TUL: What's the worst part of your job?
NP: Not enough hours in the day and juggling different time zones.
TUL: What does a typical day look like for you?
NP: There's nothing typical about me or my days actually! When I'm not travelling, I always have coffee with my wife first thing; it's a private ritual that I just adore. Depending on my daughters' school schedule, we might have a quick family breakfast before we all go our separate ways for the day. I head straight to the office where I don't stop really, other than perhaps dropping in to check on my students at my Hollywood Makeup Academy campus which is just down the street from our LA head office. I don't really do business lunches but prefer to maximize time in the office with my team; I have meetings with our Product Development Team and my Marketing Executives. I often do interviews with media in the afternoon and then get on the phone for most of the afternoon to speak with my Australian team. I don't usually leave the office before 7.30pm and then I race home in time to have dinner with my family. After dinner it's more emails and calls to my senior management team in Australia. I don't go to bed until very late – or early in the morning! I catch up on sleep on the weekends or when I'm on vacation.
TUL: Which shows are you particularly excited to be working on this Mercedes-Benz Fashion Festival?
NP: I can't wait to do the Myer show as we're launching in Myer nationally over the next few months and they have such a strong stable of designers like Toni Maticevski, sass & bide, and Jayson Brunsdon. I also enjoy working with emerging designers as they tend to have that unbridled creativity and fearless naivety that I find really interesting and charming. I put a lot of faith in the future and in future talent; you just never know where people are going to end up in life.
TUL: What can we expect on the runway?
NP: A really clear nude makeup direction, luxe, flawless skin that still looks real, and clever contouring. Contouring is really important for runway work as the lighting can really wash out the girls so we need to exaggerate the contours of the face.
TUL: What can makeup enthusiasts expect from your Top 5 Looks workshop this Fashion Festival?
NP: They can expect a show! I love a bit of theatre so we'll be making an entrance of course. My National Creative Team of makeup artists and I will be demonstrating five really strong trends for next season. They're all really achievable and of course like all my workshops, I'll be revealing all the shortcuts, tips and tricks for instant glamification.
TUL: What are they key trends for makeup this Spring?
NP: You'll need to come to my trend workshop in Queen Street Mall on Friday 30th August! Come one, come all – it's free!