Oui! It's that time of year again – the Alliance Française French Film Festival is set to touch down in cities all across Australia this March. Celebrating its 25th year, we hear from reliable sources that this might be the best year yet.

Year after year, the festival curates a selection of the best contemporary French films including comedies, documentaries, dramas, some blockbusters and some independent films – so you know that if it's good enough to make the cut, it's definitely worth watching.

The program kicks off in Sydney on the 4th, followed by Melbourne on the 5th, and Brisbane on the 6th, so it's time to snap up your tickets! Not sure what to check out this year? Here are our top picks for the Alliance Française French Film Festival 2014.

The Finishers (Drama)
Director: Nils Tavernier
Starring: Jacques Gamblin, Alexandra Lamy, Fabien Héraud, Sophie de Fürst, Pablo Pauly, Xavier Mathieu

When Julien, a wheelchair-bound teenager, is encouraged to re-connect with his reluctant father, the two take on the challenge of a lifetime – joining forces to compete in a triathlon. But don't be fooled, this isn't your typical sports flick, it's sure to have even the coldest hearts melting.

Verdict: Love a story about overcoming adversity? This one's for you.



Populaire

Populaire (Comedy, Romance)
Director: Regis Roinsard
Starring: Romain Duris, Déborah François, Bérénice Béjo, Shaun Benson, Mélanie Bernier

This isn't the life Rose Pamphyle had imagined, stuck in a small town and marrying the local mechanic's son. Motivated to change her path, she sets out on finding a job in Normandy. It's here that she meets successful insurance agent, Louis Enchard, who discovers her unworldly talent for typing. Using his experience as a former boxer and runner, Louis trains Rose to prepare for the world speed typing championships in New York. With so much time spent training together and on the road, there are sure to be some sparks flying.
Check out the trailer here.
Verdict: Paying homage to classic Hollywood rom-coms, take your best gal-pals for a trip down memory lane.

Tour De Force (Comedy)
Director: Laurent Tuel
Starring: Clovis Cornillac, Bouli Lanners, Ary Abittan, Bruno Lochet, Élodie Bouchez, André Marcon

When Francois Nouel loses his wife and job to his Tour De France obsession, he decides to take the plunge and ride the tour himself. With nothing left to lose, he embarks on a journey that gives him more than he bargained for. This funny and thrilling tale of everyday heros will have you wanting to take action with your own life.
Check out the trailer here.
Verdict: Sports fans unite! This is the motivation you need.



Tour de Force

Mademoiselle C. (Documentary, Fashion)
Director: Fabien Constant
Starring: Carine Roitfeld, Stephen Gan, Michaela Dosamantes, Vladimir and Julia Restoin Roitfeld, Karl Lagerfeld

Mademoiselle C. follows the journey of ex editor-in-chief at Vogue Paris, Carine Roitfeld, as she embarks on her next challenge – her own magazine. With her influence on the fashion industry, this story gives you an inside look into the lives and adventures of many famous faces. With her no doors closed policy, in this documentary Roitfeld is revealed as a warm and charming figure behind the façade the public see.
Check out the trailer here.
Verdict: Fashion your thing? Grab the girls and make a night of it.

It Boy (Comedy, Romance)
Director: David Moreau
Starring: Virginie Efira, Pierre Niney, Gilles Cohen, Charles Berling, Amélie Glenn

Sex, ambition and navigating a relationship with an age difference – welcome to the world of thirty-something Alice. Told her uptight attitude won't cut it in the publishing industry, she embarks on a challenge to prove them wrong. Cue 20-year-old Balthazar, Alice's new love interest. Now managing her cougar persona and a demanding job, this story makes for a hilarious romantic comedy.
Check out the trailer here.
Verdict: Looking for date night ideas? This is a killer rom-com both of you will enjoy.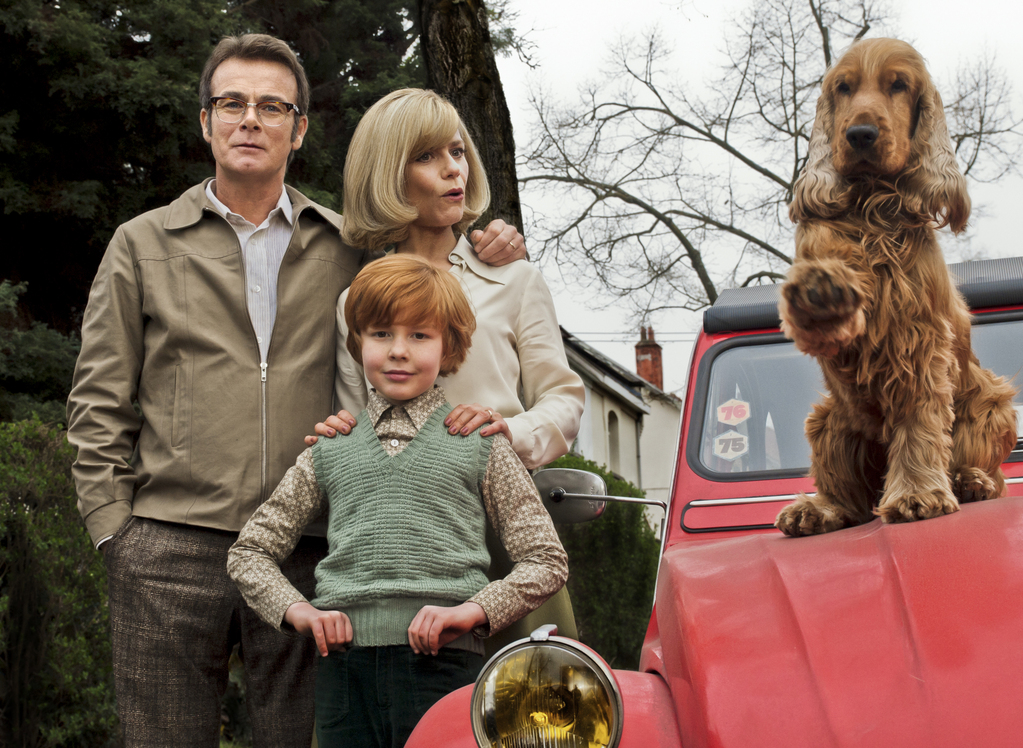 Billy and Buddy

Billy And Buddy (Comedy, Children's Film)
Director: Alexandre Charlot, Franck Magnier)
Starring: Marina Foïs, Franck Dubosc, Charles Crombez, Nicolas Vaude, Lionel Abelanski

When Buddy, a young red-headed boy spots Billy, a red-coated cocker spaniel, at the pound, it's the beginning of a amazing friendship and entertaining adventures. With Buddy's father trying to move the family from a small country town to a Paris suburb, trouble is sure to occur. This light-hearted family flick has plenty to keep both the kids and adults entertained.
Check out the trailer here.
Verdict: Round up the kids for a great family afternoon.

On The Other Side Of The Tracks (Comedy)
Director: David Charhon
Starring: Omar Sy, Laurent Lafitte, Zabou Breitman, Lionel Abelanski, Sabrina Ouazani

Taking inspiration from the likes of Beverly Hills Cop and Lethal Weapon, On The Other Side of The Tracks is an action comedy that will have the big kids out there entertained. The story of two cops, one from the rough suburbs and other a slick city cop, coming together to track down killers on the run is an instant crowd pleaser: you'll be in stiches form start to finish.
Check out the trailer here.
Verdict: Get the boys together for some laughs, it won't disappoint.

The Alliance Française French Film Festival | Various Locations
Melbourne | 5th March – 23rd March
Sydney | 4th March – 23rd March
Brisbane | 6th March – 25th March
For more info, please visit the website

Image Credits: Mademoiselle C: Hypebeast.com, Populaire: Movingimage.org.uk, Tour de Force: Film Festival website, Billy and Buddy: Unifrance