Oki-dokie. Let's be real. Sometimes when you're at a wedding and knee deep in celebrations (and by knee deep, I mean you're 'cutting shapes' on the dance floor with your cousins in funky dance movement laden glory) you don't really feel like being interrupted at the prospect of standing around to watch the cake cutting process. There's also the following attempt at trying to eat that cake in a polite and co-coordinated manner that raises some concern, and might leave icing down your front.

While there's no denying the deliciousness of cake, after having a pretty stellar run at eating for the day, you want something that might be; quick and easy to devour (no fork needed), maybe a little lighter, just a small injection of sweet AND possibly served with a novelty theme. So, for the couples to be out there, read on and seek ideas for potential alternatives.
Here are the best alternatives to the traditional wedding cake, and where to find them in Brisbane:
1. Cheese Tower
We love cheese (see our pick here of where to get the good stuff) and a tower of fromage with a little bride and groom sitting atop, is A-OK by us. Adorned with figs and other good things, this is one dairy stack that is sure to be a winner. Note: we hear Tognini's can put a stellar cheese tower together for you.
2. A Cake Pop Stand
It's like a little bit of cake (but not too much) and it comes on a stick. So you can continue dancing, while eating your morsel of cake-y goodness. Practical.

3. Cookie Tower
A cake shaped like a towers of cookies raises questions as to how you'd actually cut into it, but with multiple flavours, textures, and shapes on display, it'll surely get a good response (particularly from the older crowd as they dip a bickie in their tea).
4. Jello Shot Tower
And why not? It looks cool, keeps the guest hydrated, and, let's face it, it's only a matter of time before they started ordering shots at the bar anyway. You might as well cut out the middleman.
5. Donut Tower
Weddings are about indulgence. So too are donuts. Align these two and 'team with the theme' on a tower. Our pick? Go sky high with a pile of sweetly filled jam donuts from Brew Bakers.
6. Ice Cream Cone Concoction
It's so cooling! And they'll all scream for ice cream. Plus having everyone grab a little cone filled with colour co-coordinated creaminess will look ever so cute for the wedding photos.
7. Croquembouche tower
Yeah... It's been done a fair bit since Masterchef, but no guest can say no to a little ball of choux pastry willed with creamy custard inside. Traditionally a French offering, The Welsh Lady (despite not being French) would be our go-to lady for this.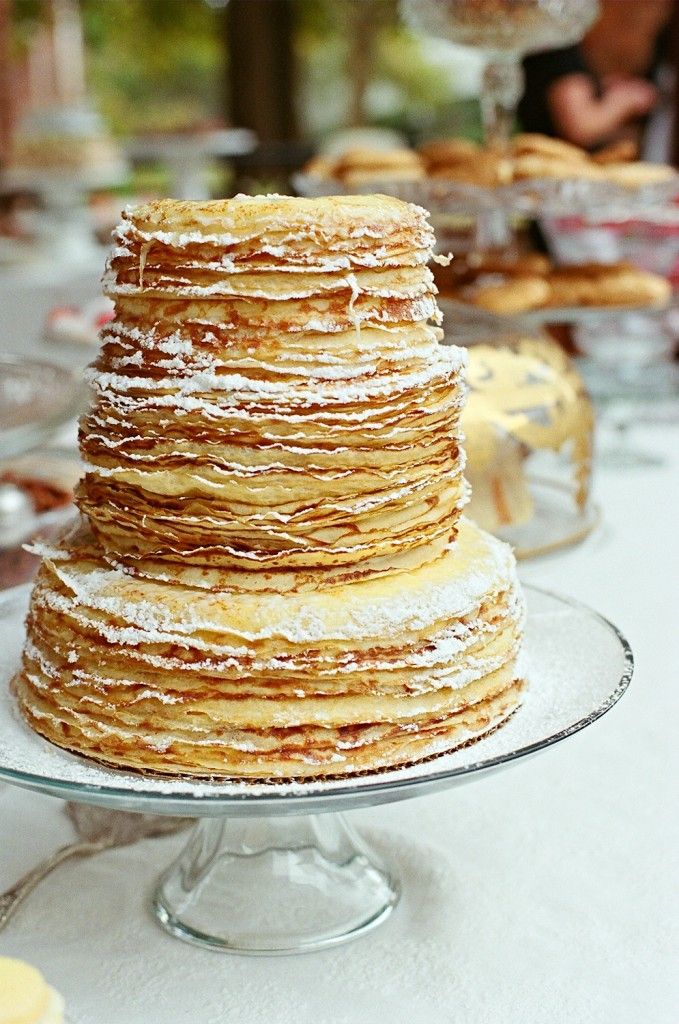 8. Crepe Tower
A cake made of crepes? Yes please. Everyone loves crepes; they're like pancakes, only better. You can roll them up, devour quickly, and if they're not already layered with flavour, guests can customise theirs with their pick of add ons. From jams, sauces, to the old lemon and sugar, it'll all be good.
9. Macaroon Tower
It might be seen as a little 'done', but beautifully hand-made macaroons (and not the type you buy in a food court) are a classic cake alternative.
10. Twinkie Tower
We had to include this one, if only because the idea of a twinkie tower, is pretty amusing. Perfect for the trailer-trash themed wedding.
Image Credit: Dhaleb, Kristin Newman Designs, Pinterest, S Wedding Style