Couture designer and Brisbane fashion legend, Paul Hunt generously invited us behind the scenes at the Mercedes Benz Fashion Festival as he prepared to headline the show. This year's festival marked ten, very stylish, years for
Paul Hunt Designs
, and cemented him as the master of the feminine silhouette. We sat down with Paul to talk glomesh, dressing brides, and the glorious return of disco.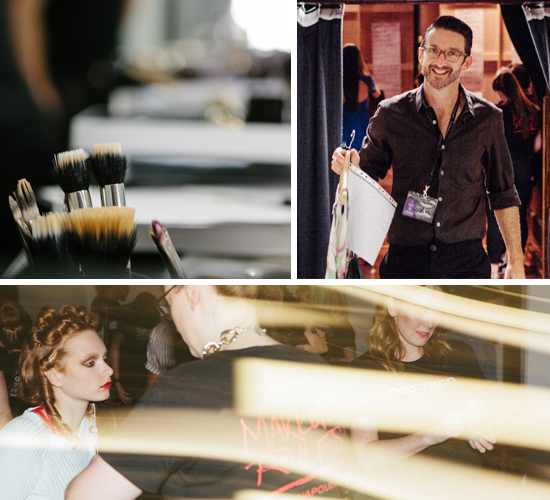 TUL: How are you feeling after the show?
Nice and relieved it's over! A lot of work goes into a show to get it from the initial concept, which started around 7 months ago, to now. You live and breathe it for such a long time, so it's lovely to have it launched, done, and being received really well. Now we're into the next phase of things, and my thoughts are just, 'let's sell it'!
TUL: What was the inspiration behind the show?
As per usual, it was largely textile orientated, so using lots of different types of fabrics. And using new fabrics we haven't necessarily used before, like the silver sequin pieces. They seemed to be very well received, which is great because we've never really had sequins on the runway before, and I'm not usually a big fan. But because we had that rectangular, brick shape it had a whole different look to it.
Someone actually said it looked like glo-mesh, and while some people think glo-mesh is a bit daggy, I actually think it looks quite nice. I like the movement. It was nice to have a range of fabrics that all told a story together.
There was a creamy dress with black plastic flowers woven across the front. Those flowers had been melted onto silk georgette. There were a lot of different, cool things like that we've used this time around.
The daywear followed a loose theme with a slightly '60s feel to things, rather than strict '50s. But, with the evening gowns, we were seeing more of that '50s cocktail length, which is one of my favourites.
We used interesting fabrics, like in the black velvet bodice, or the large silver and gold pattern on the black full skirt. I loved the way it moved. I also loved the sheer transparency of the striped organza. Everything seemed to fit together very well. I don't think there was a specific theme or style, but it all blended well.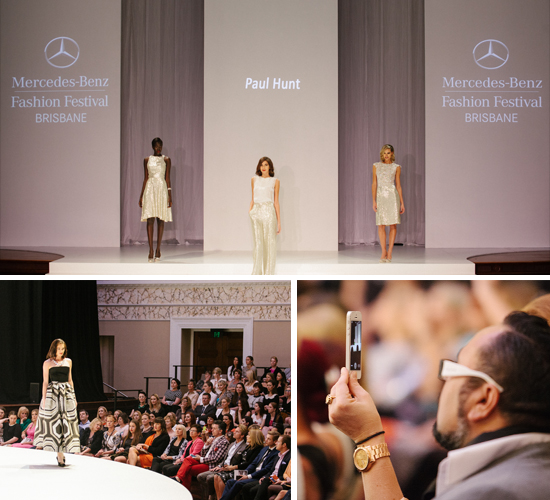 TUL: We loved the sequin wide-legged pants. They were a little bit Disco, if we dare say it?
The little story for those pieces was to have a 1920s feel to it, but the whole Disco thing and the '20s era have that same feel to them, so I'm very ok with the disco concept!
TUL: This show marked your 10-year anniversary? What does 10 years mean for Paul Hunt Designs?
Personally, I'm just very happy that we've reached this 10-year milestone. In this day and age, it's a sad fact but you see small business come and go very quickly, so first of all I think we are so lucky to still have a job and still be relevant. With fashion being such a fickle business, it's very easy to be fall out of favour very quickly. It's so nice people still appreciate what we do, and we're still relevant in the fashion world. I'm quite honoured by the fact that after 10 years people still want to wear my clothes.
Moving forward, we're hoping for more of the same! More of keeping people happy, and keeping our head above water.
TUL: This seems like a great opportunity to feel proud of yourself and everything you've achieved?
Yes, and I definitely am. I feel very happy that we've been able to reach this milestone and I'm proud of the effort we've put in. And not just this year, either. It's been a group effort; it's not just my fingers alone. There's my assistant, our fabric suppliers and rep's . . . everyone who has gone above and beyond the call of duty to get this collection together.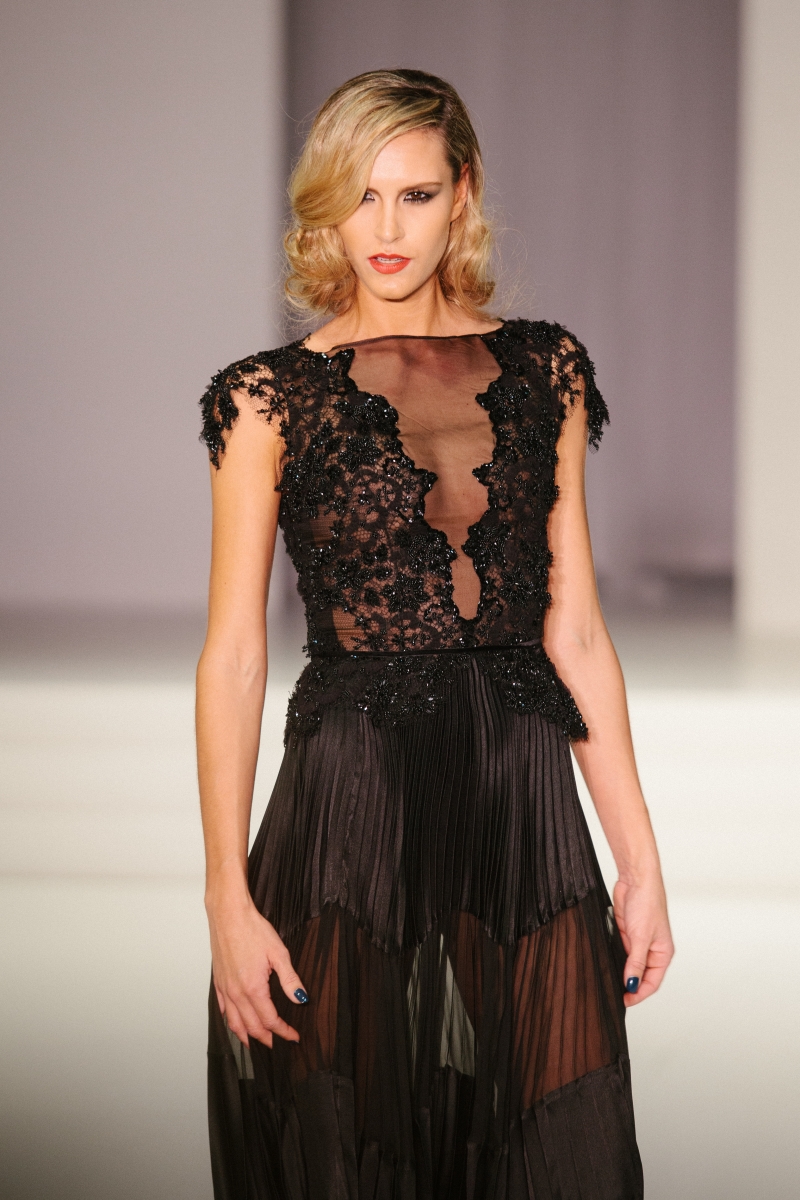 TUL: How would you describe the Paul Hunt woman?
The Paul Hunt woman is very feminine without being prissy (though we can all have our prissy moments!). We allow women to have a dress-up-box mentality, which allows them to feel as though they can wear that lovely '50s full skirt, or wear that '70s pant.
I think we allow people to have a bit of fantasy in their wardrobe, without it looking like they are in costume. And the Paul Hunt woman loves good quality and an interesting fabric.
TUL: Brides love your designs. What drives brides to your dresses?
With our designs you are getting something unique that's in the couture realm.
When it comes to bridal we aren't reinventing the wheel completely, but it's about how you cut and place the fabric, and what suits your body shape. Brides are looking for someone who can provide something for them that's feminine, without being over the top.
I think we have a great sense of bridal fashionability. And they are two different words sometimes; bridal and fashionability. Bridal does tend to fall into the category of simply, 'I am a bride', where you can see dresses on the runway that looked exactly like haven't changed. It's the way you choose to cut the fabric and place it that keeps it relevant. And how it's worn, as well.
I think it's nice to have, say, a 1950s feel to it, but don't be so reverent about it! You don't want to look like you are an extra on a film, you want to look real. That might mean mixing in a quirky shoe that never existed in the '50s. It's about owning your own look.
We have women coming in for their gowns who want something more traditional, but not necessarily the full 'meringue'. Or we might have someone that wants a bit of edge to their dress and they are having a restaurant affair where you don't need the full cathedral gown. We cater to different tastes. That's what I enjoy most about working with brides.
TUL: What are the upcoming trends we're going to see in bridal?
There has been a resurgence of the shorter, cocktail-length bridal gown. Brides don't feel hemmed in to the idea of the longer gown. Long gowns are still definitely more the more traditional look, but every year we are seeing more and more brides who love the idea of a shorter gown. And it's really nice to see. It freshens up the playing field. It makes brides look different.
And another trend we are seeing is that we seem to be going back to a less embellished look. And I think we are edging back to an appreciation for good laces, rather than a cheap and nasty lace. A lace that has that lovely detail without being OTT.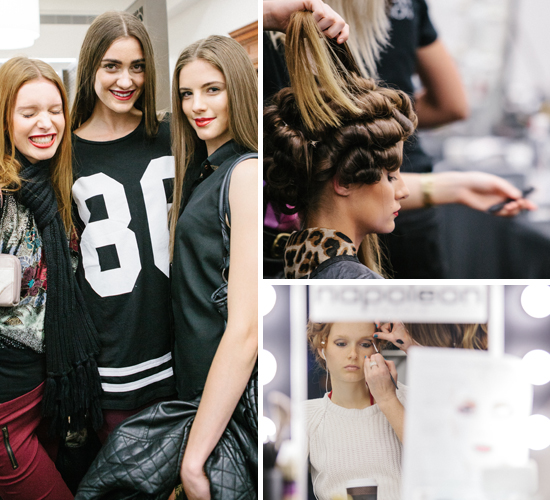 TUL: It's great to be able to make people aware of the talent we have in Brisbane, isn't it?
Yes, it's great to be able to do these shows, and we're so lucky in Brisbane to have this forum. It would be a great shame to lose the festival, because it allows designers to have the creative outlet that they need, and to be able to express themselves. It's great that the general public are able to come along and enjoy that as well. We'd love to get it out there that it is a show for everyone; it's not invitation only. The more that people understand that it's accessible, it is a show for everyone and that fashion is accessible, the better the festival will be.
Personally, I can't thank people enough. I love it when someone, who would never in their life wear a Paul Hunt gown, comes along to the show, or stops me on the street to tell me how beautiful they think everything is.
We couldn't agree with them more!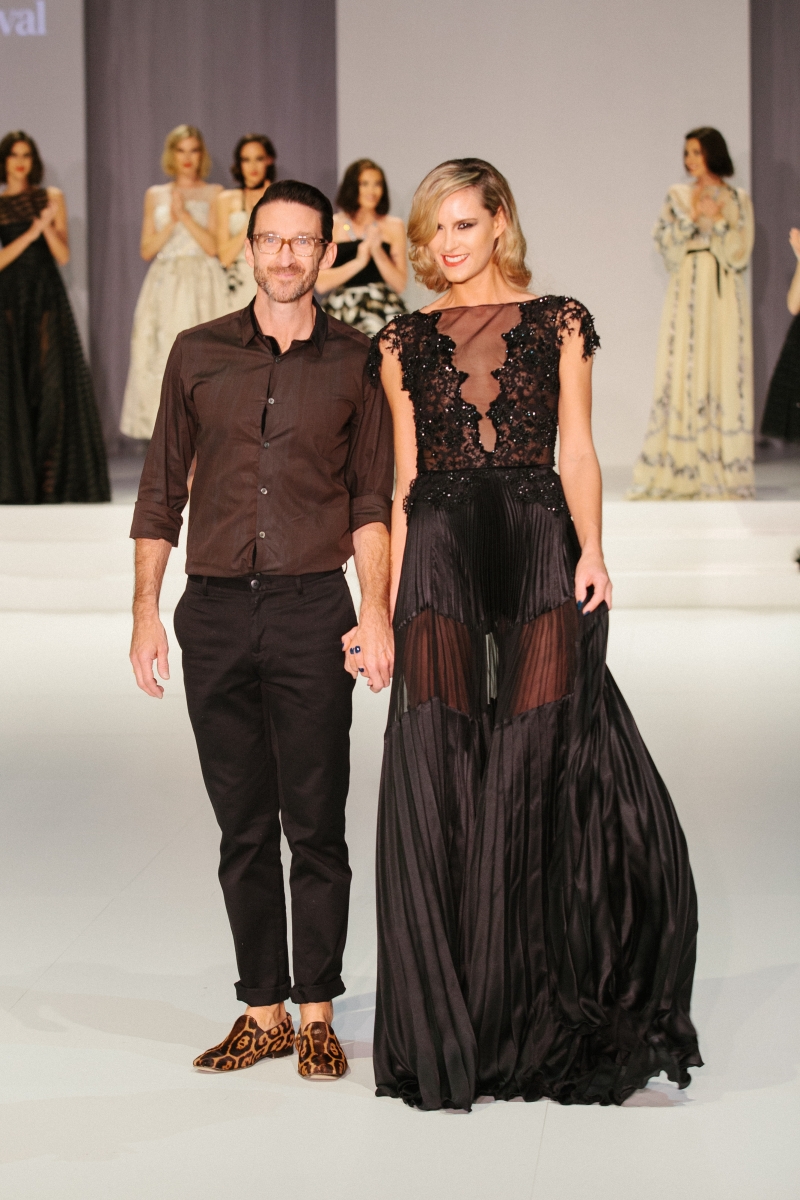 Images credit: Daniel Maddock