See the city from a new perspective, as we team up with H&M to share a love letter to our cities this Spring.
Our new three-part video series—A Love Letter To My City—takes you on a visionary journey of fashion, food and hidden gems to showcase all the reasons our cities are the ultimate creative backdrop to our lives. Spring is synonymous with reinvigoration and trying something new, so we teamed up with three fierce, trailblazing females—Nicola Inger, Yasmin Suteja, and Kirsten Anderton—because who better to showcase just how versatile your spring wardrobe can be, than the ladies that do it effortlessly on the reg? Exactly.
To showcase the sunshine state's urban city, we collaborated with energetic Brissy-based entrepreneur, Nicola Inger. Raised on the East Coast of Australia, Nicola is a serious side hustler with a zest for wellness and fashion. Her success has soared over the past few years with her thriving businesses, F.ACNE, Nutiiboost and lifestyle platform The Unrefined.
Revered for her style as well as her boss abilities, Nicola's aesthetic emulates her approach to life; playful, authentic and simplistic - but she best defines her style as minimalism with a statement, "To me, fashion is a form of expression and I use fashion to make me feel confident."
Fuelled by coffee and gluten-free goodies, Nicola shows no sign of slowing down any time soon, and believes Brisbane is truly the place to be; "It's is always buzzing and it makes me feel motivated."
With several local haunts on her Brisbane hitlist, including Nodo Donuts, Arc and Family, Gerard's Bistro and Little Valley, we managed to steal a few hours out of Nicola's busy schedule (how does she have time?!) to ask a few questions about her beloved urban home, Brisbane.
What's the best thing about living in Brisbane's New Farm?
The river walk! It's my favourite place to go in the morning and afternoons (either for a coffee or a run). I'm always motivated to get up early (because I see everyone else up and about either exercising or working). Brisbane is the place to be.
Why is spring special in your city?
The flowers! Take a trip to New Farm park and you will see why. I feel most alive when I'm walking by the river in the afternoons or lying in the park on the weekends reading my Kindle.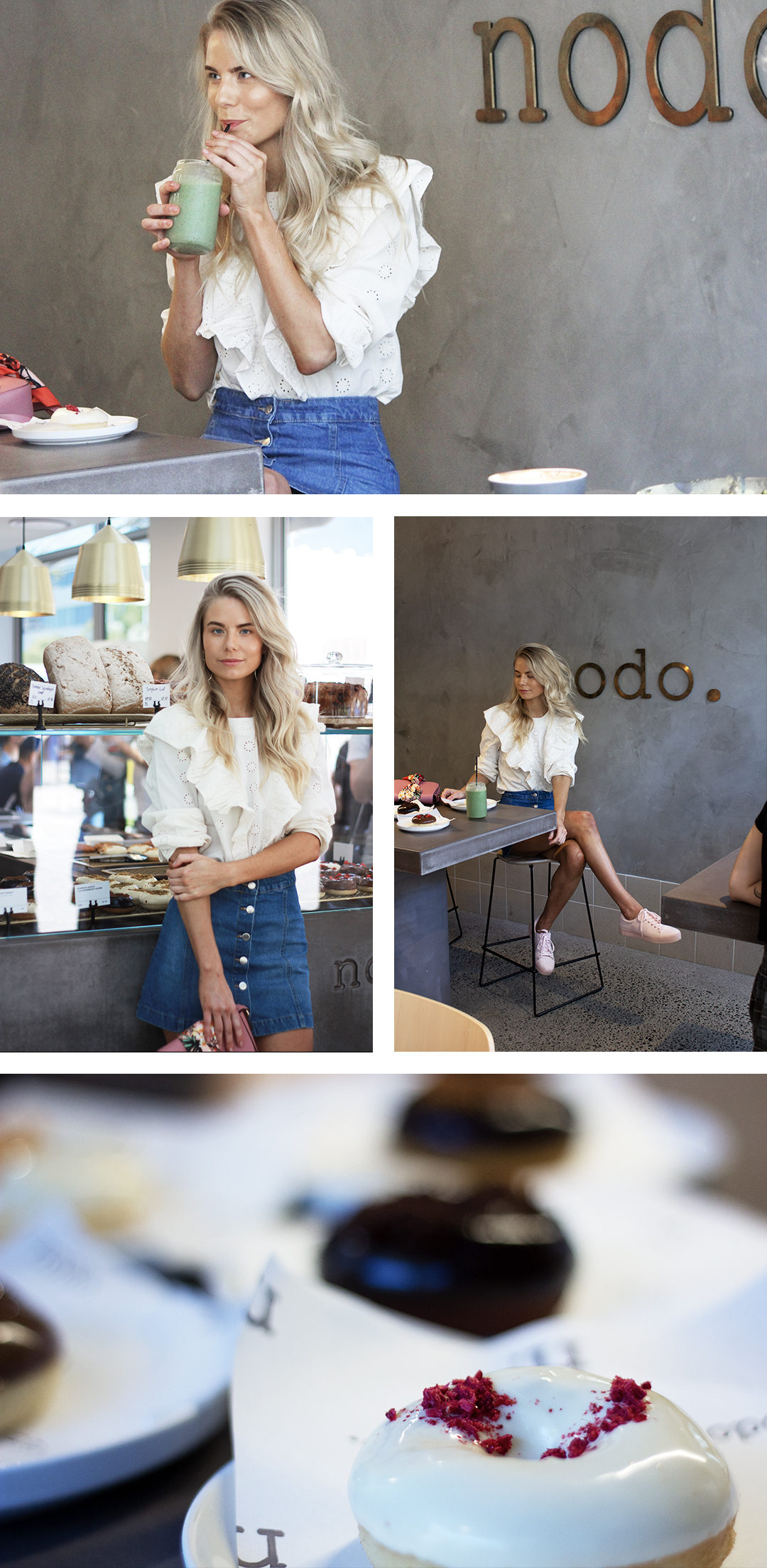 What's an average day like for you?
My average day includes getting up at 5/5:30am and either going to the gym, or going for a coffee with my partner. By 7am I have usually listened to an inspiring podcast to start my day - it's a big help when you work for yourself because it can be hard to get motivated. I have breakfast and start my day answering emails or checking my social channels. From 8am I start working; this includes content creation for other brands (and my own brand) as well as running my two businesses, F.ACNE and NutiiBoost. Every day is very different, sometimes I'm out of the office working with other brands, or sometimes I'm indoors all day with graphic designers brainstorming and creating content. In the evenings I like to play tennis or go for a river run. I also try to finish work and distance myself from social media and my phone by 7:30pm.
Let's talk go-tos. Nodo Donuts is on your hitlist - what's so special about Nodo Donuts?
I love Nodo Donuts because they have the best supernatural shakes and gluten free donuts in Brisbane. My go-to is their mint choc chip smoothie because the mint essential oil in it makes me feel alive and refreshed.
Arc and Family is also one of your fave places; how is it different?
I've never seen their designs anywhere else – it's the best looking plant shop in Brisbane. I love how much inspiration I can get for my home just by walking through the doors. Their designs are so individual and it is a family run business - something I always like to support.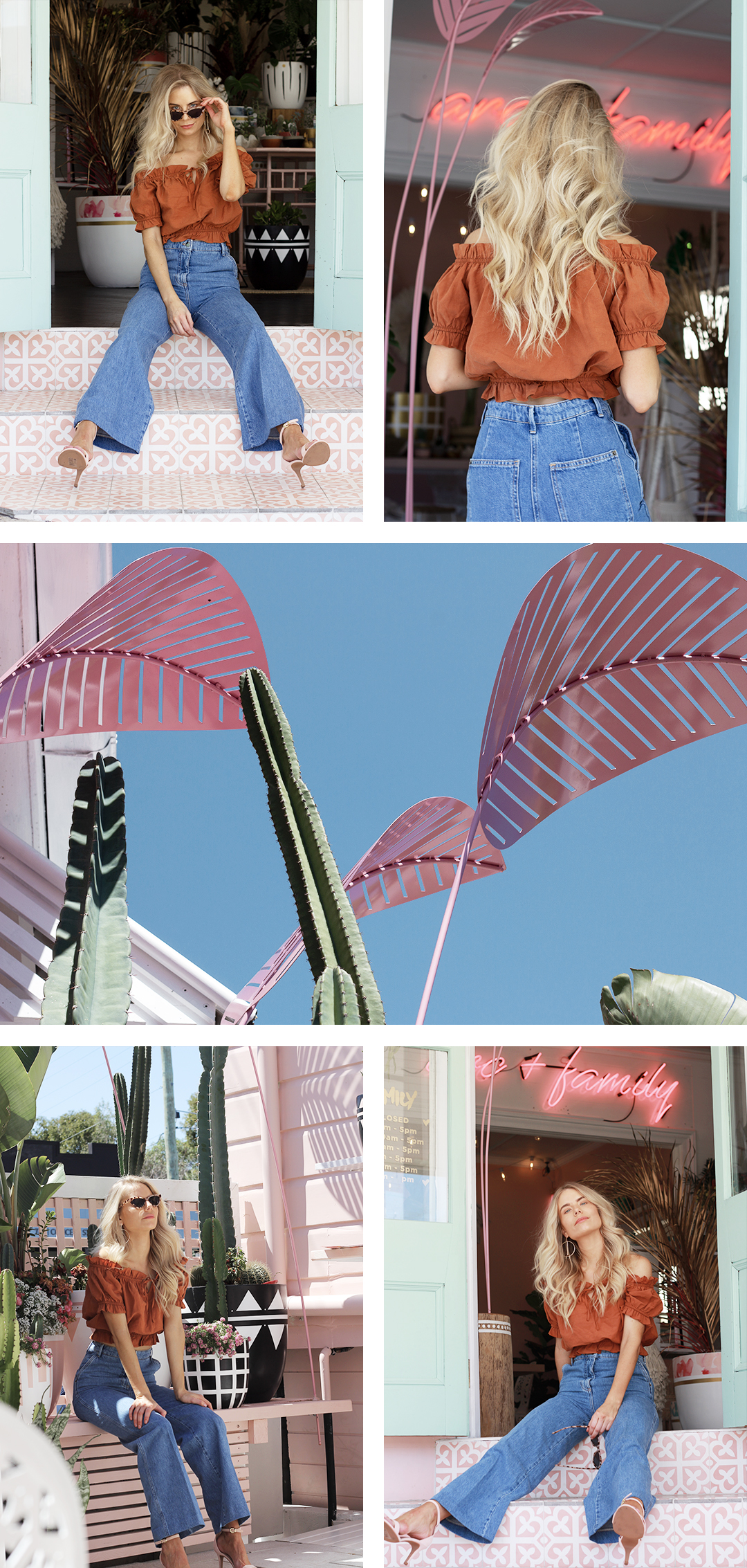 You lead a pretty healthy lifestyle, why is Little Valley on your Brissy hitlist?
It's different because it offers a modern take on traditional Chinese dishes, and I head there when I'm having a date night with my partner or girlfriends. My go-to dish is the cured scallop or half twice-cooked duck with fermented plum.
When do you head to Gerard's Bistro?
When I want to share a meal with friends or a first date. It combines Modern Australian with Middle Eastern cuisine, which is something I haven't come across in Brisbane, and I usually order the house bread and smoked cultured butter, fried cauliflower, pumpkin roasted in Shio Koji and slow roasted brisket for two.
What are the three most important things to you?
Feeling fulfilled, family and friends.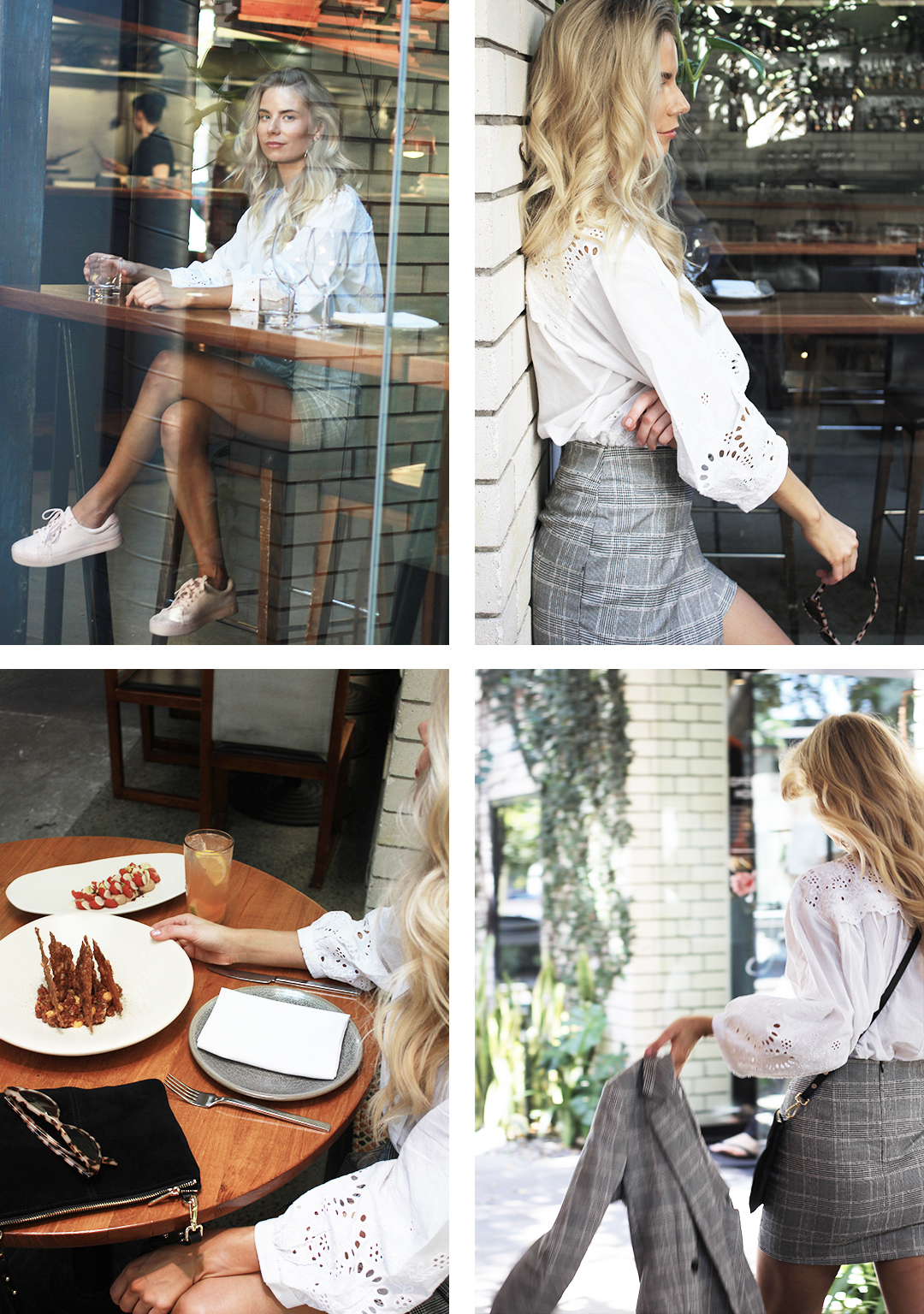 Nicola's must-have H&M spring picks: Off-the-shoulder Blouse ($44.99), Denim Blue Wide Jeans ($69.99), Hole-embroidered Cotton Blouse ($59.99), Double-breasted Jacket ($79.99), White Dogtooth Pattern Wrapover Skirt ($44.99), Flounced Cotton Blouse ($59.99), Denim Blue Short Skirt ($29.99) and Pink Shoulder Bag ($29.99).
What's your motto in life?
Everything that happens is preparing you for a moment that is yet to come. Embrace what is.
How would your best friend describe you in three words?
Joker, motivated and resilient.
If you could have dinner with one person in the world, who would it be?
Oprah Winfrey.
What are you listening to right now?
A podcast by Amy Porterfield on online courses.
What can't you live without?
Coffee, of course!
What's your advice for anyone wanting to carve a similar path to you?
My advice would be to go with your gut, believe in yourself and realise that there is no failure, there is only opportunity to grow. It is also important to give yourself time and set realistic expectations. A successful business doesn't happen overnight, it takes a lot of hard work, dedication, persistence and mental strength. Sometimes you need to pivot and sometimes you need to make business decisions without the emotion - something which took me a long time to learn. Everyone is on their own unique path and it's important to not compare yourself to others. Be humble, be grateful and remember why you started.
Editor's note: This article is sponsored by H&M and proudly endorsed by The Urban List. Thank you for supporting the sponsors who make The Urban List possible. Click here for more information on our editorial policy.