With an abundance of fine restaurants in Brisbane that cover the full gamut of Asian cuisines, there is no shortage of options in this town when it comes to curry.
From the citrus-sprinkled to the coconut-dominated, to tomato-and-cream based concoctions, there are a myriad of tastes vying for our attention. From the ones that smash your senses with spice to the rich, smooth belly-fillers, there is a curry to suit every type of lady or gentleman, and every taste craving he or she might be going through.
Not only that, curry would seem the ideal winter food, yet many of the best recipes originate from hot countries. The conclusion here is that it should be eaten all year round.
Here we have plucked out a handful of the best curries in Brisbane for your perusal. No doubt you have your own favourites . . . we would love to hear what they are!
Kathmandu Newa Chhe'n | Sherpa Chicken
These purveyors of Nepalese cuisine have been an institution in Paddington for decades. An old Queenslander decorated in Himalayan style makes for a special ambiance and, thankfully, the traditional food on offer is also exceptional.
The Sherpa chicken curry is made with a creamy sauce that's flavoured to perfection with coriander, lime leaves, and lemon. The tofu version is also well worth sampling (and grab some momos to start, they are fabulous).
Taj Mahal | Lamb Korma
This New Farm establishment likes to make a big deal about the fact that it regularly hosts the Indian cricket team when they are in town and, quite frankly, any food that is good enough for Sachin Tendulkar (198 Tests, 15,837 runs) and his mates is good enough for me and you.
If you are in the mood for a classic Indian curry, go for Taj Mahal's lamb korma which has yoghurt, fruit, and nuts and is sweet, creamy and spicy.
Sultan's Kitchen | Beef Vindaloo
The extensive menu at Sultan's Kitchen contains all the classic Indian curries, and all of them are done well. Symptoms of the fiery vindaloo may include crying, sweating, seeing new colours and finding your happy place. There are three locations around town so you have no excuses not to hit one up.
Thai Kitchen | Panang Chicken
Thick and scrumptious and creamy, the panang curry has such a particular assortment of flavours that if you have a craving for it, there is simply nothing else that will do. And Thai Kitchen have all the secrets to a perfectly-concocted panang down pat.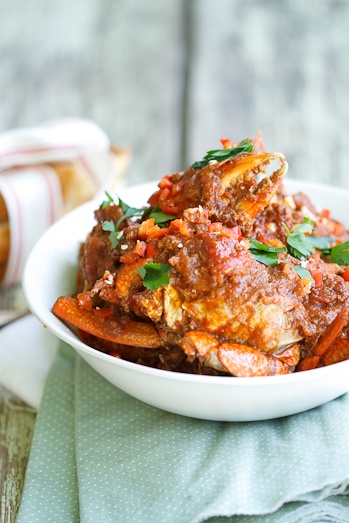 Sings Asian Kitchen | Spicy Yellow Crab Curry
A yellow curry envelops tempura-battered soft shell crab in this intriguingly delicious dish. The abundant crab meat is wok-tossed along with egg and onions to make a mildly-spiced treat. Be warned, it's rich, but very more-ish, so you might want to schedule a nap afterwards.