When people reflect on food in 2018, it'll be the year humanity returned to simple things. Remember 2017? That was all about the 'more is more' school of cooking: deep fried pizza, doughnut-topped milkshakes, ramen burgers, Frankenfood mash-ups and Blutooth Peruvian waffle-tacos. Not surprising we experienced some culinary whiplash this year.
Plastic was out and open flames were in. Veganism and paleo fused into some strange, flavourless hybrid. Meat-free meat went mainstream, and we decided 12 mimosas at brunch was a good idea. Simple was the new sexy.
Here are the best global food trends for 2018.
Plastic Sucked
About 12 months ago I was munching lemongrass pho cuon at a trendy Vietnamese joint, when a girl at the table pulled out a slim, leather holster. Inside was her own personal metal straw, which she claimed she carried everywhere. The table was fascinated. Was this a thing? Sounds like a hassle. Where do you even buy metal straws? Fast-forward one year and restaurants everywhere have given plastic the boot, switching to recycled paper bags, plant-based straws and compostable packaging. Even McDonald's announced they're ditching plastic straws.
Flame On
If I see one more hot new restaurant boasting an "open fire pit", I'm going to lose it. Cooking with a flame is nothing new, but until 2018, a double gas hob was usually the biggest thing in the kitchen.
This year, most high-end restaurants resembled hellish, satanic barbecues. Red Gum forests around Australia began to tremble as chefs roasted suckling pig over trenches of hot coals, cooked asado in spitting Josper ovens and grilled dinosaur-sized steaks over glowing embers. Everyone sweated a lot, including the diners.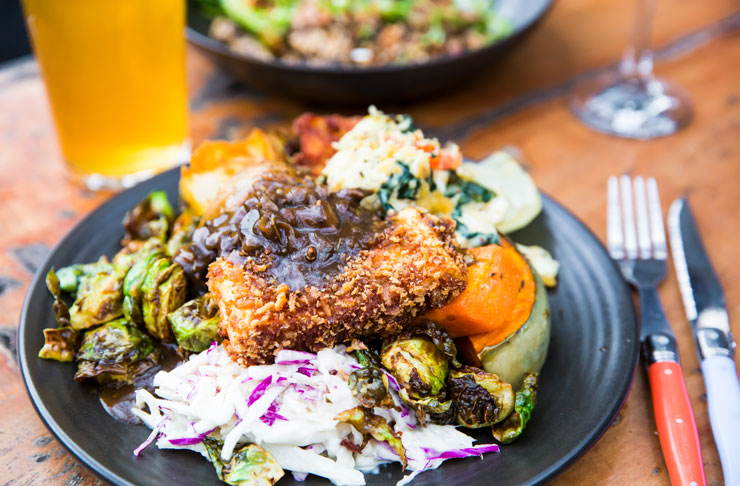 Image credit: Jenna Fahey-White
Peganism Became A Thing
Both paleo and vegan diets edged closer to the mainstream in 2018 (particularly vegans, who have gone from an evangelical minority…to a slightly larger evangelical minority). But this year was also the first time we'd heard the phrase 'go pegan'.
Peganism, it turns out, is nothing like paganism: it's a weird Switzerland, sitting awkwardly between Veganism and the Paleo Diet. Pegans eat a lot of protein and fats, including nuts, mostly plants (doctors recommend about 75% of your diet comes out of the ground), and they avoid dairy and gluten like the plague. Watch out for this one in 2019—Pinterest has reported a massive spike in search queries.
Bottomless Brunch, Anyone?
I predict the bottomless brunch trend will fizzle in 2019, in the same way we all got sick of gourmet doughnuts.
This year bottomless brunch was the thing. A saturated cafe market and wafer-thin margins meant owners had to get creative. The solution turned out to be charging $35 for all-you-can-drink mimosas. The punters were queuing for seats, you could heavily dilute your mimosas, and the profit margins were suddenly much more robust. Also, 'brunch' was suddenly defined as 'after 11:30am'. No-one knows why. I mean, at that point you're basically serving 'bottomless lunch'.
I Pickled It Myself
Gut health was the GOOP-y trend du jour this year, so it's no wonder we started to see pickles and fermented food popping up on every menu. Kombucha became so popular they started stocking it in supermarkets. Sauerkraut and kimchi were being served in toasties and sandwiches, on pastas and poached eggs, in cocktails. It got kind of nuts.
People were using the word 'scoby' in conversation, and no-one even needed to jump in and ask 'What the fuck is that?' We already knew.
At-home pickling also reached heights of popularity not seen since rationing and the Second World War.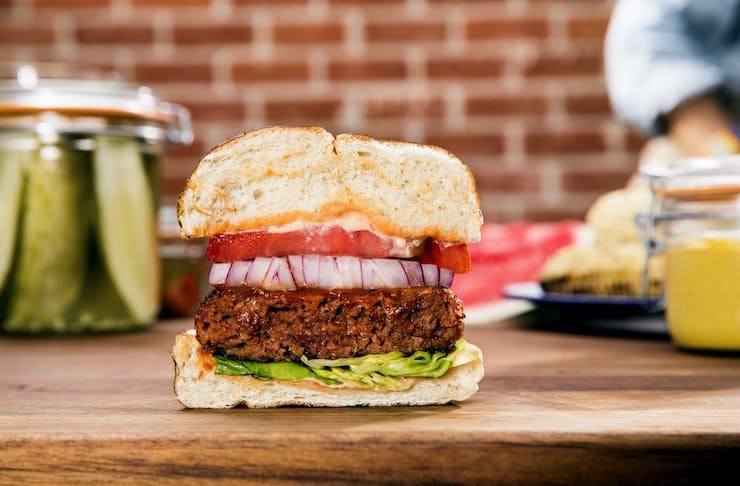 Image credit: Beyond Meat
Meet Your Meatless Meat
The Beyond Meat movement didn't start in 2018, but perhaps this year was the tipping point. Supermarkets around Australia finally started stocking vegan 'Beyond Burgers', and Lord Of The Fries began grilling plant-based faux-bleeding patties back in April.
It all coincided with a general surge in veganism in 2018: sales of non-dairy milk grew to $1.6b over 52 weeks (and in other news, oat milk looks poised to overtake almond and soy milk in 2019). Vegan café menus became more commonplace. And UK supermarkets like Tescos have labelled veganism as the fastest growing food trend.
The New Superfoods
Ever since we almost ate kale to extinction back in 2014, every subsequent year has produced a different superfood to help people cheat death and become immortal.
In 2015, it was quinoa. In 2016? Matcha. 2017 was probably the Year Of The Chia. So what did 2018 bring to the table? Blue spirulina started popping up in our coffee and porridge. Turmeric stocks continued to reward canny spice merchants (although turmeric lattes were pretty passé by July). Bee pollen also became a thing for a while, casting doubt over Winnie The Pooh's general cluelessness. And of course, thanks to the easing of regulations, we saw low-THC hemp products sprouting up everywhere.
Image credit: Danny de Jong