Some people are just so freaking talented.
I mean, sure, we'll give a sip and paint class a red hot go—and sometimes even be (sort of) proud of the work we've created—but it's safe to say that the kind of talent we're talking about, that naturally gifted, people-would-pay-good-money-for-your-work type talent, well, that can't be taught. You're born with it.
In an ode to the abundance of epic creative talent coming out of Brisbane, we've rounded up the best artists and illustrators going.
Here are the Brisbane artists and illustrators totally killing it!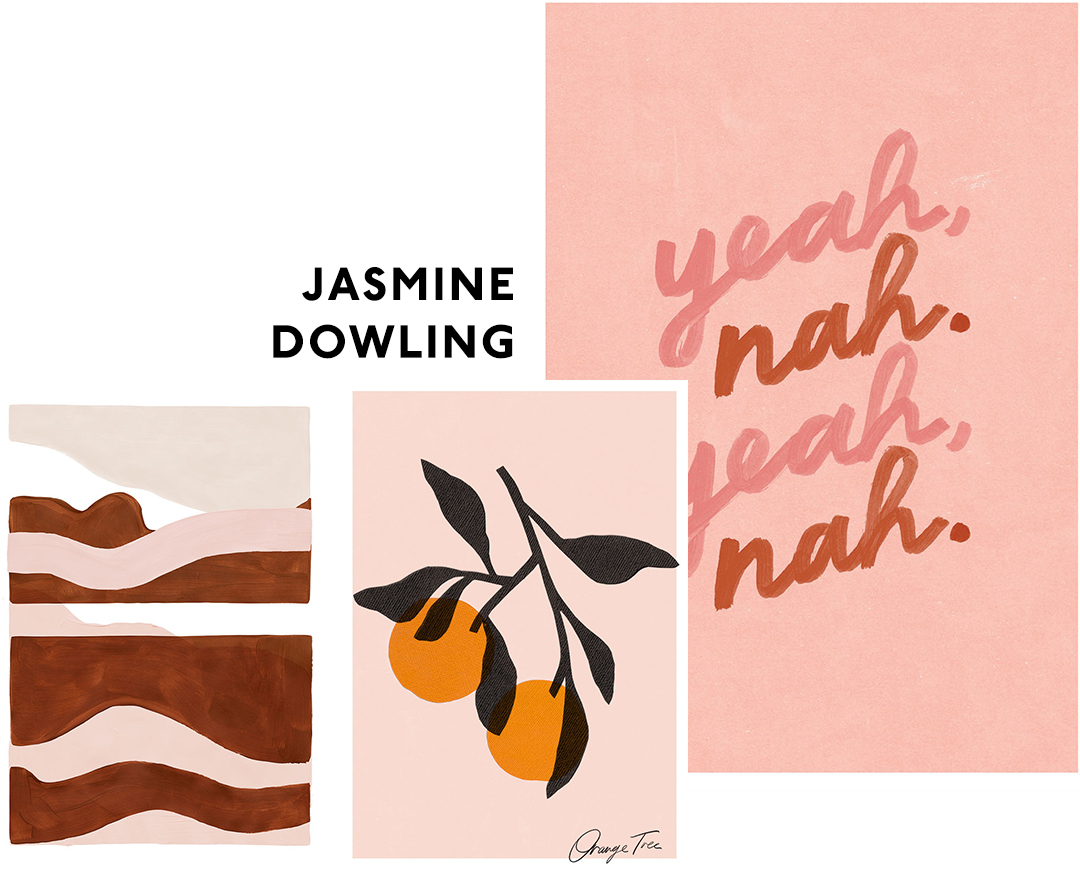 A graphic designer, blogger and letterer by trade, Jasmine Dowling's colourful works are homeware #goals. And we're not the only ones that think it, either. As well as selling her gorgeous, pastel-hued works online, some of her top tier clients include Wittner, David Jones, Nepresso, Too Face Cosmetics and Hallmark—just to name a few! If that wasn't enough street cred, Dowling's work has also been featured in Real Living magazine, Collective Hub, and created work for Belle magazine, and featured on the cover of Marie Claire.
Follow Jasmine: @jasminedowling

A born and bred Brisbane boy, Anthony started creating his street murals at seventeen years old. Known for his large-scale paintings and installation art—his street art can be found right across Brisbane—over the years his works have been exhibited across Australia and received international acclaim, most recently in the UK and USA. His unique style has earnt him a reputation as one of the most successful street artists to come out of Australia, and we're proud as punch he's a local lad.
Follow Anthony: @anthonylister

Born in South Africa and raised in Brisbane (so we're totally bagsy-ing her), CJ's work has achieved cult-like status in recent years. Famed for her incredibly hyper-realistic, large- scale renderings of everyday objects, her artwork has caught the eyes of A-Listers like Jay Z and Kanye flippin' West! She frequently documents her distinctive working style on her social platforms—a form of scribble which generally means she doesn't lift pencil from paper, layering her linework to create mind-boggling masterpieces. Most recently, she has collaborated with iconic labels Pantone and Christian Louboutin on solo exhibitions in the USA, where she now resides.
Follow CJ: @cj_hendry

Founder of cult Brisbane brand, A Boy Named Aaron, Aaron Darcy's incredible attention to detail comes from his disciplines in graphic design, photography and decorating. His work space and showroom resides inside Brisbane store Arc + Family Pots in Fortitude Valley where you can see him at work and peruse his gorgeous pieces. Known for his monochromatic style you can see his paintings, illustrations, embellished homewares, and hand-carved decorations IRL.
Follow Aaron: @aboynamedaaron

The OG large-scale mural artists in Brisbane, Frank + Mimi are an exemplary duo when it comes to creating artworks that perfectly complement our sun-soaked city. Their fantastical public artworks are designed to be enjoyed by the the local community, and are often used to create dialogue around the social and environmental issues they are portraying. Using environmentally friendly paints and products, Frank + Mimi's works have graced the walls and spaces of Brisbane and the country's most famous walls and public spaces.
Follow Frank Mimi: @frankandmimi

Founder Jessie's love for illustration was the catalyst for creating her boutique stationery brand. Featuring her original hand illustrated designs, all In The Daylight designs are printed in Australia and assembled by hand in the studio. Jessie's works include, bookmarks, cards and banners, alongside custom artworks just to name a few strings to her bow.
Follow Jessie: @_inthedaylight
Design credit: Sarah Law
Image credit: CJ Hendry