Ice in Brisbane? Yep, that's global warming for you.
If you can't find your way to the mountains this year, Skating At Festivals are bringing the ice to you. They're setting up an outdoor ice-skating rink in King George Square, and it'll be there from 21 June to 14 July. It'll look like this: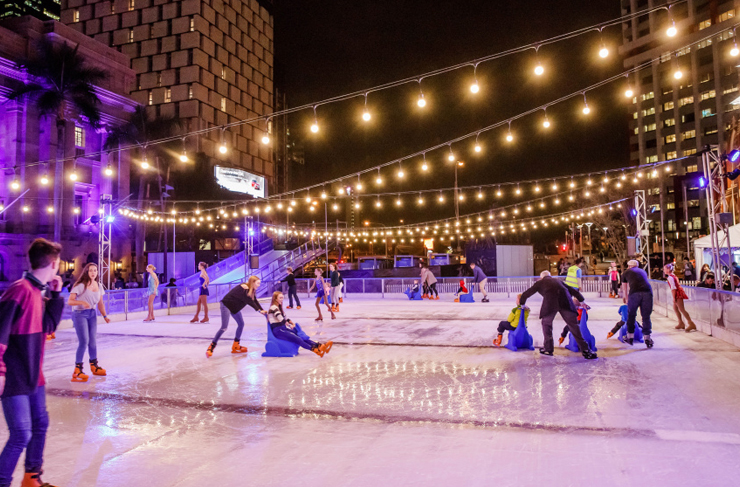 You might remember these guys from last year. The concept is pretty much the same. There's going to be an open-air ice rink, strung with fairy lights, a toboggan-style runway, where you can slide on an inflatable tube thing, plus the usual gaggle of food vendors and pop-up stalls (hopefully selling warm Milo).
This year the guys are also introducing Skate + Date nights (Thursdays from 5pm), which will involve couples trying the Dirty Dancing lift, so-called DJ 'snow jamz' and 'blizzard beats'. Basically it'll be cute as shit. And if you really want to turn up the romance, you can head up to Sixteen Antlers on the rooftop of the nearby Pullman & Mercure Hotel for Flaming Fire cocktails and cheese platters overlooking the rink, which are on the menu right up until July 31.
You can grab your skating tickets at the on-site box office, or book online here.
The Details
Where: King George Square
When: 21 June–14 July
How much: Tickets start at $27 for adults (online price)
For more info, click here.
Ice and chocolate go pretty well together. Check out the huge ChocFest dropping in Brisbane next month.
Image credit: Taylor Friehl