Brisbane Racing Club are leaving nothing in the tank this season.
With KIRIN Stakes Day dropping this weekend, they're about to unveil the Moet & Chandon Trackside Marina: a French Riviera-style luxury precinct, complete with private Cabana lounges and a 48-foot sports yacht. E.g. this thing: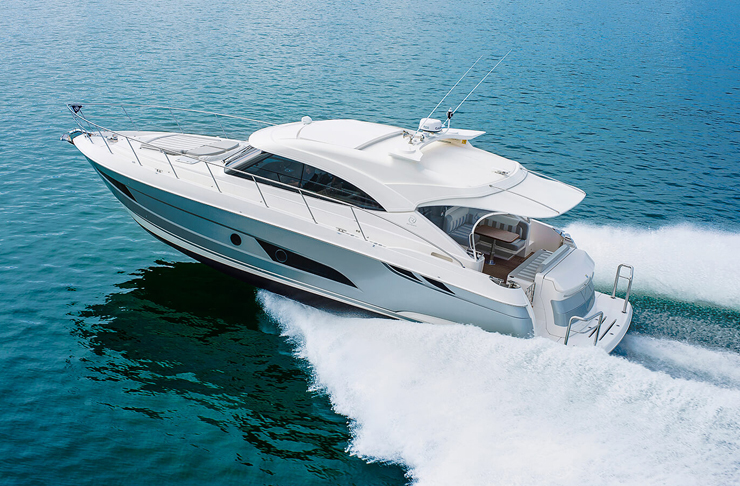 What the horses will make of a giant yacht sitting alongside the Eagle Farm racecourse, no-one knows. We think it sounds pretty cool.
So what can you expect from the Trackside Marina? Basically a playground for the rich and famous (and us, thank god).
There's going to be live DJs on the yacht itself (apparently it will transform into some sort of nautical stage), an epic view of the track, free-flowing Moet (naturally) and private Cabana lounges, which you can reserve like an A-List movie star. You can check out the package rates here.
Personally, I think the best thing will be seeing the confused and envious stares of fellow race-goers, who don't get to spend the day sipping champagne on a 48-foot yacht.
Canapes and meals will be seafood-themed, which makes sense, and on KIRIN Stakes Day there will also be a Gordon's Pink Gin Pop-Up Bar, slinging strawberry gin cocktails to weather presenters and soap opera stars.
You can check this one out at KIRIN Stakes Day (on this weekend), and TAB Stradbroke Day (Saturday 8 June). The Instagram opportunities sound pretty outrageous.
The Details
What: Moet & Chandon Trackside Marina
Where: Eagle Farm Racecourse
When: Saturday 25 May, Saturday 8 June
How much: Packages start at $250 (for non-BRC members)
For more info, click here.
Hide your credit card: Shop Brisbane is landing at Queen Street Mall tomorrow.
Image credit: Brisbane Racing Club