There are few smells in the world as seductive as brownies fresh from the oven.
And if you've been enticed time and time again (as we all have), you're probably on the never-ending search for the perfect brownie.
Being the kind folk that we are, we selflessly set out to do the groundwork for you and have come up with a list of the best brownies in town, as well as a basic recipe to try at home for instant gratification.
Brisbane's Best Brownies
First things first, what does your perfect brownie look like? Does it have a shiny, cracked top or is it coated in rich icing? Does it have a fudgy, gooey centre or is it more cake-like? Do you love the crunch of nuts or chocolate chips or any other manner of flavourings?
If you're after a classic fudgy brownie, Brewbakers in Albion sell a sourdough brownie using their famous sourdough starter. They've previously also sold "blondies" made with white chocolate and pecans, but these are currently "on holidays" so you might need to wait a while.
Flour & Chocolate in Morningside regularly stock four brownie flavours ranging from their original flavour Double Fudge with white chocolate pieces, to Salted Caramel Flourless Chocolate brownies. They also try out a new flavour every month and at the moment have Dark Bitter Chocolate. You can celebrate Brownie Day with them every Friday with $4 brownies.
With celebrity fans like Ashton Kutcher and Oprah Winfrey, Dello Mano's brownies are bound to be pretty special. There are loads of flavours to choose from, or if it's all too hard why not treat yourself to a Mixed Selection gift box ($18) containing Espresso Walnut, Ginger & Orange, Peanut Butter, Pistachio & Rosewater, and Coconut & Lime brownies.
I Heart Brownies are regulars at markets around Brisbane and you can order their delicious heart-shaped, gluten-free brownies online. Choose from flavours such as cherry ripe, double choc, blueberry, dairy-free and salted caramel.
Plated-Up Brownies
But as we know, brownies don't need to be restricted to afternoon tea. You can enjoy plated brownies on the dessert menus at restaurants all around Brisbane and here are a couple of our favourites, prettied up with delicious sides.
Bitter Suite in New Farm serves coffee brownies with peanut butter ganache and a malted stout ice cream that's sure to round off any drinking or eating session.
Malt offer a fine dining experience with their brownie plated up with salted caramel, chocolate textures and peanut brittle.
Who's hungry now? If you need a brownie hit, this recipe will have your kitchen smelling seductive in just over half an hour.
Basic Fudgy Brownie Recipe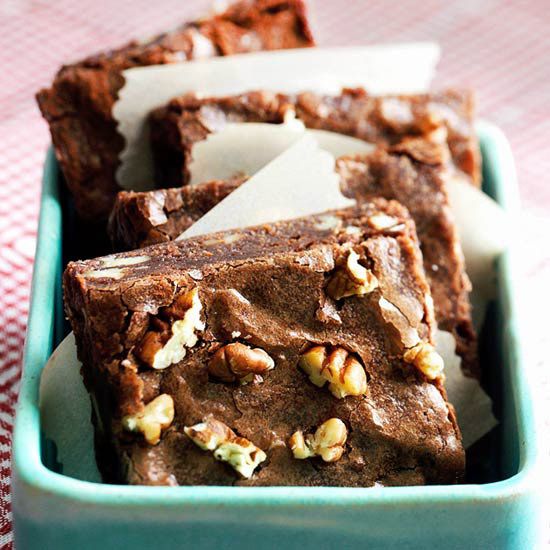 250 dark chocolate, chopped
250g butter, chopped
300g caster sugar
3 eggs, plus 1 extra yolk
1/2 cup good quality cocoa powder
1/2 cup plain flour
1/2 teaspoon baking powder
Melt the butter and chocolate together in a saucepan over a low heat.
In a separate bowl, mix together the rest of the ingredients then pour in the chocolate mixture.
Stir until combined, then pour into a prepared 20cm-square tin lined with baking paper.
Bake for 30 minutes, then allow to cool before slicing into squares.
TUL Note: Penny is a freelance food writer and obsessive cook, who has returned to Brisbane after ten years living in the UK and Melbourne. She is currently taking her passion for sweets treats one step further and learning the skills to become a pastry chef from her culinary idols, documenting her experiences through her blog Project Pastry.
Image credit: Handle the Heat, Better Homes and Gardens