With summer long behind us and jeans, jumpers and all the baggy clothes making a comeback, we figured it was time to do another rendition of Brisbane's best loaded fries, because the cooler months are no time for dieting—and frankly, neither is this global situation we find ourselves in. You know what we're talking about—the crisp, salty fries piled and stacked up with beef chilli, melted cheese and a whole host of other toppings that add that extra pizzazz to this mega-hedonistic snack. Here where to find Brisbane's most over-the-top loaded fries.
The Yiros Shop
VARIOUS
Kudos to the person at The Yiros Shop who one day said to themselves, "Forget the pita! Forget the salad! Just add more chips!" and their Greek topped chips were born. Their Snackboxes are a saucy, meaty and salty taste sensation—seasoned fries, your choice of meats and sauces (go the special sauce), extras like feta or halloumi and a cheeky sprinkle of oregano. Greek loaded fries, you have our hearts.
Barbecue Mafia
Chelmer And Coorparoo
Barbecue Mafia sure know how to make a mouth drool and a stomach rumble with their slow-cooked meats. Their brisket loaded fries are a pile up of crispy fries, melt-in-your-mouth brisket, shredded cheese, BBQ sauce and spring onions, and they're best outdoors where no one will notice the mess you'll make. Make sure you visit with a roaring appetite, because these fries could easily feed two, but we're not one for sharing.
Big Roddy's Rippin' Rib Shack
Fortitude Valley
'With gravy' are two of the most delicious words in the English language, and Big Roddy's Rippin' Rib Shack sure knows how to deliver. Their poutine, i.e. fries covered in cheese curds and topped with gravy, is worthy of your next cheat meal outing (especially if you get it with bacon), but both that and their chilli fries topped with red kidney bean and tomato chilli are perfect for the vegetarian loaded fries hunters out there.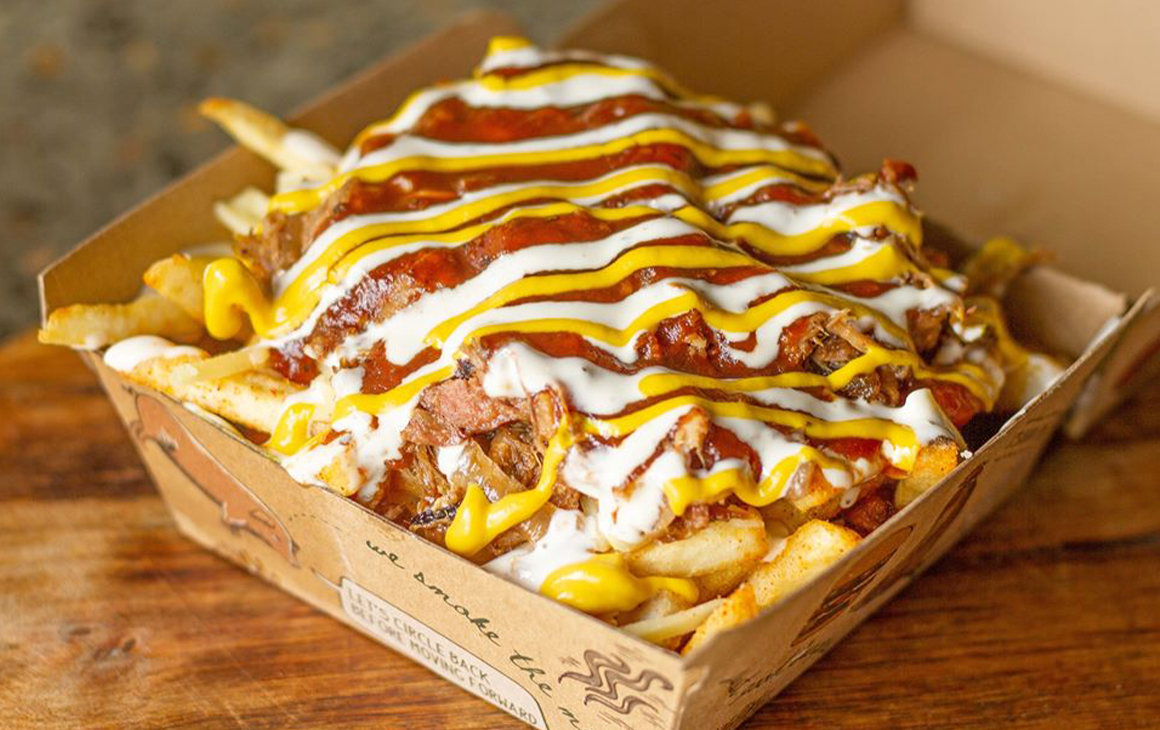 Getta Burger
VARIOUS
You would think that adding more than one type of meat could get a bit much for one's taste buds, but Getta Burger's Filthy Fries turn that whole idea on its head. Although it's not the weirdest combo, the sheer enormity of these loaded fries take it to a whole other level of wow. With their classic fries and smoked salt dust covered in cheese, topped with beef brisket, pulled pork, grilled onion, maple bacon, ranch, mustard and their special BBQ sauce, this is the kind of meal that makes you sit back after you're done and say 'who ate my fries?'
Yard Doggs
FORTITUDE VALLEY
If you're sick of using milkshakes to bring boys to the yard, forget about boys altogether and let Yard Doggs feed you loaded fries instead. Their chilli cheese fries, which come with pulled pork, chilli con carne, grilled chicken or a vegetarian bean mix, are the perfect avenue for loaded fry exploration. Whatever option you choose, the glorious creations are topped off with cheese, southwest sauce and jalapenos.
Red Hook
Brisbane CBD
The only bad thing about Red Hook's loaded fries is all the options, where you'll be stuck choosing between chilli cheese and brisket or cheesy bacon fries. Here's some details to make your choice even harder—the chilli cheese and brisket fries come stacked with big flavours and smoky, tendered brisket, and the cheesy bacon fries are blanketed in cheese and topped off with crispy bacon pieces. Maybe you'll need to order both?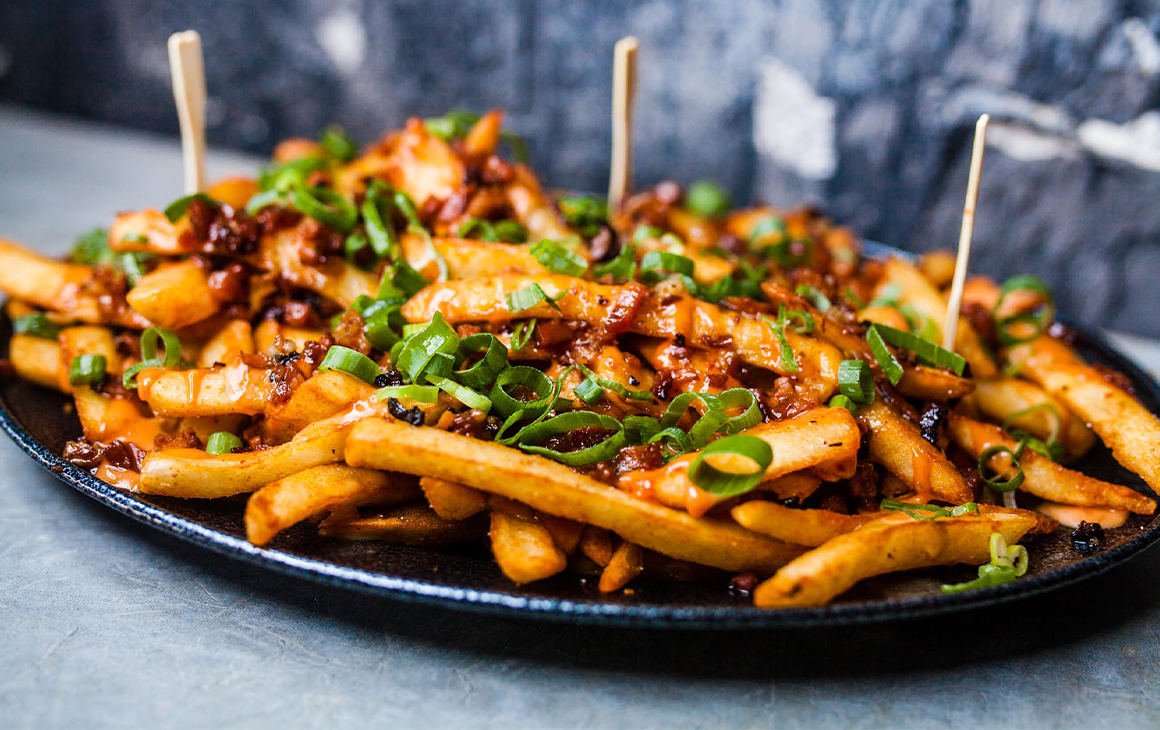 Ze Pickle
FORTITUDE VALLEY AND CAMP HILL
Ze Chips from Ze Pickle are all kinds of yum.This awesome combo fries comes with maple bacon, spring onion, ZP sauce and IPA beer cheese sauce. What's in the ZP sauce you may ask? We don't know, but it is freaking delicious. It's a sweet and salty love affair on one plate that makes it seriously impossible to just have a couple of chips. You can't help but eat every last drop of beer cheese and that sauce along with every last piece of maple bacon. It's a momentary addiction that you'll be happy to give in to.
Hashtag Burgers And Waffles
Fortitude Valley
A strong contender for 'hardest loaded fry choice to make' Hashtag Burgers and Waffles dish up three (yes, three) different types of loaded fries, and we're just as torn as you. Their BBQ And Buffalo Lock And Load fries come lathered in cheese, BBQ or buffalo chicken, shallots and mayonnaise, all perched happily on top of crispy fries. And we know they aren't technically fries, but the loaded potato gems (topped with maple bacon, pickle mayo, tomato sauce and cheese) are just fries enjoyed another way.
5 Boroughs
Various
Helping to continue our love affair with New York, 5 Boroughs offers up classic cheese fries and poutine as part of their menu, and you can decide whether to make a meal of the chips or have them as a side. We say make the chips the star of the show—either the rustic house fries smothered in cheese sauce, bacon and chives or the poutine fries with lashings of gravy and shavings of halloumi. It's a New York dream mixed with Canadian goodness.
Want to start your carb-loading in the morning? Check out Brisbane's best pancakes.
Image credit: The Yiros Shop, Getta Burger and Ze Pickle