I would just like to say thank you to America for the wonder that is HBO. Where would we be without all of that brilliant television gold that it produces? I mean, just imagine life without The Wire, Deadwood, or Sex and the City.
HBO has also given us some great (for television) films, including Angels in America, American Splendour, and Mildred Pierce. Its latest, Behind the Candelabra, tells the story of Liberace (Michael Douglas) and his lover Scott Thorson (Matt Damon), and while it was made for cable TV in the U.S, it is showing in cinemas in Australia. This is great news.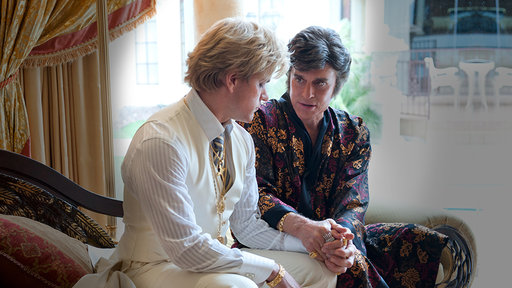 It would be a mistake, however, to think of this film as a tele-movie—it far exceeds its format and feels gloriously at home on the big screen. In addition, its stellar Hollywood cast (Michael Douglas, Matt Damon, Rob Lowe, Debbie Reynolds, Dan Aykroyd) and deft director, Steven Soderbergh, really do make it feel like Behind the Candelabra was always meant to be seen in cinemas. In fact, Soderbergh originally intended it that way. But after struggling for years to find a studio who wanted to make the film (apparently it was 'too gay'), Soderbergh went to HBO. Taking this route allowed him to finally circumvent some of America's film censorship constraints.
The film takes on the late life of outlandish performer and freakishly charismatic pianist, Liberace and his tumultuous relationship with Scott Thorson, whose book the script was based on. Behind the Candelabra is a touching and tormented love story set among the outrageous and kitschy environment that Liberace inhabited, and which Thorson becomes a part of. In his late teens, at the time working as an animal trainer on film sets, Thorson enters the orbit of Liberace through a chance meeting with a Hollywood producer. Things move quickly and soon Liberace invites Thorson to be his full-time companion. Their relationship is a bizarre melding of father/son, boss/employee, and true love.
The initial attraction and warmth between Liberace and Thorson is a tender start to the film, but we are always a bit uneasy about where things are heading. Despite the existence of a touching partnership between the two men (both of whom are riddled with neuroses and insecurities but, ultimately, want to be safe and adored) things inevitably begin to fall apart. A dark downward spiral takes hold as addictions and betrayals start to accumulate and Liberace's strange existence threatens to ruin Thorson. It seems that as much as he desires a lover, Liberace also wants to create another version of himself. He happily subjects Thorson to his plastic surgeon (a mind-blowing performance by Rob Lowe) to literally transform his face into a facsimile of his own. Thorson turns to drugs to stay thin and cope with his new lifestyle, and appearance. Liberace turns to sex with other men to feed his ego and ultimately pays the price.
The world that Soderbergh has created is utterly compelling, strangely beautiful, and also pretty tragic. The performances he manages to get from Douglas and Damon are incredible. They are brave and perfectly balanced and the two keep flawless pace with each other. It is impossible not to be swept up. The film is genuinely hilarious and incredibly moving. Watching Behind the Candelabra I kept thinking how absolutely unbelievable it is that it wasn't until after his death that America realised that Liberace was gay. Soderbergh manages to capture the tension between Liberace's private life and public persona in an era when being outed would have spelled the end of Liberace's career.
Pros: The performances in this film alone are enough to make it a must-see. Beyond that, however, Behind the Candelabra is one of Soderbergh's best—and the fact that he has said it will be his last film for some time just provides another reason to catch it.
Cons: Not for the faint hearted, Liberace's world is at times a decadent nightmare with as much dark under-belly as frothy veneer. If you're not one for a bit of sex, drugs, and foul language you might find yourself a little scandalised.
Image credit: Paste Magazine