Khim Hang, brainchild behind the uber-impressive, HAN The Label, a Brisbane-based fashion line, is the perfect example of someone whose drive and ambition have gotten them places.
Delivering a minimalist, sportswear-style aesthetic, HAN is a brand that is starting to turn heads.
We caught up with the man behind the garments at his home and workspace, to chat about how he got started and what's next.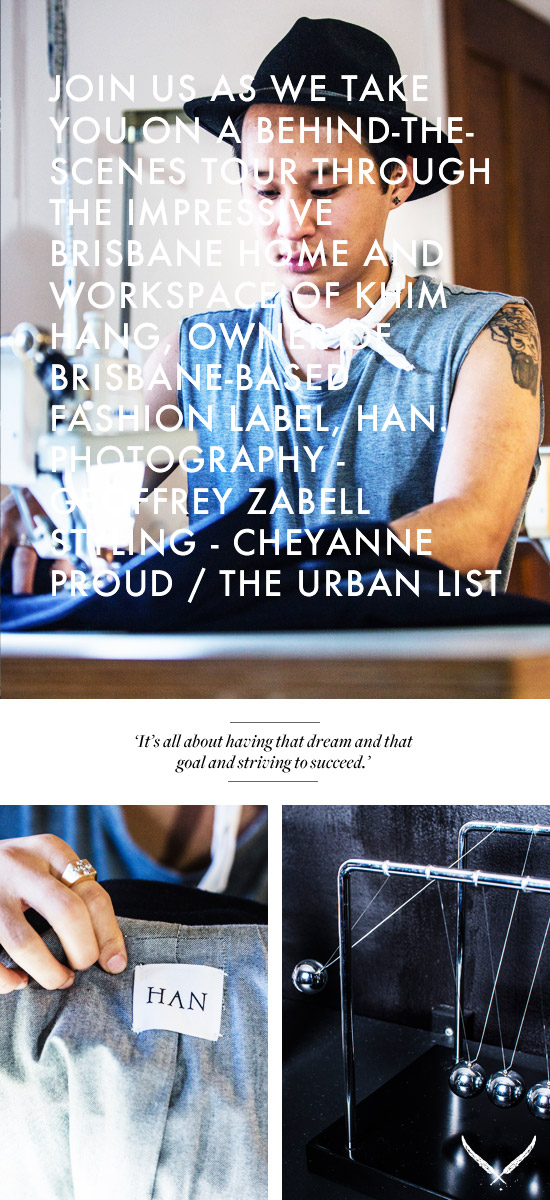 TUL: Tell me a bit about your background? What was your inspiration to start a fashion label?
KH: My parents came from Cambodia. That was when the Khmer Rouge, led by Pol Pot, was going on—communist society and successful dictatorships. It's crazy to hear about the stories that my Dad tells me. He has seven older siblings, two of them were shot, one got blown up by a B52 bomber, one was hung. He had to live this life, constantly running away. My Dad is a genius—very, very intellectual. He knows seven languages. Throughout all of that, with no opportunities at all, trying to get somewhere to learn, get to school, was a challenge. He had to make it all on his own. I remember him telling me how he'd spend his days digging trenches, and come nightfall he'd start running and attempt to escape. He had no idea where he was going, or what direction he was going in. There's no GPS. He'd just run and pray that he didn't get shot. When my Dad came here, all he had was 100 USD. Landing in Melbourne, all he had was a t-shirt, a pair of jeans, and a pair of thongs. That's how he started his life.
When he got here, all he wanted to do was learn. He went to Latrobe University and got a Bachelor of Arts. I was then born, and my parents bought a little convenience store. My whole childhood was waiting for my parents to shut up shop. We then moved to Brisbane and my parents bought a little café. I never got to do the things I wanted to do as a kid. I know what it's like to struggle, what it's like to be poor, and it's not the life I want for myself. My parents have worked very, very hard to get to where they are, and they now have a beautiful house and live comfortably.
Having Asian parents, when I told them, at 14 years old, that I wanted to be famous (which sounds really, really silly), they were very unhappy. I just knew I wanted to make clothes, or do something with music and be a singer, but they wanted me to study hard and become a doctor. And I hated that, it just isn't me. So, I didn't have support financially or emotionally. I built this brand up from nothing to get to where we are now in less than 12 months. You know, we've had a stand-alone show at Mercedes Benz Fashion Week, shown our collections to David Jones. I guess, like my Dad, it's all about having that dream and that goal and striving to succeed.
TUL: Tell us about your first show at Mercedes Benz Fashion Festival?
KH: The show was amazing. It was my first show. I wasn't nervous. I was sitting backstage with a packet of Maltesers and some popcorn and just took it as it came. Whatever was going to happen was going to happen. You really can't control the outcome. It was a good show, but it wasn't exactly what I wanted. I think you always want to grow bigger and better and be greater. I was happy with it, but I think our next show at Fashion Week in Sydney next year will be amazing. We got props in some amazing magazines, and we were one of the seven brands to get on Style.com, which was awesome.
TUL: Now, going back to the start, when did you first decide you wanted to start the label?
KH: It all stemmed from one idea that I had, mixed with a bit of passion that turned into love and then a burning desire to get to where you want.
I started hand sewing when I was about 14. I remember wanting a pair of Ksubi jeans and no one back them rocked them. No one liked that really skinny-cut jean. My parents were still working really hard at this point, and Ksubi jeans just weren't attainable, so I'd get jeans and cut them up and hand sew them. I'd spend a week hand sewing just one pair of jeans, which was crazy. I'd literally go and sit in the garage with the light on for hours.
From that, I guess I had this dream of starting a label. I'd saved up a bit of money from working at Lincraft just down the road (where I learnt a lot about fabrics). It was about $1,500. With that money I decided to get some of my own jeans made. I remember speaking to a manufacturer in India and them telling me their minimum was like 500 pieces per style. I was like, yeah sweet, I can afford that. So, I got the first sample made and then it hit me that I would have been spending 100k on production.
When I got that sample set it was hideous. The fits weren't right. I didn't know anything about fittings. I didn't know anything about measurements or what not. The manufacturer asked me how much my waist measurement was, and I Googled and went on American Apparel and found their average sizing. They were so terrible. I unpicked all the samples and re-sewed them myself. I ended up selling them and making a little bit of money. I slowly built myself up and learnt a lot on the way. And then I went and learnt proper sewing and pattern making at my family friend's manufacturing factory in Melbourne. It was all about streamlining and managing my time properly, and not losing money. I learnt the hard way. I learnt that if you sew one seam wrong, unpicking that seam is slower than sewing the whole garment itself. I knew how to sew them, but not properly, not to industry standards. Definitely not to the standard where people would pay a lot of money for my garments.
All of this taught me to plan a lot, know the next seam you were going to be sewing. It's all about being precise and knowing what piece goes into what and why they fit into each other. I think that I learnt a love for fine clothing and understanding what quality is. A lot of people don't know what quality is—it might be beautiful fabric, but that doesn't mean it's great quality. It comes down to the design process, how it's constructed, what seams are used . . .
TUL: When did you launch your first collection?
KH: We launched our first captured collection to test the market last August, with a small range of basic menswear. But before we launched, it was probably about two years of business planning.
TUL: Do you come up with all your own designs, and make all your own patterns?
KH: I don't sew production, but I sew all the samples. I have a couple of machinists that help me out with production. The whole reason I pattern make, design, and sew is because the design process is in all of those three things. Rather than just coming up with the idea, and sketching the garment, I like to take it from 2D to 3D. I like to be in control of the development process. This season, our approach is to come up with silhouettes and come up with basic designs, cut them out, and then re-make them. We want to really take it to the next level. Pinning, tucking, cutting out different seams and adding new layers to make it something greater than what it originally was. During that process you come up with little quirks and anomalies that make something well thought out and more refined.. That's why I like doing it all. I think I'll always do it like that. I want to have the control of the initial stages.
TUL: Tell me about the team behind Han? Where are you based?
KH: With the intent of growing bigger, in the future we'll have a bigger design team, more pattern makers, and more machinists. But, right now, Han consists of the two machinists that alternate, a pattern maker, a bunch of really great interns, and a marketing girl and a PR agent. I do a lot of work in Sydney as well as Brisbane. I'm flying down to Sydney a lot for meeting with agents and what not. I come back to Brisbane to make the clothes. The design process can happen everywhere, and that's why I love it. You can travel anywhere and be inspired by anything. But production is based in Brisbane. I've got seven machines here at home, where we all work from. We have machines that do everything. I love equipment—I love it to death.
TUL: Where is Han currently stocked?
KH: In Brisbane we're stocked by Apartment, and a few more in the works for next season. We've also got a whole lot in Sydney and Melbourne, and finalising some deals in Western Australia. Online, Han is stocked by The Iconic, Grand Social, and quite a few others.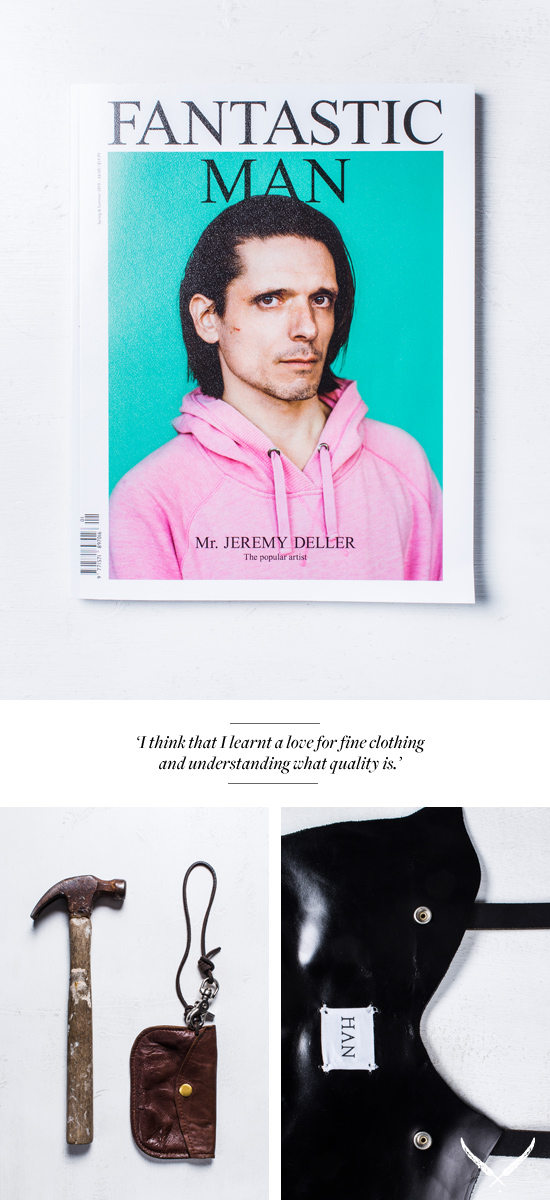 TUL: Where do you go for a drink?
KH: Alfred and Constance.
TUL: Where do you go to eat?
KH: Gerards Bistro on James St.
TUL: Where do you like to shop?
KH: Camargue stock a great brand range from Nom*D to Ann Demeulemeester. Fingers crossed they expand their mens range.
TUL: Where do you go to Indulge?
KH: At home! I rarely have down time but when I do, it is the perfect place to unwind.

TUL: What's next for you and HAN?
KH: I think it's all in the air at the moment. It's all about steady growth, about being patient, and just seeing where things go. Every single day awesome things happen and come up, every single day.. I have no idea how we're getting our name out there, but it's happening.
Long term, I want to be someone great. I want to make a difference. I want to go back and help the community in Cambodia. I want to do a lot of things. I want to die and pass on a legacy. I want people to know exactly what Han is, and for the label to live on.
Images credit: Geoffrey Zabell