Ever wondered what goes on behind the scenes at your favourite Brisbane businesses? Or just how much butter went into that croissant you're eating? Now's your chance to find out!
Join us as we spend a day in the life of much-loved Morningside bakers, Flour & Chocolate, as we learn first-hand how much time, hard work, butter, and love goes into filling those cabinets with delicious baked goodies each morning.
A Day in the Life of Flour & Chocolate
The philosophy behind Flour & Chocolate is everyone is welcome.
To owner Lachlan Scott, that means their quality products are matched by great customer service and the local community and clientele have input into their wares.
"Lots of flavours have come from our customers, such as the Turkish Delight cake that came from the owner of the shop down the street", says Lachlan, as he kneads and shapes loafs of bread during the early hours of a recent Saturday morning.
For me, on the night I spent watching the action in the Morningside bakehouse, it meant being welcomed into a part of the process not even loyal regulars get to see.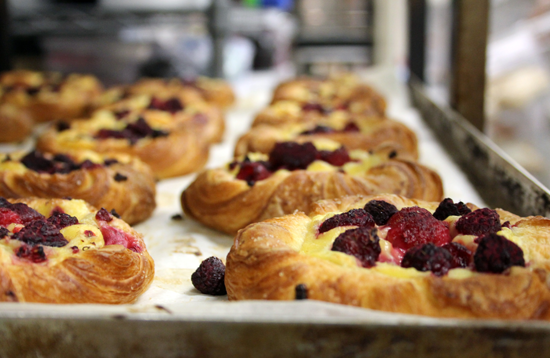 Start the Day
Arriving at 2.30am on a Saturday morning, production was already in full swing. Flour & Chocolate's award-winning croissants are the focus, and bakers Christian and Richard are hard at work – Christian rolling out metre after metre of freshly made dough, while Richard fills and rolls the croissants.
Chocolate, chocolate/hazelnut, ham and cheese, traditional butter and almond/raspberry are all sold that morning alongside apple crumble, vovo, and fruit custard danishes.
I'm handed a butter croissant fresh from the oven at around 3.30am — "Breakfast," says Lachlan — and I think I've died and gone to pastry heaven.
Once croissants are done, the team seamlessly transition into their next job. Christian is on to baguettes and then focaccias while Richard starts on cakes — butter cakes, ricotta cakes, friands, and the stunning roulades.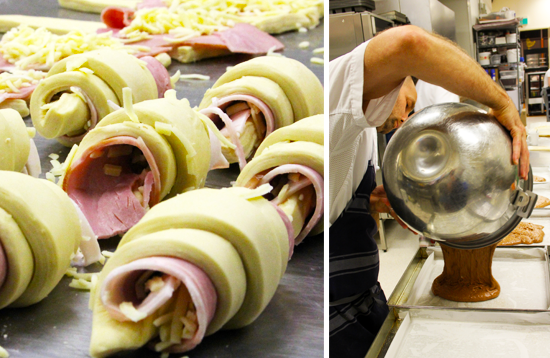 The vibe is relaxed and friendly, fast-paced but precise. Everyone is happy to have a chat while they work, but focus is never taken away from the task at hand.
Richard expertly separates 25 eggs into bowls while I hold my breath in fear of a dreaded broken yolk that would mean starting again. That's some serious skill!
From 4am onwards, more team members arrive including Francis the pâtissière who turns out delicious looking quiches before turning on the gas flame to brown the meringues on his lemon tarts. He later moves on to choux pastry and expertly coats éclairs and iced mice profiteroles for the kids.
Sarah and Sharon make a start icing and decorating cakes out the front of house – stunning cakes made from order as well as the regular carrot, chocolate, Turkish Delight and eventually Richard's creations fresh from the oven.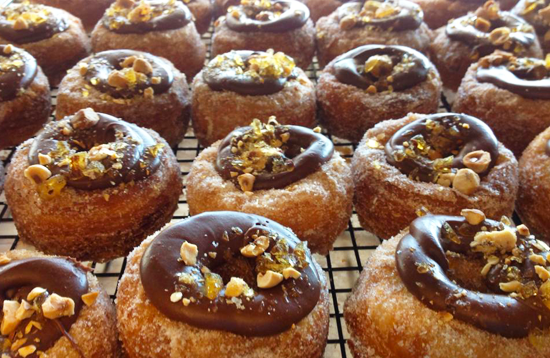 let them eat cake
Around 6am the pace quickens as batch after batch of pastries, breads and cakes are taken from the oven and moved to the shopfront.
Baguettes and simone roles are arranged in boxes, traditional and specialty sourdoughs are thrown into wire baskets next to the ciabattas. It seems the shop is bursting at the seams, but the vast majority of treats will have been snaffled up by closing time.
In the past 2.5 years, Flour & Chocolate has quickly established itself as one of the best and most loved artisan bakeries in Brisbane. But strangely, it's been difficult to recruit apprentices and bakers into the trade.
"People ask about the hours, and then get turned off," says Lachlan. "I've been advertising for apprentices since we opened."
A family man with two small children at home, Lachlan tries to balance work with home as much as possible. Regulars greet his boys by name when they pop in on Sundays, while the bakery shuts down for a month directly after Christmas so everyone can take a well earned break.
The first customers arrive bang on 6.30am and are greeted by the friendly front of house staff. Apparently on Mother's Day, there was a queue halfway down the block. People around here certainly know a good thing when they see it (and taste it), and word has spread across Brisbane, with plenty willing to make the pastry pilgrimage.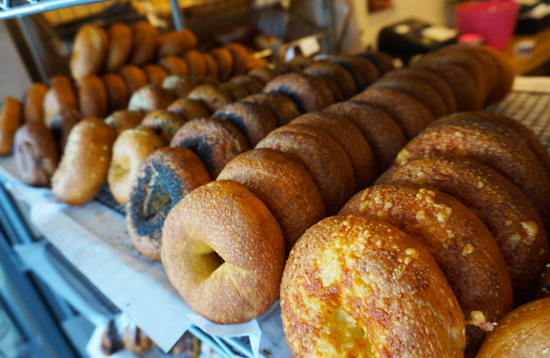 Home TIME
I head home at 7.00am, buzzing with excitement from what has been a fantastic experience and knowing that sleep is a few hours away. Still, I know the sight of a Flour & Chocolate bag bursting with goodies will be welcomed by my sleeping husband and my tastebuds alike.
TUL Note: Penny is a freelance food writer and obsessive cook, who has returned to Brisbane after ten years living in the UK and Melbourne. She is currently taking her passion for sweet treats one step further and learning the skills to become a pastry chef from her culinary idols, documenting her experiences through her blog Project Pastry.
Image credits: Penny Kidd, Weekly Cook, Flour & Chocolate