Today's the day we get to abandon our healthy eating aspirations and embrace the only food that's better because it has a big hole in the middle: The doughnut. In celebration of Homer's favourite food (that's the Simpson, not the Greek), we've tracked down some of the Australia's best doughnut bakers so you can get your fried ring fix on, and we got our greedy mitts on an amazing doughnut recipe from one of Australia's most renowned pastry chefs, Jocelyn Hancock.
But before we get into that sugar-coated goodness, let's take a moment to reflect on the doughnut's proud history...
Who Invented the doughnut?
The doughnut we know today was originally a dough ball fried in pork fat by those industrious Dutch, which they called olykoeks, or 'oily cakes'. Mmm. Oily cake.
Because the centre of the doughnut was sometimes uncooked after frying, they were often stuffed with fruit, nuts and other delicious fillings (the forbearer of the jam doughnut we so dearly love today).
From these humble beginnings the doughnut then made its way to America where the modern doughnut was born. Once again the pesky uncooked centre dilemma reared its head, so one smart chappy had the idea of punching a hole in the centre, which increased the surface area for max crunchiness and got rid of the raw-middle issue for good. Hallelujah!
There are, of course, a host of doughnut varieties from around the world to enjoy (apparently dropping dough into hot oil and covering it with sugar isn't just a Dutch thing.) There are Spanish churros of course, Italian zeppoles, Poland's jam-filled Paczki, Hungary's farsangi fank, and the French beignet.
In honour of this tubular treat's special day we've round up Australia's best doughnut bakeries, so you can get your fix on to celebrate. Happy dunking!
Melbourne's best doughnuts
On the hunt for Melbourne's best doughnuts? Look no further. Oasis Bakery serves up some of Melbourne's best Lebanese doughnuts — think airy, crunchy balls of heaven, drenched in sugar syrup with a hint of orange blossom water. The retro-chic American Doughnut Kitchen in the Queen Victoria Market serve classic doughnuts from their '50s era van. Try their jam-filled variety. And the Tivoli Road Bakery in South Yarra serve several kinds of doughnut, but it's their salted caramel filled wonders that have earned them a spot on our Australia's best doughnut list!
Sydney's Best doughnuts
Sydney's no slouch on the doughnut front, either. You can find some of Sydney's best doughnuts at iconic bakery Flour and Stone in Woolloomooloo, and The Milk Bar by Café Ish, where they're all about the childhood favourites (why not wash your doughnut down with a PBnJ milkshake? Hey, it's International Doughnut Day — there are no rules!). And no list of Sydney's best doughnuts would be complete without Brewtown Newtown's cronuts. Not technically doughnuts — we know — but still, how could we not include these layered, sugared puffs of bliss?
Brisbane's best doughnuts
Not to be outdone by the big boys, Brisbane is home to some cracking doughnut bakeries. Some of Brisbane's best, and most creative, doughnuts can be found at Flour & Chocolate in Morningside, with flavours like apple crumble, salted caramel, jaffa custard, sour cherry, and a Snickers version, as well as their famous 'go-nuts'. Intolerants can't go past Gluten Off at the Eat Street Markets, who cook up a killer gluten-free version. And, of course there is the sugar coated wonder of Chester Street Bakery and Bar, where they're piped full with heavenly concoctions like Nutella, lemon curd, and salted caramel (and we hear they'll be serving all three of these amazing flavours today to celebrate the occasion! What legends).
Jocelyn Hancock's Doughnut Recipe
Makes 10
You'll need…
430gm plain flour
25gm caster sugar
90ml milk
160gm whole eggs
7gm salt
30gm fresh yeast (or 15gm dry yeast)
110gm unsalted butter, room temperature, cut into approx 1.5cm cubes
25gm milk powder (optional)
Cottonseed oil or vegetable oil (for deep frying)
300g Filling of choice (eg. raspberry jam, Nutella, salted caramel)
And for the Cinnamon sugar...
300g caster sugar
½ tsp ground cinnamon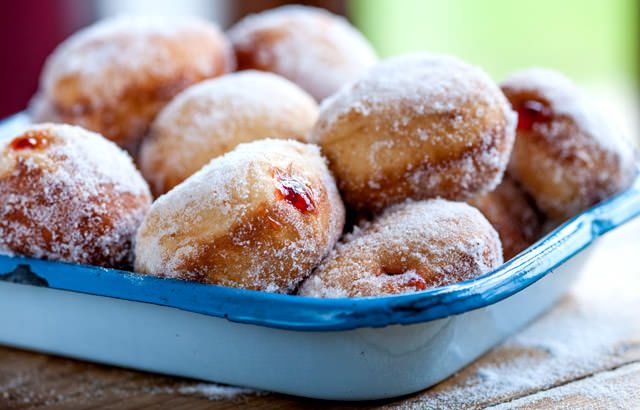 To Prepare…
Using a stand mixer with a dough hook attachment, place the flour, salt and milk powder into the mixing bowl. In a separate bowl, whisk together the milk, eggs, sugar and yeast. If using fresh yeast, the mixture may be a little lumpy but this is fine as it will smooth out during the kneading process.
Pour the egg mixture into the centre of the flour mixture and start the mixer on a low speed for approximately 5 minutes until all ingredients are incorporated. The mixture will start off sticky but will eventually come away from the sides of the bowl to create a smooth dough. At this stage with the mixer still going, add 2 cubes of butter to the dough and let it knead until well incorporated.
Repeat this process with the remaining butter, 2-3 cubes at a time until the mixture is well incorporated.
Transfer the dough to a large bowl and cover with plastic wrap. Set aside in a warm humid place for 1 hour or until dough doubles in size.
Knock the dough back by lightly hand kneading the dough into a smooth ball. Using a knife or a pastry cutter cut the dough into 80g portions. Using the cup of your hands, roll each dough portion into a tight smooth even ball.
Place each dough ball approximately 10cm apart onto a tray lined with baking paper and set aside uncovered in a warm humid place to prove for a further 30-45 minutes or until doubled in size.
Meanwhile, to prepare the cinnamon sugar, combine the sugar and cinnamon in a large shallow bowl and lightly toss to combine. Set aside until required.
Fill a deep fryer or a wide pot with oil and heat to 160?C. Deep fry the doughnuts in batches until golden on one side, flip doughnuts over and fry until completely golden in colour. Do not overcrowd when frying. Remove from oil and drain excess oil, transfer to cinnamon sugar and lightly toss to coat each doughnut. Using a thick skewer, pierce a hole on one end through to the centre approximately ¾ of the way through.
Fill a piping bag with filling of choice and pipe into the hole until full. Best served warm.
Image credits: Shine, Great British Chefs, How sweet it is