Walking up the stairs and through the door of Fallow has a through-the-wadrobe-into-Narnia feel. Tucked up above the hustle of Brunswick Street, this unique, dark and broody space—home to some of Brisbane's edgiest artisanal men's and women's wear—is easy to miss if you don't know what you're looking for.
A rarity in the Brisbane retail scene, Fallow is a treasure trove of labels that focus on design, rather than market appeal (there's not a logo to be seen), and pieces with a darker aesthetic. Home to cult brands like Song for the Mute, Cedric Jacquemyn, and Boris Bidjan Saberi, much of Fallow's minimalist menswear is also sought out by women, and their exquisitely curated, slightly gothic, jewellery collections have earned the store a loyal following.
We sat down with Fallow's passionate owner, and champion of the Brisbane fashion scene, Nat Denning, to talk good design, clothes with soul, menswear as womenswear, and what's next for the store.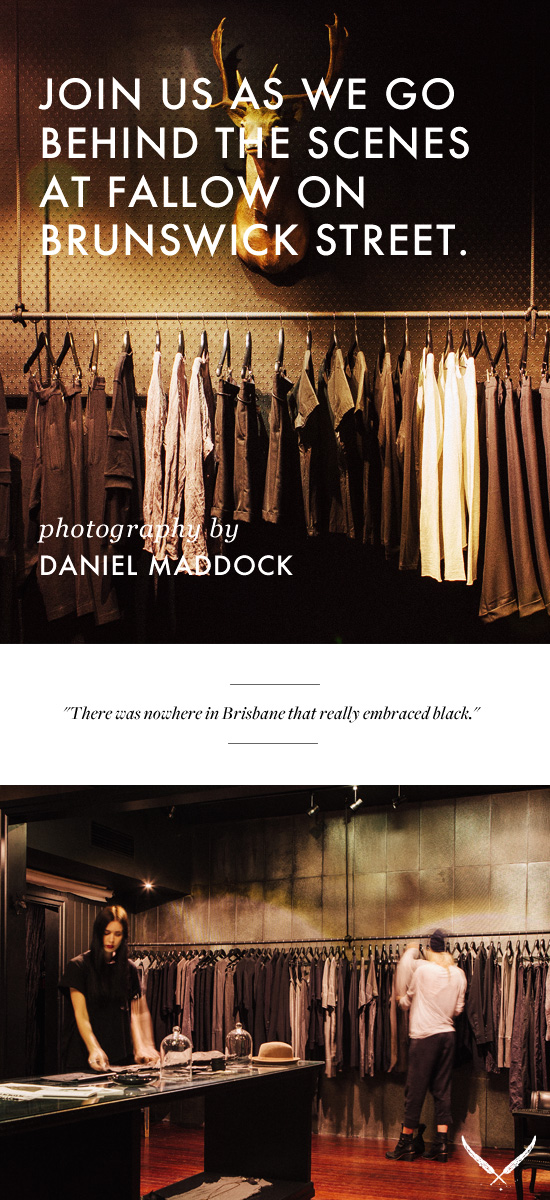 TUL: Can you tell us a little bit about your background, and how Fallow started?
ND: Fallow started six years ago, and it basically came into fruition because I went to Auckland for New Zealand Fashion Week, and I was walking around the streets in my down time and people were stopping me and asking where I got my jewellery from.
So I went home and told my partner that there was nowhere in Brisbane that really embraced black and had amazing jewellery like the jewellery I liked to wear. From there we decided to jump in and open the store, and we decided that if it didn't work out we would just have to live in the space!
TUL: Fallow is a unique store. How have you found your reception in Brisbane? How does Fallow fit in the Brisbane retail scene?
ND: We've been here for six years, and, to be honest, it has been difficult the past few years. The great thing about Brisbane is that the people always embrace new things, which is really nice, but it is hard to keep that excitement going.
So we are constantly trying to reinvent ourselves—to produce things that are new and progressive. But, at the same time, it's important that we retain the labels that we have had since we've opened, which our die-hard customers are all fans of. But we also want to be able to take on new things and showcase different things to our customers. But overall I would say we fit into Brisbane quite well, we just need more people to come in and experience the space.
People do really enjoy the space when they come to Fallow; it's just a matter of getting them here!
I feel we are a part of the growing culture here that is global and forward thinking—a community that recognises the importance of art, culture, and good design and wants to include this in their everyday lives. I hope by nurturing and encouraging this mindset in our space that more people in Brisbane will become accepting of our unique offering. I am truly focused on artisanal designers moving forward as we're finding our customers are willing to learn more about the process and want something more soulful to aspire to than mass production.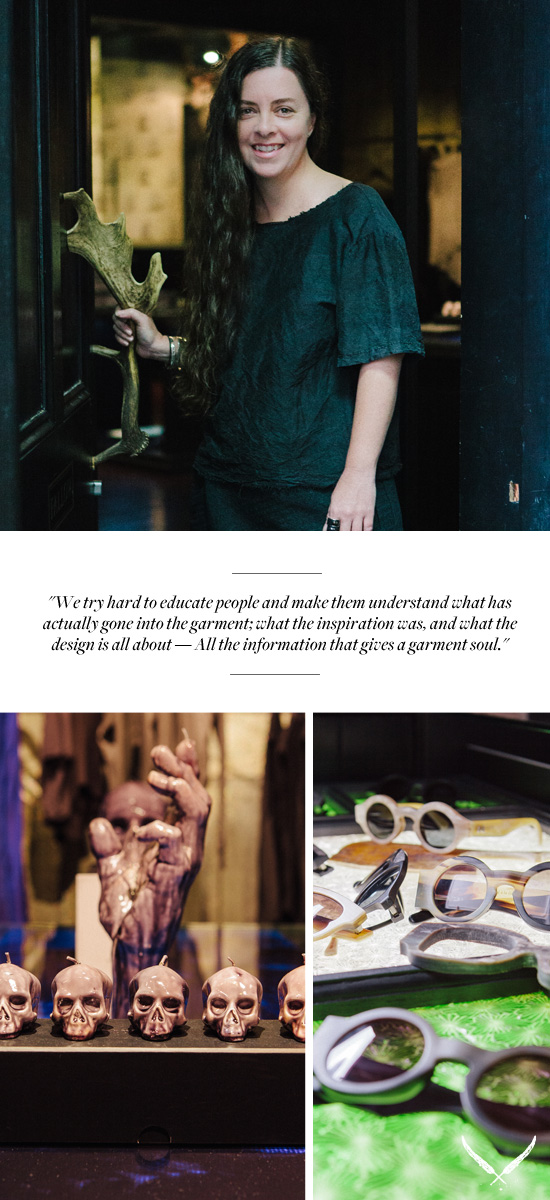 TUL: So would you say that your customer base is mostly word of mouth?
ND: Yes, absolutely. Social media has been brilliant for us, because we do have such a beautiful space and we can share that quite frequently with people. Our online presence has also increased in the last few years, I'm finding that people are talking about us on blogs and forums, which is really great!
TUL: The store has a really unique aesthetic; can you tell me a bit about your influences and what inspires you?
ND: Probably just the desire to present people with good design. I feel that in the world of fast fashions, good design is sometimes a little bit neglected and, also, we try really hard to educate people and make people understand what has actually gone into the garment—what the inspiration was and what the design is all about—all the information that gives a garment soul. I really like to be able to share where everything comes from and we really enjoy sharing that process with people.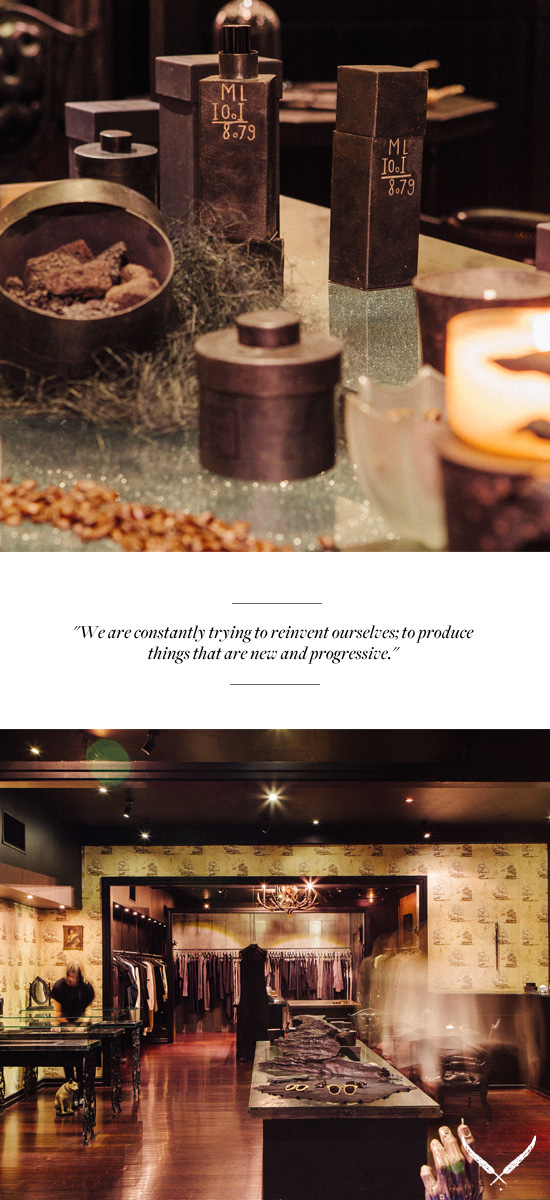 TUL: If you had to pick, who is your favourite designer?
ND: Cedric Jacquemyn is one of my favourites. I love what he is doing at the moment and we are actually going to start stocking him soon, which is exciting! I probably prefer menswear over womenswear; I like the idea of dressing up the way men do.
TUL: Have you always stocked menswear?
ND: We have also stocked menswear. I always felt that, in Brisbane, men were really ripped off—unless you wanted a chambray shirt and a pair of chinos there wasn't much choice. So it made sense to expand on that and provide progressive men's clothing that has a unique angle, fit, and shape.
And a lot of our female clients are walking straight through the store to the menswear because they want to experiment with a nice men's shirt or a good pair of pants. I also think there is a big gap in the market for silver jewellery, which is why we focus on producing beautiful, high quality jewellery.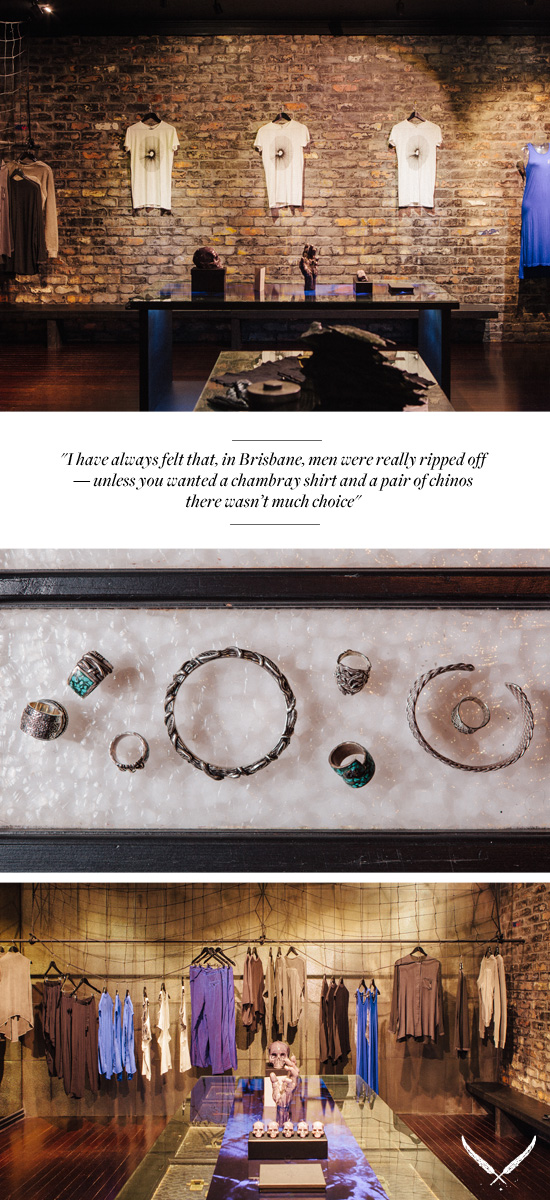 TUL: Who designed Fallow's space?
ND: Both my partner and I designed the space together, which was a little hard to get our heads around. When we found this place it had a lot of issues but we really liked the idea of gutting the middle and putting a lot of mirrors around, to make the space seem like it went on forever.
TUL: How do you go about choosing the brands you have in store?
ND: When we first started we went out seeking brands, but now, as we keep becoming more internationally recognised, we are being contacted by brands, which is really lovely. Brands and designers that we really look up to have started following us on Instagram, which is really exciting as well!
TUL: Did you always think you'd set up shop in The Valley?
ND: I've always really liked The Valley, but I feel that it has changed its image a lot in the last few years. There are a lot of nice cafés and restaurants opening up, bringing the life back to The Valley, which is exciting.
TUL: Any favourite coffee spots or bars in The Valley?
ND: I must admit, I don't go out all that often and I don't really drink coffee! I know, I'm the only person in the world that doesn't drink coffee! I love the smell, though!
TUL: What are your favourite places to shop in Brisbane?
ND: I love Aesop, and I love supporting local designers. When Christmas rolls around I try to buy Christmas presents from local designers and stores. And I love the GoMA Book Shop. I don't get to James Street too often, but camargue is an old favourite.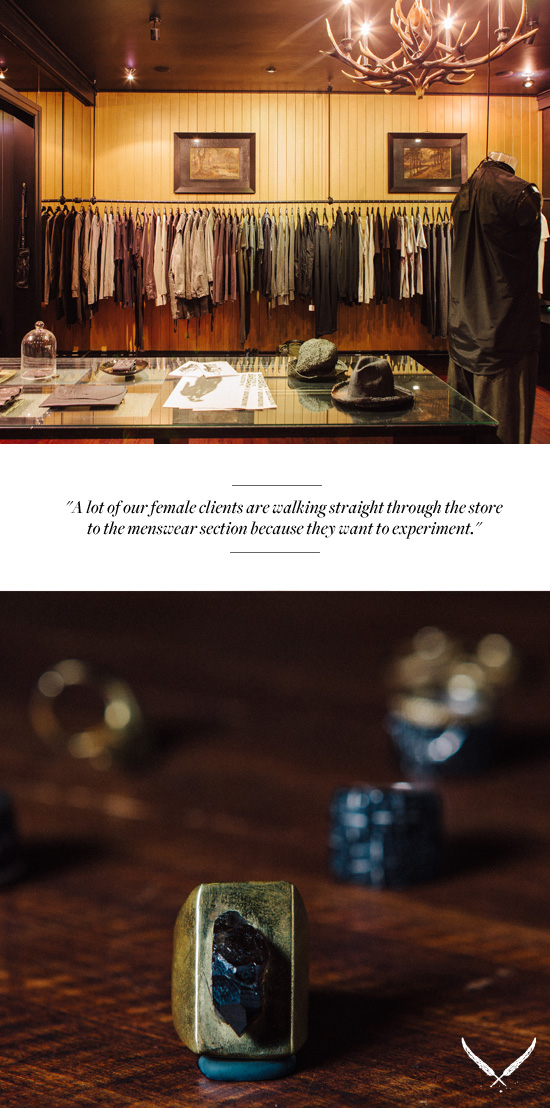 TUL: How do you spend your down time?
ND: There isn't much down time away from Fallow; it's what I love to do. It's what gets me out of bed in the morning, keeps me motivated and keeps me busy. Down time for me would probably be cooking at home with my partner with a glass of red, watching my chilli plant grow.
TUL: What's your favourite part of owning your own business?
ND: The customers, because they really are beautiful. We've made so many lifelong friends from our customers and, at the end of the day, that's all you can hope for when owning your own business. As well as the business being successful.
TUL: What's next for Fallow?
ND: More collaboration time, working with a lot of people doing a lot of fun things. Recently a local Brisbane composer, Wilhelm Bearnhardt (aka Daniel Skinner), approached us, and we are really excited about working with him. Hopefully this will be the beginning of more musical expeditions at Fallow.
We are also working towards presenting an instore event, Virtually Yours, in the next few weeks—there's so much happening, it's so exciting!
TUL Note: Get up-close-and-personal with some of Melbourne's most progressive jewellery designers, Alicia Hannah Naomi, Julia deVille, and Redivivo, instore at Fallow from the 5th to the 15th of May as part of their tactile, Virtually Yours exhibition.
Image credits: Daniel Maddock