You've made every version of banana bread there is, tried your hand at cookie fries and even gotten creative with Caramilk—but if you want to bake up a sweet treat that is incredibly simple yet comes with some serious hospitality cred, we've got a recipe for you that ticks all the boxes.
Straight from the menu at Gerard's Bistro, this cardamom cake recipe is head chef Adam Wolfer's take on a traditional Middle Eastern semolina cake, with crispy, crunchy exterior and a moist interior, drizzled in housemade syrup. At Gerard's, it's made-to-order in the wood-fired oven (tricky to do unless you've got Wolfer's background in baking), but just for us, he's adapted the recipe to make it at home—although if you'd prefer to leave it to the experts, you'll usually find it on the restaurant's takeaway set menu every so often.
Did you miss that news? Yep, though you can dine in house, Gerard's Bistro is still doing takeaway post-covid, with a different set menu every night of the week for both takeaway and dining in. If you've got a few hours to spend in the kitchen though, check out the recipe for their cardamom cake below.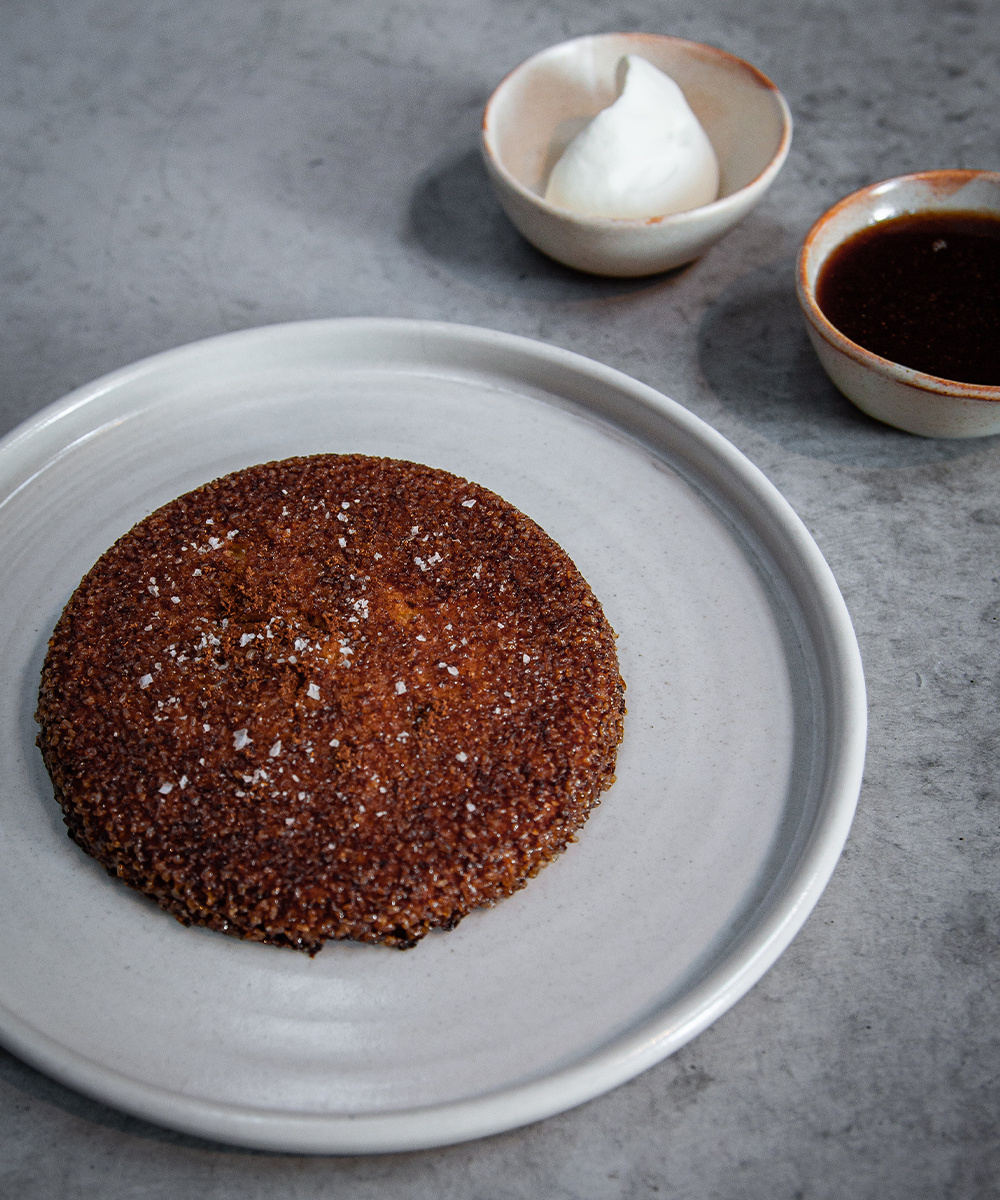 Ingredients
For the cake mix
125g diced butter

175g brown sugar

150g cake flour or plain flour

1 egg

45g desiccated coconut

1/2 tsp bicarb soda

1 tsp baking powder

125ml milk

1 tsp salt

1 tsp black cardamom powder
For the walnut butter
50g walnut meal

50g softened butter
For baking
For the cardamom syrup
15 black cardamom pods

150g brown sugar

350ml water
Method
Pre-heat the oven to 180 degrees celsius.

To make the walnut butter, mix the walnut meal and softened butter until combined. Set aside.

To make the cake mix, place the butter and sugar in a kitchen aid and cream the sugar and butter until light and fluffy.

Slowly add the eggs and beat on low speed for two minutes. Slowly add milk, coconut and sifted flour, bicarb soda and baking powder. Fold through and add the cardamom powder and salt. Set aside.

For the cardamom syrup, toast off the cardamom pods in a dry fry pan until aromatic, usually around one to two minutes. Then place in a pot with the brown sugar and water. Bring to a boil and reduce by one third. Set aside.

In a deep cast iron round pan about 18-20cm diameter and 5cm deep, place the walnut butter in the base of the pan and smear all over and up the sides evenly. Sprinkle the demerara sugar and evenly coat the pan so the sugar completely sticks. Add half the cake mix and reserve the other half for the second cake. With a small metal spatula, smooth over the cake mix so it is evenly flat. Place the pan on the stove and heat until you just start to see bubbles forming, about two minutes. Place the pan in the oven for 10-15 minutes or until a skewer can go through and come out clean. While still hot, tip the cake out onto a cutting board or cooling tray. It should look caramelised and crisp. Using a spatula, place onto your serving plate. While still hot, pour the cardamom syrup over the top and sprinkle with sea salt. Serve with some fresh Malaney cream and more syrup if desired.
Want to keep baking? Try this baklava recipe.
Image credit: Supplied