When rare things happen, it's quite exciting. Comets. Coloured diamonds. Solar eclipses. Brisbane breakfast menus without bacon OR avocado… Wait, what?!
Don't get us wrong, we love breakfast burgers and avo on toast as much as the next foodie but we also love it when brekky spots do things a little differently. So, when we heard that West End dining icon Chop Chop Chang's was serving up pan-Asian style breakfast on weekends, we (obviously) had to check it out.
To start, we went bananas for the bao benedict; stuffed with melt-in-your-mouth pork belly and light-as-air kale chips topped with a soft poached egg inside a pillowy steamed bun—the very definition of brunch porn. Meanwhile, the eggnet roll is a delicious (and huge) crispy web of egg that houses crispy pork belly bits and a medley of green papaya, carrot, coriander and bean sprouts. Ideal if you're after something satisfying but super fresh.
If you're partial to a sweet brekkie (guilty), they totally nail their take on French toast. Accompanied by lashings of coconut ice cream, glazed mango, strawberries, and tropical mangosteens and rambutans, this breakfast dessert delivers low-key exotic vibes. Even the fruit salad on the menu is given an Asian kick with yuzu yoghurt and chilli salt!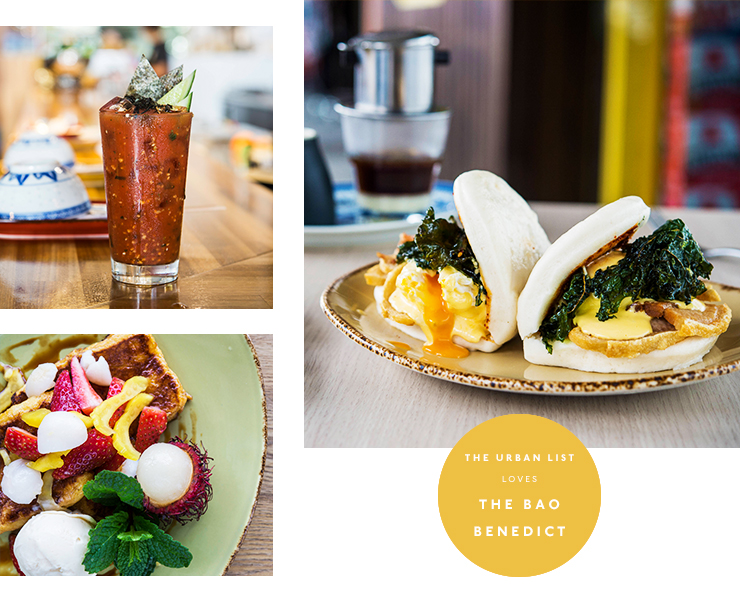 Drinks-wise, there's heaps to choose from. Take your pick from cold pressed juices and fresh iced teas, but the real winner is the traditional Vietnamese coffee: strong black coffee drip-filtered onto a shiny pool of condensed milk—trust us, this is the jump juice of your dreams.
The verdict? They aren't monkeying around—this food is GOOD. If you're all about expanding your brunch repertoire, then get around Chop Chop Chang's, chop chop!
Image credit: Jason Starr
Editor's note: This article is proudly sponsored by Pewsey Vale Vineyard and endorsed by The Urban List. Thank you for supporting the sponsors who make The Urban List possible. Click here for more information on our editorial policy. When we joined forces with Pewsey Vale Vineyard and asked you to visit your fave spot in Brisbane to enjoy one (or several) of their rieslings, Chop Chop Chang's was numero uno.