Spring Carnival is kicking off again (we can't believe it's September already, either) and because we know winter hibernation can make you feel a tad fugly (oh, what, it's just us?), here's our full-proof guide to getting glammed for race day.
Body Work
Get those legs ready, girl. The Spring Carnival might be the first public outing you put your gams through, and, much like a racehorse, you want your legs to be looking their ripped best. So treat them right and do some pre race-day working out. Our picks of the quickest and most effective toning classes include the vigorous High Intensity Interval Training session at Think 24 Hour Fitness, the fat-stripping Metablitz class at BoxR in Newstead, and, for something slightly less intense (but much better for your inner chi), try a class at Inna Bliss Yoga in Bulimba, to lengthen and strengthen those limbs.
Beauty Prep'
Predicament: You want to look like spring hasn't totally taken you by surprise, but you've left it a tad late to get any actual outdoor exposure. In these circumstances, you're going to have to fake it 'til you make it, sister. For a fake tan that looks real (and smells delish) we can't go past the organic spray tans on offer at endota Day Spa on James Street. Endota's famous 'Tandota' formula will leave you with a honeyed glow, so you can be sure you'll be looking super fly, trackside. They even offer a dry exfoliation with your tan, so you're hitting two beauty-fails with one sexy stone.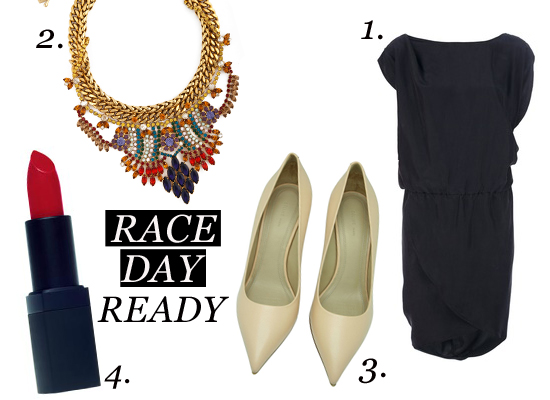 What to wear when you're there . . .
You've heard it before and we're here to tell you again. The races are not a nightclub, so leave the micro-mini body-con number at home, ladies! The races are, however, a great opportunity to try something playful and ladylike, which you probably don't have the opportunity to wear often.
We love the juxtaposition of the modern cut of the MM6's asymmetrical dress from Sans Peur Workshop with a lady-like pair of nude Celine heels (find these at Maryon's). Team this look with a racy red lip (we're bananas about the Jungle Red Nars semi matte lipstick from Mecca Cosmetica) and a blingin' Dannijo neck number (find Dannijo at Alexis Dawn).