Quality over quantity…we've all heard it, but it's not always easy to abide by, and at this time of year it's near impossible.
Easter after Easter we find ourselves gorging on brightly foil-wrapped bunnies and eggs, and then nursing a sugar hangover complete with belly ache for weeks.
We're not saying that indulgence is wrong, in fact just the opposite. We're just suggesting that if the diet is going in the trash, why not try something a bit special? Don't waste your calories on sub-par chocolate!
With that in mind we've checked in with all our favourite haunts and pulled together a list of gourmet Easter-inspired goodies. We've also tracked down some diary-free, paleo, gluten-free and sugarless options, for the intolerant among us. Enjoy!
Gourmet Easter Treats
Couverture & Co is selling choc-cross bun truffles, a milk chocolate ganache with raisins, cinnamon and spices dipped in either milk or dark chocolate and finished with a white chocolate cross.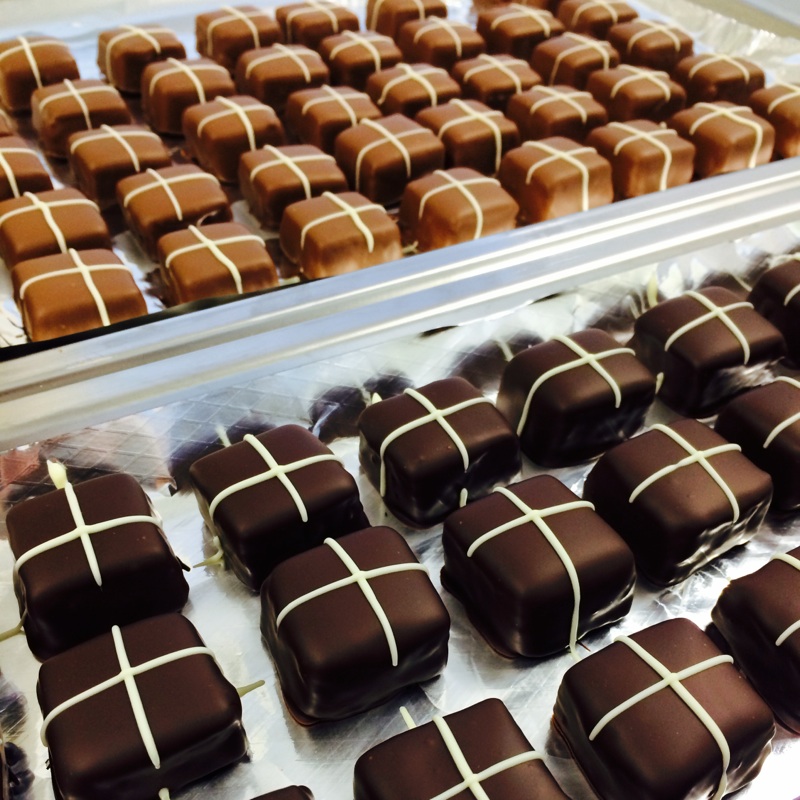 Gelataria Cremona offers all of the traditional heady spices and citrus notes you'd expect in a hot cross bun gelato.
Jocelyn's Provisions bring back their Mazet's Gull's Eggs, speckled candy egg shells filled with soft hazelnut ganache, once a year so get your order in early.
Easter cross macarons, from Monsieur Macaron, offer all the flavour of a traditional bun but without the stodge and an extra touch of sophistication.
Tognini's are selling Kennedy & Wilson dark, milk or white chocolate Easter chickens and fish as well as Gut Springenheide chocolate praline polka dot eggs.
And Happy Little Dumplings at The Barracks are taking the Easter franken-food concept to a whole new delish' level with their choc-filled steam buns.
Gluten-Free, Dairy-Free & Sugarless Treats
If you're looking for specialist-diet products around the city, try these:
Paleo Café Paddington have "Easter bonnet" brownies topped with a cacao mousse and edible flowers and "Easter nest" brownies with a coconut and cacao combo shaped as a nest ontop with a cacao egg
Kunara Organic Café are selling a range selection of dairy free, carob and sugarless Easter eggs and bunnies
Glutenfree Bakery has both traditional and chocolate hot cross buns made with no wheat, gluten, dairy or nuts.
If all that sugar still falls short of satisfying your sweet tooth, check out our super-easy and delicious gourmet rocky road recipe that's perfect for sharing.
Easter rocky road Recipe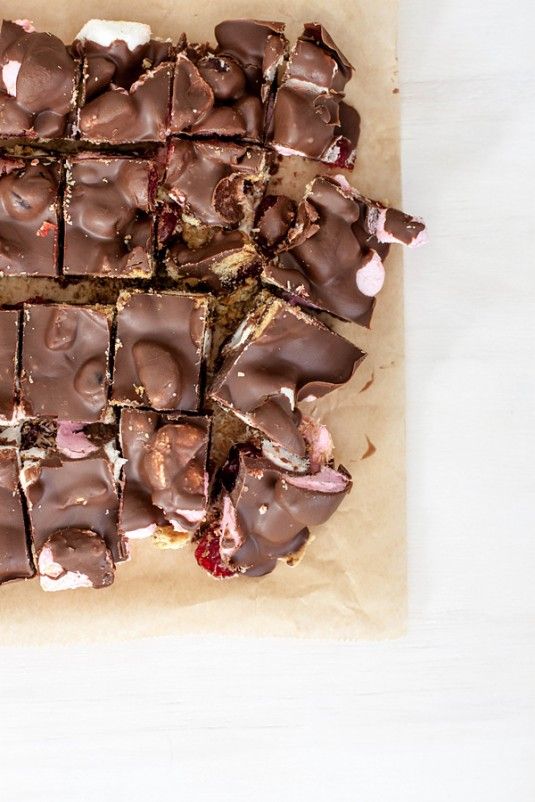 You'll need:
500g good quality dark chocolate, melted
100g shredded coconut
200g marshmallows
150g hazelnuts, chopped
100g dried sour cherries or cranberries
To prepare:
Mix all ingredients together until well incorporated. Pour out onto a sheet of baking paper and leave to cool. Cut or break into pieces, then keep refrigerated until ready to eat.
TUL Note: Penny is a freelance food writer and obsessive cook, who has returned to Brisbane after ten years living in the UK and Melbourne. She is currently taking her passion for sweets treats one step further and learning the skills to become a pastry chef from her culinary idols, documenting her experiences through her blog Project Pastry.
Image credits: Couveture & Co, Fete Press