Being a resident of Brisbane, we can sometimes take for granted the amazing restaurants, hole-in-the-wall coffee shops, cosy parks, and local markets we frequent every week. Everyone has their favourite Brisbane rituals, their weekly escape from the boss/kids/partner/flatmate, their must-do on a weekend. Whether it's diving into a chocolate milkshake at Pearl Café, or running up the Kangaroo Point Cliff stairs, we've all got our faves, and now we want to know yours!

And so was born, The Urban List-Off.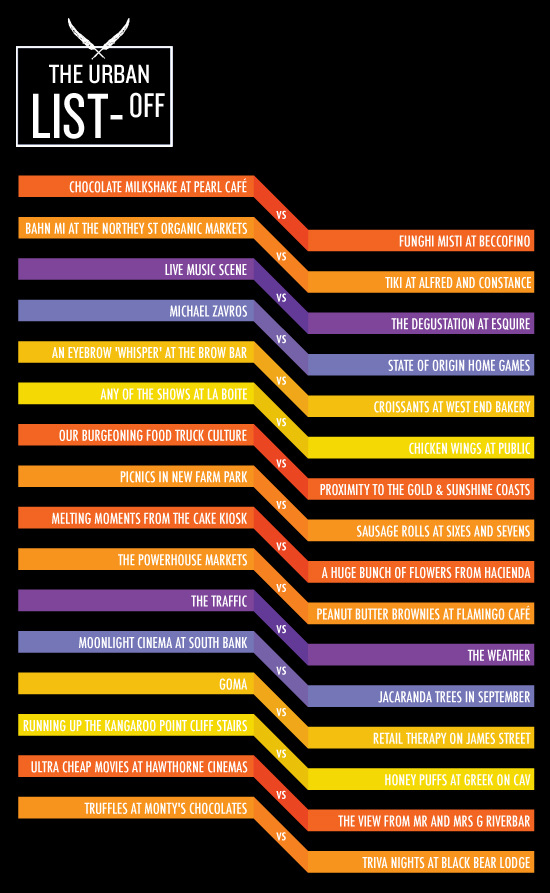 Here at The Urban List, we've put together the top 32 things we love about Brisbane, and we're throwing it over to you (our loyal readers) to vote, and help us crown the most supremely awesome thing about Brisbane.
Each day for 7 weeks we'll be matching up two dynamite duos, who will duke it out for your voting affection until we have whittled our way down to the last man standing.

Not only do you get the satisfaction of plugging your favourite thing in Brisbane by casting a vote, but you also have the chance to win some amazing prizes!
By simply voting you will automatically go into the draw to win two cooking classes at Green Papaya. We will be giving two classes away each week for seven weeks so keep voting as many times as possible!
On top of this, once you've voted, when you dine in at, Mons Ban Sabai, Pawpaw or Green Papaya and you can ALSO go into the draw to WIN a Trip For Two to Thailand! This prize is valued at $2000 including flights and accommodation! Terms and conditions apply*.
You can vote as many times as you like!
What are you waiting for? Jump on over to our voting page and get cracking!