Seven weeks ago we embarked on a journey to find the most liked thing about Brisbane. We started with 32 of the best things about Brisbane, and over the past seven weeks you, our loyal reader, has voted for your favourites in a hope to get them through to the next round.
It has been a very close competition, but there can be only one winner.
And that winner is… (Drum roll, please!)

Picnics in New Farm Park!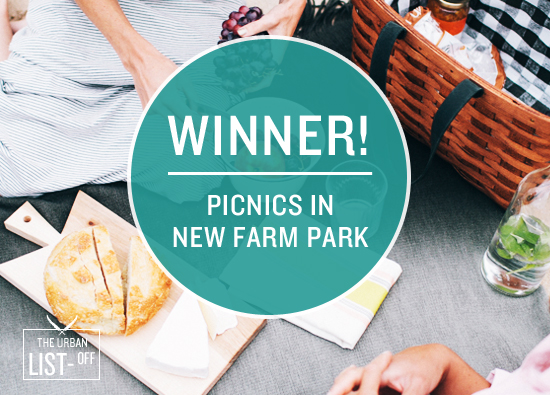 We're nuts about all of the top 32 things, here at TUL. But we definitely do have a soft spot for picnics in New Farm Park.
As well as picnics, here are a few other things we love to do in good old New Farm Park.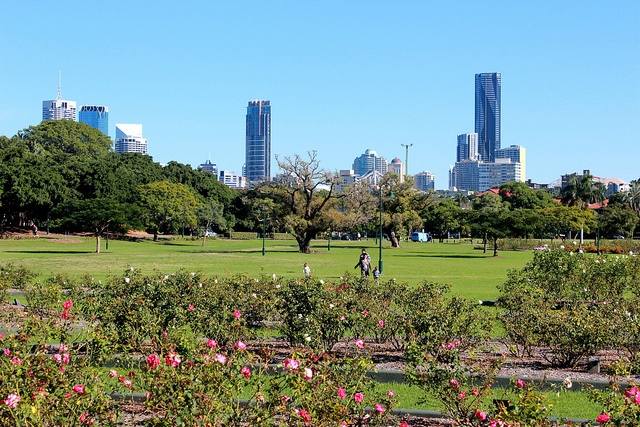 Jogging
Jog solo, or join the 3,000 registered runners at New Farm parkrun, who run 5km at 7am each Saturday morning. Ok, so there won't actually be 3,000 runners there (they average around 300 each morning), but it's all a bit of fun, and everyone's there for the same purpose, to have fun and get fit.
Stopping to smell the roses
The rose garden in the centre of New Farm Park, although seasonal, does seem like the roses are blooming the whole year round. Strategically coloured and placed, the garden-keepers do an amazing job of maintaining the gardens, and we love to stop and smell their hard work.
Pretending we're a child
'Kids, you go play on the playground, and I'll wait here,' said no one, ever. Well, not at New Farm Park anyway. If you grew up in Brisbane, you probably have fond memories of running through the tree house suspended in the fig trees. Since you were a tot, the playground has only expanded (and been made significantly safer). It sometimes seems there are more adults on the playground than children, re-living the good ol' days.
Jan Power's Farmers Markets
The Powerhouse Markets were the other grand finalist in The Great Urban List Off, and rightly so! The surrounds of Brisbane Powerhouse come alive on the 2nd and 4th Saturday of each month. Packed with fresh fruit and veg, vintage clothing, sweet treats and vintage homewares. They really are Brisbane's premier weekend market.
Tai Chi
The sight of 40 to 50, very earnest people, involved in the tai chi classes held in the Park is the source of much amazement for casual observers. It's so calming to watch, let alone participate in. Get along first thing Saturday morning to help clear the head after a busy working week.
Image Credit: Flickr